August 15, 2015
LG ELECTRONICS HONORED WITH FOUR EISA AWARDS
LG OLED TV and G4 Smartphone Recognized by
Influential European Media for Industry Leading Technology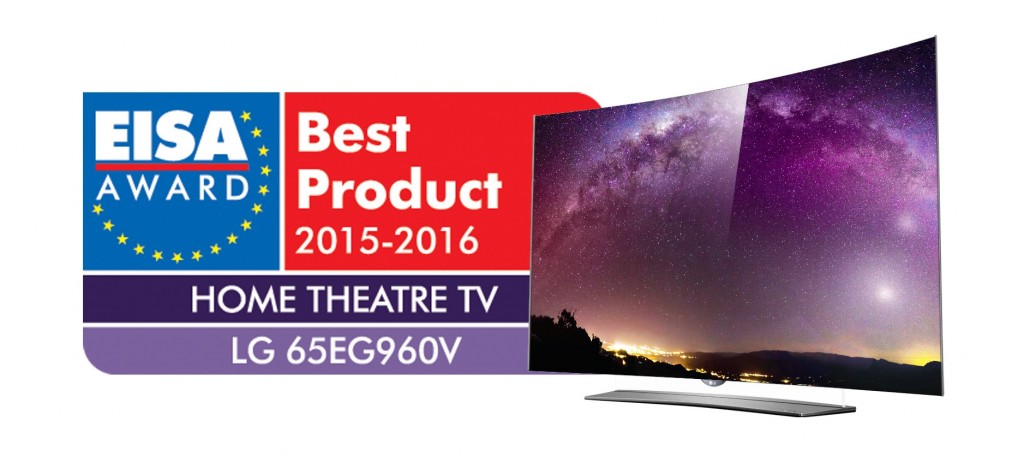 SEOUL, Aug. 15, 2015 — LG Electronics (LG) took home four European Imaging and Sound Association (EISA) Awards this year, marking the fourth consecutive recognition for LG's OLED TV and the second year for a G Series smartphone. The prestigious EISA Awards are decided annually by a panel of 50 multimedia magazines from 20 European countries and product entries are judged on criteria including technology, design and innovation.
LG's 4K OLED TV (model 65EG960V) won the European Home Theatre TV category with its wide 65-inch curved display that produces an infinite contrast ratio and lifelike colors for an immersive experience. The TV's self-lighting pixels can render perfect blacks and colors and the TV's rapid response rate helps to eliminate motion blur, creating exceptional cinema-like picture quality. What's more, LG's Art Slim design brings a touch of sophistication to the home and the widely acclaimed webOS 2.0 Smart TV platform makes the TV extremely easy and enjoyable to use.
The European Smart TV 2015-2016 award winner, LG's 65-inch webOS 2.0-enabled PRIME UHD TV1 (model 65UF950V) is a perfect example of LG's new generation of Smart TV products. As part of LG's PRIME UHD TV lineup, the 65UF950V provides picture quality superior to competing LCD TV products while delivering an enhanced user experience. The upgraded webOS 2.0 includes more useful features yet still adheres to the simplicity and intuitiveness of the original platform, including My Channels which makes finding the right content as easy and convenient as possible.
LG's flagship G4 smartphone received the European Smartphone Camera Award this year in no small part due to its powerful 16MP OIS 2.0 shooter and F1.8 aperture lens. Laser Auto Focus and a F1.8 aperture lens enable users to capture beautiful clear images even under low-light conditions. The camera's Color Spectrum Sensor (CSS) adjusts white balance and colors to produce high-contrast, vibrant images that are rich and authentic in color and amazingly true-to-life. The EISA jury also commended the new IPS Quantum Display on the G4, making it stand out as a powerful multimedia tool.
Meanwhile, the European Wearable Device award winner, LG Watch Urbane, is an elegantly designed Android Wear device with a full metal body. The watch is crafted around the 1.3-inch full circle Plastic OLED Display with a resolution of 320 x 320 pixels, resulting in a density of 245ppi. Equipped with a 1.2GHz Qualcomm Snapdragon™ 400 processor and 4GB of storage, the Watch Urbane is a wearable device that looks like a luxury wristwatch, suitable for any occasion.
"LG is delighted to be recognized by such renowned industry experts for our commitment to innovation in our home entertainment and mobile products," said Lee In-kyu, senior vice president and head of the TV and Monitor Division at LG's Home Entertainment Company. "We will continue to strengthen our position as a leading global consumer brand and our success in Europe is vital to that end."
# # #
1 SUPER UHD TV in some markets.