April 23, 2015
PREMIUM LG WATCH URBANE FIRST NEW ANDROID WEAR DEVICE TO FEATURE LATEST OS
Elegantly Designed Smartwatch Rolls Out Worldwide
With Latest Technology and Performance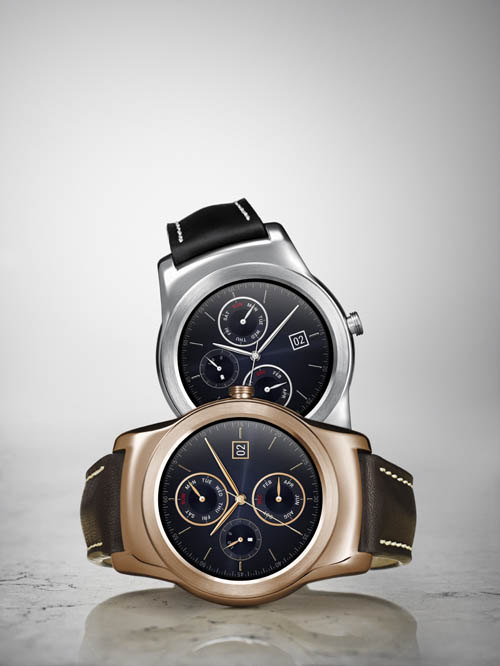 SEOUL, Apr. 23, 2015 — LG Electronics (LG) will begin the global rollout of its premium LG Watch Urbane this week in South Korea to be followed by key markets in North America, Europe and Asia in the weeks to come. Customers in Australia, Canada, France, Germany, Hong Kong, India, Ireland, Italy, Japan, Korea, Spain, the United Kingdom and the United States will be able to purchase the LG Watch Urbane on Google Store starting this month.
At MWC 2015, the LG Watch Urbane received numerous awards and accolades from consumers, media and industry thought leaders for its modern design, full-circle Plastic OLED (P-OLED) display and overall usefulness. The LG Watch Urbane carries over the 1.3-inch P-OLED display from the LG G Watch R but features a less prominent and lower profile bezel. Its dimensions are smaller overall and thinner, without reducing the size of the display or the battery.
Responding to consumers' desire for style as well as function, the LG Watch Urbane has a full metal body with a stitched genuine leather strap. The stainless steel body is available in a luxurious polished rose gold and silver, accentuated further with a narrow bezel that gives the device the sleek lines of a classic timepiece. Unlike many other competing smartwatches, the band can be exchanged with any replacement 22mm leather, silicone or metal strap for the ultimate in convenience and personalization.
LG Watch Urbane is the first new smartwatch powered by the latest version of Android Wear which works seamlessly with smartphones running Android 4.3 and above. Some of the features available for the first time on any Android Wear device include Wi-Fi connectivity, always-on apps to keep the display from going dark when running, navigating or even grocery shopping and an improved UX that makes launching favorite apps and getting in touch with friends easier than ever before with everything now front-and-center.
The latest OS allows users to send emojis by drawing them directly on the LG Watch Urbane. Draw a smiley face, a clock showing a certain time or any other pictures and Android Wear will match your drawing to the closest Unicode emoji for sending to another Android Wear watch, smartphone, or computer. Other improvements include the ability to change the font size and see notifications even when looking at another function on the display, such as directions. What's more, the screen on the LG Watch Urbane can now be set to lock automatically when it is removed from the wrist.
Included in LG Watch Urbane are two new and useful features not available on other Android Wear devices: LG Call and LG Pulse. LG Call allows the wearer to access recent calls and the favorite contacts list on the connected smartphone to dial out directly from the watch. When connected to a Bluetooth headset, there is no need to remove the phone from one's pocket to place a call. And LG Pulse takes health monitoring to a whole new level by measuring the wearer's heart rate every second during exercise with no maximum time limit. At the end of the activity, LG Pulse will report the average heart rate over the entire duration of the activity and display a heart rate graph on LG Health (coming soon).
"The LG Watch Urbane is the third Android Wear device introduced by LG in the past year which demonstrates our commitment to this platform," said Juno Cho, president and CEO of LG Electronics Mobile Communications Company. "More importantly, LG Watch Urbane is a perfect example that Android Wear watches can be functional and beautiful and a useful accessory that complements any wardrobe. No one would mistake LG Watch Urbane for a computer on your wrist."
Price and additional purchase details will be announced locally at the time of availability.
Key Specifications:
■ Chipset: 1.2GHz Qualcomm® Snapdragon™ 400
■ Operating System: Android Wear™
■ Display: 1.3-inch P-OLED Display (320 x 320, 245ppi)
■ Size: 45.5 x 52.2 x 10.9mm
■ Memory: 4GB eMMC / 512MB LPDDR2
■ Battery: 410mAh
■ Sensors: 9-Axis (Gyro/ Accelerometer / Compass) / Barometer /
PPG (Heart Rate Sensor)
■ Color: Rose Gold / Silver
■ Other: Dust and Water Resistance (IP67)
# # #