April 7, 2015
LG and IVI Conduct Cholera Vaccination Campaign in Ethiopia
40,000 Ethiopians Vaccinated Against Deadly
AWD in Alignment with World Health Day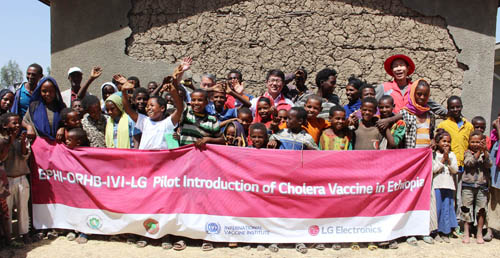 SEOUL, Apr. 7, 2015— LG Electronics (LG), in collaboration with the International Vaccine Institute (IVI), the Oromia Regional Health Bureau and the Ethiopian Public Health Institute (EPHI), successfully conducted a community-based cholera vaccination campaign to protect residents against Acute Watery Diarrhea (AWD) in the Shashemenae town of West Arsi Zone in Ethiopia's Oromia Region. The campaign is consistent with the goals of this year's World Health Day on food safety.
World Health Day is a global health awareness day celebrated every year on 7 April under the sponsorship of the World Health Organization (WHO). According to the WHO, an estimated 582 million cases of foodborne enteric disease and 351,000 associated deaths are recorded every year around the world due to food-related illnesses. AWD disease is often spread by unsanitary water and food contaminated with the feces from an infected person. The cholera vaccine helps protect individuals from the effects of the Vibrio cholera bacterium which are found in food and water supplies.
The joint vaccination campaign, which ran from February to March, introduced a new oral cholera vaccine through the public health system for the first time in Ethiopia. The liquid formula was administered in two doses over a two-week period and protects against cholera for up to five years. The vaccinations were carried out at 40 vaccination booths spread out over eight sub-districts of Shashemenae with 40,000 people receiving immunizations. The vaccine was developed by IVI through a product development partnership with companies in Korea, India, Sweden, Vietnam and the United States and licensed in India as Shanchol (manufactured by Shantha Biotechnics, part of the Sanofi Group) and approved by the WHO in 2011. The campaign also collected data on the acceptability, feasibility and cost of vaccination to better respond to future AWD outbreaks.
"Cholera is a neglected disease yet it sickens millions and kills thousands of people around the world and can be potentially fatal in young children," said Dr. Jerome H. Kim, IVI's Director General. "Thanks to LG's generous financial aid and support from our research and public health partners in Ethiopia, we have reached a watershed moment in public health by introducing a safe, effective and affordable vaccine in Ethiopia that can be used as a powerful tool to control cholera, in conjunction with other interventions such as sanitation and hygiene."
LG has been supporting IVI's vaccination project in Ethiopia since 2010 as part of its public health efforts to stem the spread of AWD. With LG funding, IVI and local partners in Ethiopia have conducted numerous activities to prepare for the pilot mass vaccination, including a cholera vaccine safety study to assess its suitability for Ethiopians, conducted in collaboration with the Armauer Hansen Research Institute (AHRI).
"In an age where vaccines are being attacked by a vocal minority of ill-informed individuals as being harmful, we think it's more important than ever to show what good vaccination programs can do," said Choong-hak Lee, executive vice president and head of LG's Business Support Office. "Our long-term collaboration with IVI has improved the lives of thousands of families in Ethiopia which is why we will continue to support the IVI in their efforts across the region."
# # #