March 19, 2015
LG AKA, THE PHONE WITH A PERSONALITY, NOW AVAILABLE OVERSEAS
Companion Smartphone Lets You Express, Create and Make Your Own Fun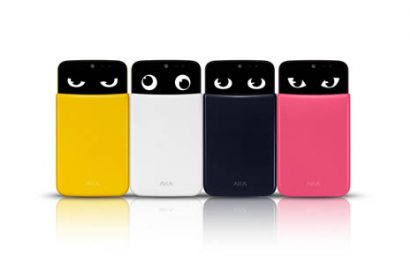 SEOUL, Mar. 19, 2015 — LG Electronics (LG) will begin the first overseas rollout of its fun and customizable AKA smartphone starting in Hong Kong next week followed by China, Taiwan, Singapore and Turkey with additional markets to be announced as they are confirmed. Originally designed for the domestic market, AKA was first introduced to Korean customers at the end of 2014, where it has seen healthy sales and positive customer feedback for its originality and sense of humor.
AKA is available in four different personas, from Eggy in yellow who falls frequently in love, the ever-so-impulsive Wooky in white, the soft-hearted and music-loving Soul in navy and Yo-Yo in pink who is always on a diet. The characters' personalities are an integral part of each phone as they are woven into wallpapers, widgets and ringtones. In addition to each AKA's interactive, animated eyes, owners can customize their phones with stickers (provided), markers or paint, for a true DIY experience. This customer-centric thinking helped AKA win an iF Design Award for its unconventional approach to smartphone design.
With a global audience in mind, LG tweaked the AKA lineup by adding an emotional UX element. Some of the additional features include customizable glasses and eyebrows for each pair of eyes. Another unique UX feature is the included Art Toy figurine, which can be digitized and integrated into the phone's user experience. Snapping a photo of the accompanying figurine with AKA's Snapshoot tool creates an animated 3D version of the figure that appears alongside selfies. Other camera features come straight from LG's premium handsets and include Laser Auto Focus, Touch & Shoot and Gesture Shot.
To celebrate AKA's overseas rollout, LG is collaborating with TUBA Entertainment, the creators of the popular Larva animated series, to produce a new series called Rotary Park. The first episode of Rotary Park will debut on March 20 on YouTube (www.youtube.com/user/TheRotarypark).
"AKA is the first smartphone that gives owners a blank canvas to express their own personalities via a customized user experience," said Juno Cho, president and CEO of LG Electronics Mobile Communications Company. "AKA is about being creative and never losing sight of the things that make us young and interesting. This is a whole new direction in smartphone UX and we're excited about where it may take us."
Key Specifications:
■ Chipset: 1.2GHz Quad-Core
■ Display: 5.0-inch HD IPS
■ Memory: 16GB / 1.5GB RAM / microSD slot
■ Camera: Rear 8.0MP Laser Auto Focus / Front 2.1MP
■ Battery: 2,610mAh (removable)
■ Operating System: Android 4.4 KitKat
■ Size: 138.7 x 71.9 x 9.9mm
■ Weight: 135.5g (without font slide cover) / 157g (with front slide cover)
■ Network: 4G LTE
■ Connectivity: Wi-Fi / Bluetooth 4.0 / NFC / A-GPS / USB 2.0
■ Color: White / Yellow / Navy / Pink
■ Other: Art Toy / Stickers
# # #