October 24, 2014
LG G WATCH R, NEW BENCHMARK FOR WEARABLES, BEGINS GLOBAL ROLLOUT
Newest Android Wearable Delivers Smart Capabilities
in Classic Watch Form Factor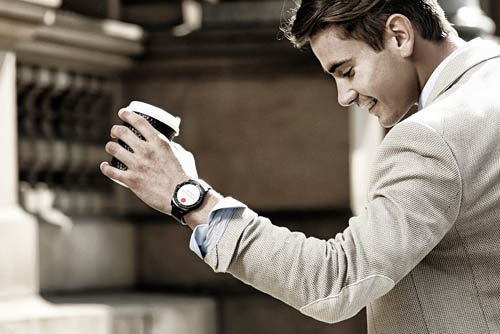 SEOUL, Oct. 24, 2014 — LG Electronics (LG) announced today that its newest Android wearable, LG G Watch R, will be available for purchase at retail sites throughout Europe including countries such as France, Italy, Spain and the UK in the beginning of November, followed by key markets in North America, Asia and the Commonwealth of Independent States (CIS) soon after. Customers in select markets will also be able to purchase G Watch R on Google Play in the weeks ahead.
The LG G Watch R made its world debut at IFA 2014 to much interest and with its stylish looks and smooth, speedy performance, became one of the show's most mentioned new products. The world's first watch-style wearable to feature a fully circular Plastic OLED (P-OLED) display, the G Watch R was inspired by classical and premium timepieces. The 1.3-inch circular P-OLED display takes advantage of every pixel, producing images with stunning color and accurate viewing at all angles even under bright sunlight.
Designed and built to last, the LG G Watch R features a classic design encased in durable stainless steel and aluminum powered by a 410mAh battery. Like the original LG G Watch, the G Watch R delivers optimal performance through its powerful but efficient 1.2GHz Qualcomm® Snapdragon™ 400 processor with 4GB of storage and 512MB of RAM. With an Ingress Protection rating of IP67, the device is completely protected from dust and water resistant for up to 30 minutes at a maximum depth of one meter. The G Watch R, designed with personalization in mind, is compatible with any 22mm wide watch strap.
The LG G Watch R offers six new pre-loaded watch faces and improved power savings in ambient mode. The update to Android WearTM OS will add even more features and functionality to G Watch R such as offline music playback. Updates will be performed seamlessly through the smartphone with the owner's permission.
"While the original G Watch was designed to be a no-nonsense, pure Android Wear device, the G Watch R was developed with a more aesthetic eye," said Dr. Jong-seok Park, president and CEO of the LG Electronics Mobile Communications Company. "The G Watch R represents LG's commitment to meld form and functionality together in perfect harmony and to create a device that not only looks great but more importantly, offers technology that makes life more convenient."
Prices and additional purchase details will be announced locally at time of availability. For more product images and videos, please visit www.lg.com/global/gwatch/r.
Key Specifications:
■ Chipset: 1.2GHz Qualcomm® Snapdragon™ 400
■ Display: 1.3-inch P-OLED Display (320 x 320)
■ Memory: 4GB eMMC / 512MB RAM
■ Battery: 410mAh
■ Operating System: Android Wear™
(compatible with smartphones running Android 4.3 and above)
■ Sensors: 9-Axis (Gyro / Accelerometer / Compass)
Barometer
PPG (Heart Rate Monitor)
■ Color: Black
■ Other: Dust and Water Resistant (IP67)
# # #