October 29, 2014
INTRODUCING LG'S DIGITAL CINEMA 4K MONITOR, THE ULTIMATE DISPLAY SOLUTION
Newest Monitor from LG Boasts Higher 4K Resolution and Adobe Color Space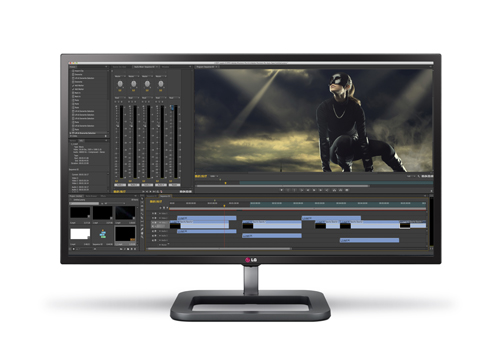 SEOUL, Oct. 29, 2014 — LG Electronics (LG) today unveiled its new 4K Monitor (model 31MU97) for global rollout starting this week. The cutting-edge LG 31MU97 mates Digital Cinema 4K (4096 x 2160) resolution with a 31-inch IPS monitor to create an ultra-sharp high-end monitor that meets the standards of the Digital Cinema Initiative (DCI). The LG 31MU97 is especially well suited for professionals who demand the sharpest possible images for either work or leisure.
The monitor's ultra-high quality 4K resolution and lifelike colors are ideal for photographers, video editors and graphic artists and its incredible picture quality allows for detailed and accurate retouching of any image. With the monitor's rich and vibrant colors and impressive 10-bit color, visual arts professionals will greatly appreciate the model's high color accuracy.
The monitor's IPS display supports over 99.5 percent of the Adobe RGB color space and provides users with several coloring options and modes in order to meet the wide spectrum of needs that graphic professionals require. Its Dual Color Space allows the monitor to display two different color modes at once so that users can compare different perspectives of their work simultaneously. Additionally, the Digital Cinema 4K Monitor comes hardware calibration-ready with LG's exclusive True Color Pro software.
The LG 31MU97 is equipped with several unique high-end functions that will satisfy most discerning professionals. Video pros can edit 4K content in the ideal resolution with standard Digital Cinema 4K without image scaling. Editing footage with full color expression is made possible by the DCI color standard support which reproduces color realistically, covering 97 percent of DCI-P3 color space, the standard for digital cinema projectors and digital camera. And the LG 31MU97 comes with an ergonomic pivot design that offers maximum convenience for displaying as much of the image on the screen as possible to minimize scrolling and dragging.
"LG's Digital Cinema 4K Monitor presents the company with an excellent opportunity to solidify our leadership in the global professional monitor market," said Hyoung-sei Park, head of the IT business division at LG Electronics. "This monitor's high-end features and functions make it the perfect solution for professionals who require a top-of-the-line monitor with all the technology currently available."
The LG 31MU97 will be available starting this week in markets including the United States, South Korea, Germany, Australia and the UK followed by the Netherlands, Spain, Poland and Japan in November.
# # #