September 4, 2014
LG TO PRESENT ONE OF THE LARGEST COLLECTIONS OF INNOVATIVE SOLUTIONS AT IFA 2014
Showcasing a Diverse Range of Products for a Better Life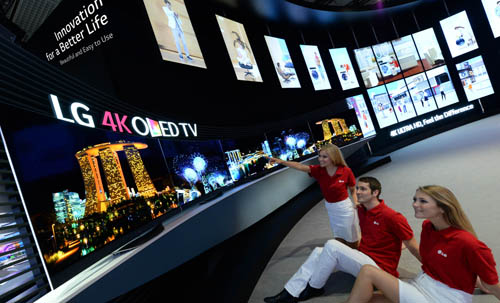 SEOUL, Sep. 4, 2014 — Ahead of IFA 2014, Europe's biggest consumer electronics show held from September 5-10 in Berlin, LG Electronics (LG) is gearing up to unveil a spectacular product lineup to demonstrate just how integrated LG has become in consumers' lives. Under the theme of Innovation for a Better Life, LG will look to further position itself as a brand that delivers a refined, smart user experience across its entire lineup of consumer electronics and home appliances, including the world's first commercial 4K OLED TV, G Watch R featuring Android WearTM, CordZeroTM vacuum cleaners and appliances that respond to natural language text messages.
"What consumers really desire is to live a better life without giving up the technology that more often than not makes our lives more complex," said Wayne Park, executive vice president and Global Sales and Marketing Officer at LG Electronics. "People want technology in their homes and with them at all times, but the side effect of this desire is often more complexity. LG is prepared to show consumers our most advanced innovations in Berlin that were developed with the sole purpose to make people's lives better and more convenient."
The Future Of Television: LG 4K OLED TV
Supported by the world's first commercial 4K OLED TVs that feature the very best display technology currently available, LG continues to lead in the development of the OLED TV market. At this year's IFA, LG's 4K OLED TVs offer perfect color expression, infinite contrast and 4K resolution — 33 million sub-pixels — for a whole new kind of viewing experience with incredibly sharp, detailed images and infinite contrast ratio. The ergonomically curved screen of the 4K OLED TV delivers a thoroughly immersive viewer experience and boasts a wide viewing angle.
Another technological breakthrough on the horizon is LG's 77-inch flexible OLED TV that allows viewers to adjust the degree of curvature depending on the size of the audience or type of content being viewed. This advanced OLED TV automatically optimizes sound and picture quality to match the degree of curvature. LG will also unveil a new 55-inch CURVED OLED TV featuring a stand studded with Swarovski crystals. The shimmering crystals complement the brilliant, accurate colors produced by LG's self-lighting pixels and the result is elegance beyond compare.
Best Picture Quality, Smart Capabilities
LG will showcase its comprehensive ULTRA HD TV collection, with various screen sizes measuring 49, 55, 65, 79, 84, 98 and 105 inches. Thanks to the LG IPS 4K Panel which provides accurate color reproduction and a wide viewing angle, customers can watch these TVs from almost any angle without detecting even a hint of color wash or contrast loss. The 105-inch CURVED ULTRA HD TV with Cinema Scope 21:9 ratio screen features 5K resolution (5,120 x 2,160) that packs 30 percent more pixels than regular 4K TVs. This TV's massive screen will provide viewers with a true cinematic experience with its equally impressive 7.2 channels and 150-watt sound system.
All LG ULTRA HD TVs will present diverse Ultra HD content as a result of various partnerships with providers such as Netflix, Amazon and Wuaki as well as Ultra HD programs for European consumers through partnerships with Filmbox Live, Maxdome, videociety and Okko. LG will also demonstrate the world's first Ultra HD content streaming exclusive on LG's Hybrid Broadcast Broadband TV (HbbTV) in collaboration with France Television. And with LG's True 4K Engine, standard definition(SD) and high definition(HD) content can be upscaled to near-4K quality for greater viewing pleasure.
Featured in all of OLED and ULTRA HD TVs, LG's webOS Smart+ platform provides a simple and intuitive user experience with fast, easy access to a world of entertainment. LG's webOS delivers easier content searching and discovery, allowing users to switch seamlessly between apps, services, live broadcasts and content stored on external devices. With the help of animated character BeanBird, webOS makes configuring and connecting the TV a stress-free proposition. At this year's IFA, visitors will be able to create their own BeanBird characters to display on a large video wall in LG's booth.
As an added surprise at IFA, LG will be unveiling its first 8K TV (7,680 x 4,320), a 98-inch unit that boasts sixteen times the resolution of Full HD TV and four times that of conventional 4K TV.
Wearables That Are One-Step Ahead
Following in the footsteps of LG G Watch, one of the first-to-market wearable devices powered by Android Wear™, LG is aiming to become a leader in the wearable segment by fusing classical design with progressive technology. The new LG G Watch R is the world's first watch-style wearable to feature a full circle Plastic OLED (P-OLED) display that utilizes 100 percent of the watch face. LG's newest Android wearable features a classic look encased in a strong, durable stainless steel frame with a collection of watch faces that are accessible at the touch of a finger.
KizON, LG's wristband-type wearable for children, represents LG's commitment to delivering products that are not only innovative, but also family-friendly. Designed exclusively for pre-school and primary school children, KizON provides secure, real-time location information allowing parents to track their children's where abouts on a smartphone for true peace in mind.
Complete G3 Family Of Smartphones
LG's complete G3 series will be in full view at IFA 2014 with the G3 Beat, G Vista and G3 Stylus along with highly acclaimed G3. Representing LG's commitment to delivering a consistent user experience across all segments of consumers, these smartphones carry the design language and premium user experience (UX) of the original LG G3 as well as key features of the G3 optimized for each model's unique character and style, all at a fair price without compromising quality.
The G3 Beat (G3 s in Europe and the CIS) delivers a premium UX and fast Laser Auto Focus technology in a more compact package designed around a 5.0-inch thin bezel display. The G Vista offers an expansive 5.7-inch display to enjoy on-the-go entertainment, in a form factor that shares the DNA of the G3. Lastly, the G3 Stylus offers spacious 5.5-inch IPS display and a RubberdiumTM stylus pen for those looking for hands-on writing, note taking and drawing experience.
Smart Home With Natural Language Capabilities
LG's Smart Home on display at IFA 2014 is built around the idea of unifying multiple smart appliances into a connected, cohesive system in order to increase convenience and simplicity. At its core is LG HomeChat™, the revolutionary messaging platform that provides users with unprecedented control and connectivity to get things done. Using a smartphone, homeowners can enjoy unprecedented control of their smart home ecosystem as well as intelligent time- and energy-saving modes such as Leaving Home, Coming Home or Vacation.
LG Smart Home is compatible with existing open platform smart home systems as well as appliances and devices from different manufacturers through open protocols such as AllJoyn, the open source software sponsored by the AllSeen Alliance. AllJoyn allows users to stay informed of the status of their LG smart appliances such as being notified on LG webOS Smart+ TV that the washing machine has finished its cycle.
Smarter And Energy-Efficient Appliances
At IFA 2014, LG will showcase its entire home appliance product lineup offering the utmost in convenience and superb energy savings, all designed with the high standards of European consumers in mind. Highlighting the collection will be LG's new CordZero™ series of premium cordless vacuum cleaners which includes the canister vacuum cleaner CordZero™, the dual-functional CordZero™ 2 in 1, the robotic vacuum cleaner HOM-BOT SQUARE and the CordZero™ Bedding for cleaning sheets and mattresses. As the name indicates, the CordZero™ series lineup provides a powerful and convenient cleaning experience without the hassle of cords thanks to LG's innovative Smart Inverter Motor™ and advanced rechargeable batteries.
LG will also showcase its newest energy-efficient refrigerators that not only offer greater energy savings but quieter operation and longer freshness, such as LG's Total No Frost bottom-freezer which exceeds A+++ energy rating requirements by 20 percent. LG's newest washing machine which will be introduced at IFA can complete a full wash cycle in only 49 minutes and exceeds A+++ energy efficiency requirements by 55 percent thanks to TurboWash™ technology. LG Studio is a distinctly modern, elegant built-in kitchen package designed with the most discerning European homeowner in mind featuringa collection of LG's premium refrigerator, electric oven, dishwasher, and electric hob and hood.
Visitors to IFA are encouraged to come and see LG's latest portfolio for themselves in Hall 11.2 of Messe Berlin.
# # #