September 4, 2014
LG TO DEMONSTRATE UNIQUE LIGHTWAVE OVEN TECHNOLOGY AT IFA 2014
LG's Lightwave Technology with Charcoal Lighting HeaterTM Helps
Consumers Cook Tastier, Healthier Dishes While Saving Time and Energy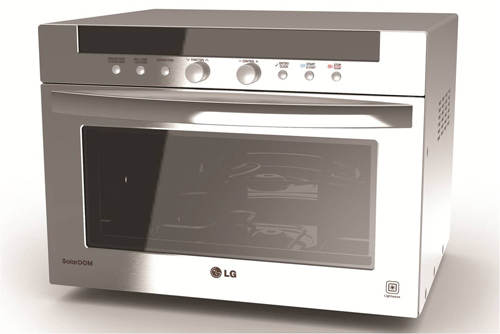 SEOUL, Sep. 4, 2014 ― At IFA 2014 in Berlin, LG Electronics (LG) is showcasing its Lightwave Convection Oven equipped with the cutting-edge Charcoal Lighting Heater™ for tastier and healthier dishes in the comforts of one's home. With the double functionality of a microwave and an oven, LG's Lightwave Convection Oven is easy to use and offers greater cooking flexibility than traditional ovens. The state-of-the-art microwave functions bring out the aspiring gourmet chef in even casual meal makers by giving meals a delicious, oven-cooked quality.
The Charcoal Lighting Heater™ is a revolutionary innovation that makes food much tastier as well as convenient. LG's unique technology uses a charcoal filament that emits a rapid flow of intensive heat deep into the dish, which not only makes cooking faster but due to its fast heat dispersion, creates crispy-on-the-outside, juicy-on-the-inside dishes. In addition, cooking time is saved along with enhancing energy efficiency from this innovative technology. Lightwave oven technology also reduces unnecessary fats, making meals healthier than ever.
"The Charcoal Lighting Heater™ represents a big step forward in home cooking," said Seong-jin Jo, president and CEO of the LG Electronics Home Appliance Company. "In terms of cooking food more naturally, this technology really is a game changer. It not only helps reduce unnecessary fats, it also prevents the nutrient-loss that occurs in traditional ovens during the cooking process. On top of that, the oven has a raft of convenience enhancing functions designed to make life a whole lot easier in the kitchen."
LG is also showcasing its new grill and solo models equipped with its highly innovative cleaning technology. LG's breakthrough EasyClean™ coating reduces much of the effort required to remove food residue. It prevents grime from sticking to the interior walls, which makes keeping the oven clean much easier. Due to the coating's strong resistance to residue buildup, consumers can have a much cleaner and healthier cooking experience.
Visitors to IFA 2014 are encouraged to see LG's unique Lightwave Convection Oven for themselves in Hall 11.2 of Messe Berlin from September 5-10.
# # #