August 18, 2014
LG RECOGNIZED AT 2014 RED DOT AWARDS FOR INTUITIVE USER EXPERIENCE
G3 Smartphone Wins Three "Best of the Best" Awards
Demonstrating LG's Leadership in UX Design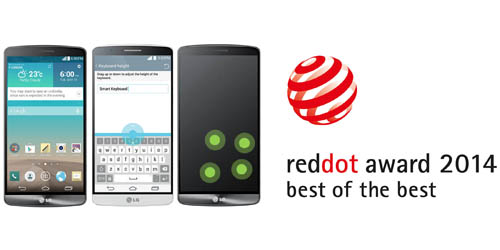 SEOUL, Aug. 18, 2014 — LG Electronics (LG) took home a total of nine Red Dot Awards in the Communication Design category. Among these, Smart Keyboard, Knock CodeTM and the graphic user interface (GUI) in the acclaimed LG G3 smartphone received "Best of the Best" awards. LG's innovative webOS Smart+ TV platform was also recognized by the Red Dot judges for its new approach to smart TVs with an intuitive user interface that made for a viewing experience that is both seamless and refreshingly uncomplicated.
The internationally respected Red Dot Awards comprises three categories – Communication Design, Product Design and Design Concept. With 7,096 entries from 49 countries in the Communication Design category alone, the Red Dot Awards is one of the three most important competitions in the design industry, alongside iF Design Award and IDEA (International Design Excellence Award).
LG's Smart Keyboard was introduced to the world on the LG G3, a smartphone that was developed under the Simple is the New Smart philosophy. In the same vein, Smart Keyboard helps to reduce input errors by as much as 75 percent. Through adaptive software that can analyze typing habits and predict word choices, Smart Keyboard makes typing faster and infinitely easier.
Knock Code™ was developed in response to consumer feedback that existing security systems on smartphones were cumbersome and time consuming. Knock Code™ lets LG smartphone owners wake and unlock their LG smartphones in one convenient step by employing a personalized series of taps instead of a password or nine-dot pattern. With more than 80,000 possible tap sequences to choose from, Knock Code™ is not only more secure, it's more convenient.
The LG G3's GUI provides an intuitive, more enjoyable, user experience. Redesigned from the ground up, the GUI features a clean, stylish appearance that adopts LG's new flat and simple design language in sophisticated pastel colors with a distinctive circular motif consistent with the company's iconic logo.
LG also won six additional awards in the Communication Design category, including the webOS Smart+ TV platform. LG's innovative webOS Smart+ TV makes it quick and easy for users to switch from one content source to another, whether it's a live TV broadcast, VoD service, Smart TV app or media file stored on a connected device. LG's webOS also allows for easy content search and discovery and delivers a stress-free setup and connection process by introducing user to the friendly animated "BeanBird" character.
"The Red Dot Design Awards for excellence in user interface carry a great deal of meaning for us because enhancing the user experience is how we create value for the customer," said Dr. Skott Ahn, LG's Chief Technology Officer. "LG's advanced capabilities in user experience come from a willingness to listen, learn and form a deep understanding of how people are using technology on a daily basis. We will continue to create solutions that improve consumers' quality of life."
# # #