August 27, 2014
LG INTRODUCES NEW ERA OF CORDLESS VACUUMING WITH CORDZERO™ SERIES AT IFA 2014
With LG's Innovative Smart Inverter Motor™ and Advanced Battery Technology,
LG CordZero™ Offers a Powerful Cleaning Experience Without Cords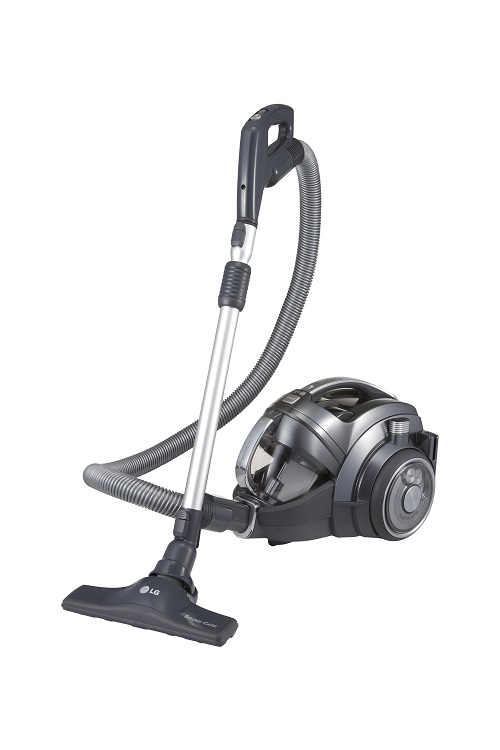 SEOUL, Aug. 27, 2014 — LG Electronics (LG) will unveil its new CordZero™ series of premium cordless vacuum cleaners at IFA 2014. Comprised of CordZero™, CordZero™ 2 in 1, CordZero™ Bedding and HOM-BOT SQUARE, LG's CordZero™ collection offers a powerful and convenient cleaning experience with zero obstacles, zero limits and zero time wasted. With features such as PowerPack™, Smart Inverter Motor™ and RoboSense™, LG's CordZero™ lineup will change the way consumers think about housework.
CORDZERO™ : Lose the Cord, Keep the Performance
LG's CordZero™, a new cordless canister vacuum cleaner, raises the bar in convenience with no power cord to repeatedly plug and unplug, enabling consumers to clean freely from room to room without any tangling or hassles, reducing overall cleaning time. CordZero™ features an innovative built-in lithium-ion battery PowerPack™ providing 200 watts of suction power and continuous cleaning for up to 40 minutes. CordZero™ employs LG's Smart Inverter Motor™ to guarantee maximum performance with high efficiency and durability in a compact size. The Smart Inverter MotorTM from LG is on average 28 percent smaller, 22 percent lighter and 13 percent more efficient than conventional vacuum motors. It's no wonder that LG felt confident enough to offer a 10-year warranty on the motor.
With LG's one-of-a-kind RoboSense™ technology, CordZero™ is the world's first vacuum cleaner that "watches" the user and automatically follows at a constant distance using motorized wheels. CordZero™ is also equipped with LG's proprietary KOMPRESSOR™ technology, the world's first motorized dust compression system that sucks up dust and debris and compresses them into easy to manage dust wedges in the bagless bin for easier, hygienic disposal.
CORDZERO™ 2 IN 1: Effortless Cleaning Anytime, Anywhere
LG's CordZero™ 2 in 1 offers convenient cleaning and long lasting suction power thanks to Dual PowerPack™, Smart Inverter Motor™ and Anti-Tangle Brush™. The Dual PowerPack™ provides a running time of up to 60 minutes in Regular Mode and 40 minutes in Power Mode with its replaceable lithium-ion dual battery pack. Dual functionality means customers can use it as a stick-type cleaner with a full length handle or as a more portable hand-held unit. With its slim design, easy 180 degree swivel head and built-in crevice and brush tool, CordZero™ 2 in 1 helps make cleaning less of a chore.
HOM-BOT SQUARE: Working Quietly but Thoroughly
LG's most efficient and convenient model to date, HOM-BOT SQUARE changes the paradigm by revolutionizing cleaning. HOM-BOT SQUARE's sharper angled design, longer brushes, low 89mm height and improved sensors leave dust with few places to hide. Upgraded Dual Eye 2.0™ camera sensors accurately scan and map floor surfaces, even in the dark. Thanks to its Learning Function, HOM-BOT SQUARE can remember areas it has previously cleaned and with a low noise level of only 60dBA, HOM-BOT SQUARE goes about cleaning quietly without causing a disturbance.
CORDZERO™ BEDDING: Daily Care for Hygienic Bedding  
LG is also showcasing CordZero™ Bedding, its new cordless bedding cleaner, to help consumers protect their health by effectively reducing the number of dust mites and harmful allergens in beds and mattresses. With powerful suction and three distinct levels of cleaning, CordZero™ Bedding offers customers the utmost in household hygiene. The built-in UV sterilization station ensures a more hygienic bed and the cleaner itself, reducing the chance of secondary contamination. The Dual HEPA filter includes a multi-filtration system that more thoroughly removes dust, odor and germs from the home.
"CordZero™ is a game changer and will play a significant role in making LG a leading premium vacuum cleaner brand around the world," said Seong-jin Jo, president and CEO of the LG Electronics Home Appliance Company. "The CordZero™ collection is the result of over 10 years of innovation and commitment to create a new breed of products that redefine convenience, ultimately allowing consumers to live smarter lives."
Key Specifications:
CORDZERO™
Ÿ■   PowerPack™
■ Ÿ  Smart Inverter Motor™
■ Ÿ  Automatic Location Recognition Technology
■ Ÿ  Active Following Wheel Technology
■ Ÿ  LG KOMPRESSOR™ Technology
■ Ÿ  HEPA14
■ Ÿ  SLG 5 Star & BAF Certified
CORDZERO™ 2 IN 1
Ÿ■   Dual PowerPack™
■ Ÿ  Anti-Tangle Brush™
■ Ÿ  Built-in Brush (Crevice & Brush Tool)
■ Ÿ  Weight: 2.8kg
■ Ÿ  Easy 180 Degree Swivel Head
HOM-BOT SQUARE
Ÿ■   Corner Master
■ Ÿ  Dual Eye 2.0™
■ Ÿ  Easy-out Dust Bin
■ Ÿ  Noise level: 60dBA
■ Ÿ  HEPA 11 Filter
■ Ÿ  Smart Turbo
■ Ÿ  Learning Function
■ Ÿ  Long-lasting Lithium-Ion Battery
CORDZERO™ BEDDING
■ Ÿ  Dual Punch™
■ Ÿ  Soft Rotating Brush
■ Ÿ  Powerful Suction
■ Ÿ  UV Sterilization Station
■ Ÿ  Dual HEPA Filter
■ Ÿ  Easy-out Dust Bin
# # #