August 20, 2014
EXPERIENCE "FLOWING SOUND" WITH SMART HI-FI AUDIO WIRELESS MULTI-ROOM SOLUTION FROM LG
Enjoy High Definition Music Playback Anywhere, Anytime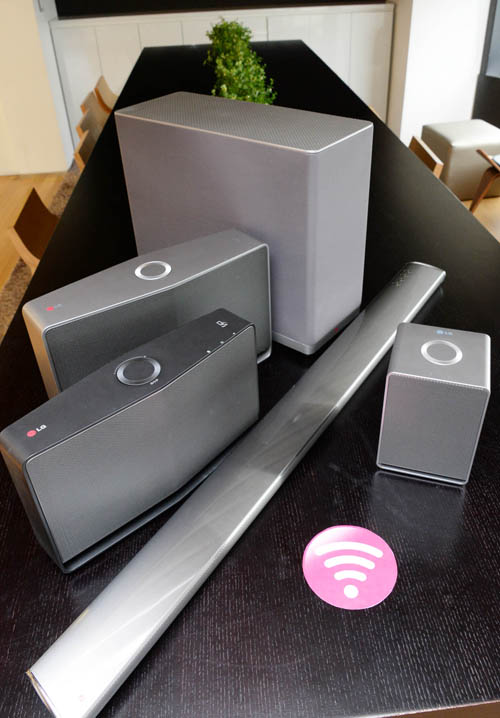 SEOUL, Aug. 20, 2014 — LG Electronics (LG) today announced the all-new LG Music Flow for music lovers worldwide. LG Music Flow Speakers (models H3, H5, H7), Soundbar (model HS6), Network Bridge (model R1) and the companion Music Flow Player application for smartphones form a convenient and smart Hi-Fi audio ecosystem for the home. Through the Music Flow Player app, users can centrally manage their entire digital music library, even if music is stored across multiple devices, and control all Music Flow units in the home. The app can also recommend songs and playlists, provide easy access to internet radio stations and function as a smartphone music player when the user is on the go.
LG Music Flow incorporates LG HomeChatTM, a unique service that brings a personal touch to human-device interaction. With HomeChat, users can use the popular smartphone messaging app Line to communicate with LG Music Flow in natural English. What's more, users can enjoy the speed and simplicity of one-touch music enjoyment thanks to the NFC tag function, the first in a wireless Hi-Fi audio system for the home.
"LG Music Flow takes the fast-growing concept of wireless multi-room audio systems to a new level with its smart convenience and superior sound quality," said Byung-hoon Min, senior vice president of the LG Home Entertainment Company audio-video division. "Our advanced system can create a personal soundtrack that not only follows the listener from room to room, but also when the user enters the home. LG engineers have set a whole new standard by introducing features and functions to the wireless audio system category that have never been available before on competing units."
Auto Music Play1 is one of the many compelling features of the new LG Music Flow. With Auto Music Play, users can listen to music outdoors on a smartphone and automatically switch to Music Flow when arriving home. And with HomeChat integration, users can remotely ask LG Music Flow on the way home for song and playlist recommendations suitable for dinner guests arriving later that evening.
Another unique feature, LG Music Flow Player app, gives users full access and complete control of their digital music collections. Through the convenient search feature, music aficionados can find and play tracks stored on any internet-enabled device connected to LG Music Flow through the home Wi-Fi network. The app's Mood Station feature can provide recommendations or automatically create a playlist to create a certain ambience. LG's system facilitates easy access to internet streaming and radio applications such as Spotify, Deezer, Napster and TuneIn (services differ by market) via the Audio Streaming Service. With LG Music Flow and the Music Flow Player app, millions of songs are literally at the listener's fingertips.
LG Music Flow employs mesh network technology and dual band Wi-Fi to ensure uninterrupted, crystal-clear HD music playback unlike competing systems that rely on a single access point which causes music interruptions and pauses whenever the signal level drops. Expanding LG Music Flow with additional speakers is an absolute breeze. Employ Multi-room Mode to seamlessly play the same song across all connected speakers during parties or a different song in each room when family members are home. Use L/R Stereo Mode for a more immersive listening experience or Home Cinema Mode for an enhanced movie viewing experience. Use L/R Stereo Mode for a more immersive listening experience or Home Cinema Mode for an enhanced movie viewing experience.
To guarantee optimal sound performance, LG developed and implemented a proprietary Automatic Loudness Compensation Algorithm in the Music Flow. This advanced software technology ensures audio strength and clarity across all frequencies. In addition, each speaker features an advanced nano-fiber pulp and foam paper diaphragm that further improves the quality of the sound. Unique to the HS6 Soundbar model, LG's Stereo Field Extension (SFX) Algorithm creates a larger sweet spot and amplifies the surround sound effect.
In recent years, there has been an increase in consumer demand for superior sound in home audio devices as high-quality multimedia content becomes more and more available. LG Music Flow is the first system in its category to feature 24 bit/192kHz Hi-Fi playback across multiple inter-connectable devices that reproduces studio-like quality sound, far superior to a CD or digital MP3 music. Now consumers can hear a level of realism that hasn't been possible before in a wireless multi-room audio system for the home.
LG Music Flow models H7 (70W), H5 (40W) and the Network Bridge model R1 will be available in the UK starting this month and in other markets in Europe following IFA 2014 Berlin in early September. LG Music Flow with model H3 (30W) and Soundbar model HS6 (320W) will be rolled out globally soon after.
Visitors to IFA 2014 can see the complete LG Music Flow collection for themselves at Hall 11.2 in Messe Berlin in early September. Until then, to see highlights of LG Music Flow's main features, click on this video link — http://youtu.be/DxdNmA0JoSQ.
# # #
1 LG Music Flow Player can be downloaded for free from Google Play or Apple App Store on iTunes.