July 29, 2014
LG ANNOUNCES START OF SALES OF 105 INCH 21:9 CURVED ULTRA HD TV
With 5K Resolution and CinemaScope 21:9 Aspect Ratio,
LG's Latest TV Redefines Immersive Viewing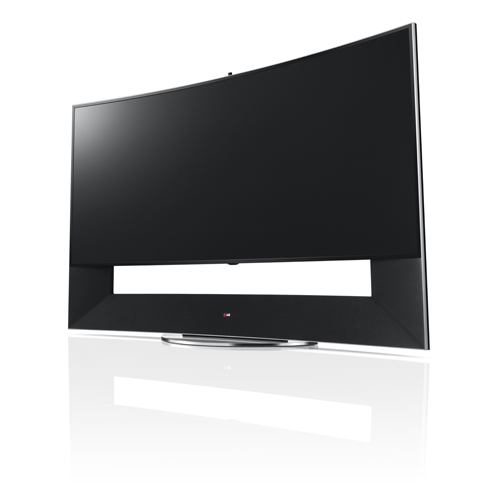 SEOUL, July 29, 2014 — First shown to the public at the Consumer Electronics Show (CES) in January, the 105-inch CURVED ULTRA HD TV from LG Electronics (LG) became available for pre-orders this week in South Korea. With a resolution of over 11 million pixels (5120 x 2160) and CinemaScope 21:9 aspect ratio, LG's model 105UC9 TV delivers a truly immersive viewer experience with ultra-sharp, lifelike images and stunning virtual surround sound.
The LG CURVED ULTRA HD TV's cinematic 21:9 aspect ratio LCD screen features 11 million pixels, five times more than on a Full HD TV. With such a high pixel density, images are rendered with a sharpness and clarity that has to be seen to be believed. The 105UC9 achieves its superior picture quality through LG's True 4K Engine Pro and IPS 4K Panel. True 4K Engine Pro eliminates visual errors and can upscale lower-resolution content into near-Ultra HD quality while the IPS 4K Panel provides consistent contrast, true-to-life colors and a wide viewing angle.
"The vision behind LG's 105-inch 21:9 CURVED ULTRA HD TV was to bring the movie theater into the living room," said In-kyu Lee, senior vice president and head of the TV Division at LG's Home Entertainment Company. "Featuring a curved 5K CinemaScope screen and a 7.2 channel speaker system, the 105UC9 is LG's most spectacular ULTRA HD TV yet. This product pushes the envelope in home entertainment innovation and demonstrates what is possible when you bring today's most advanced TV technologies together."
LG's TV also delivers incredible audio through a built-in 7.2 channel, 150W sound system. Incorporating LG's ULTRA Surround concept and developed in partnership with premium audio products manufacturer Harman Kardon, the speaker array produces a powerful and rich audio experience. The multi-channel system complements the TV's 21:9 CinemaScope screen with a sonic performance worthy of an actual movie theater.
With the same aspect ratio as a Hollywood motion picture, the 105UC9 CinemaScope 21:9 screen recreates the movie experience in the home. The curvature of the display has been carefully calibrated to maximize the immersive ambiance. What's more, when viewing programs in 16:9 format, the unused screen space on the sides can display additional information or programming details to enhance the viewing experience.
The 105UC9 ensures an immensely satisfying user experience via LG Smart+TV, which is centered on the intuitive webOS platform. LG's webOS makes everything simple and fast, whether it's switching between content, discovering exciting new shows, apps and services, or connecting to media stored on external devices. And with the help of the friendly, animated BeanBird character, webOS also makes the initial setup and connection process quicker and a lot more enjoyable. And by combining Film Patterned Retarder (FPR) 3D technology with extremely high picture resolution, LG's 4K 3D+ feature offers unobtrusive and compelling 3D viewing pleasure. And thanks to the 4K 3D Upscaler, content in SD, HD and Full HD is converted into crystal-clear, near-Ultra HD resolution.
The LG 105UC9 will be rolled out in other markets from the fourth quarter. Prices and exact dates of availability will be announced locally.
# # #