June 24, 2014
LG G3 READIES FOR GLOBAL DEBUT
"Simple is the New Smart" Concept Actualized in Acclaimed Smartphone
from LG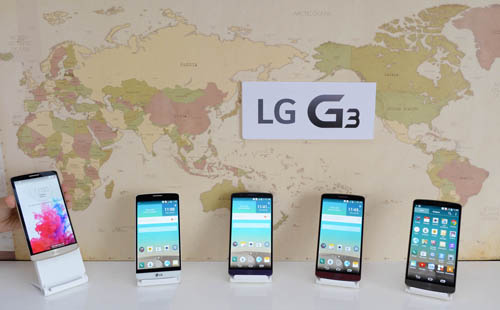 SEOUL, June 24, 2014 — Following its strong debut in South Korea, LG Electronics (LG) will begin its global rollout of its highly praised G3 smartphone on June 27. LG G3 will first reach Asian customers in Hong Kong, Indonesia, Singapore, and the Philippines followed by the rest of Asia, Europe and the Middle East among other regions in July.
The LG G3 has received early praise from industry experts for innovations in its display, camera, design and user experience (UX) features. Developed with the motto "Simple is the New Smart" in mind, the G3 was empowered with the best of what current technology has to offer, providing consumers with a simpler and easier user experience.
Highlights include:
■ First global implementation of 5.5-inch Quad HD display (538ppi) with four times the resolution of HD and almost two times higher resolution than a Full HD display for sharper, crisper, clearer images and more realistic color reproduction.
■ 13MP OIS+ (Optical Image Stabilizer Plus) camera with faster Laser Auto Focus in a smartphone to capture quality images and videos with minimal blur, even in near complete darkness.
■ Premium-feel rear cover featuring a brushed, hairline metallic skin that is lightweight and fingerprint-proof.
■ Floating Arc form factor that incorporates LG's innovative Rear Key and feels incredibly comfortable in the palm of one hand.
■ Simple and intuitive UX features including Smart Keyboard which reduces input errors by up to 75 percent by tracking and analyzing users' typing habits; Smart Notice, a personal assistant application that provides real-time information and notifications even before being asked; Smart Security, a suite of security features including LG's proprietary Knock CodeTM , Content Lock and Kill Switch.
■ Premium accessories such as the QuickCircle™ Case (sold separately) that provide users easy access to six frequently used functions without having to open the cover, as well as a collection of Slim Guard Cases and premium Slim Hard Cases to protect the G3 in the style its original designers had intended.
The G3 will be localized in some markets with unique features for additional user convenience. LG G3 smartphones sold in markets such as Europe and Asia will feature wireless charging, so can be charged using any Qi wireless charger as well as LG's own portable wireless charger (sold separately). With LG's new stand-type wireless charger, users can monitor and charge their phone at the same time by simply placing their device on the charging stand. See LG's new compact and foldable wireless charger in action on YouTube at www.youtube.com/watch?v=QKl131EKRuQ.
"Early indications give us reason to be optimistic that G3 will be as successful globally as it has been in Korea," said Dr. Jong-seok Park, president and CEO of the LG Electronics Mobile Communications Company. "It's quite an honor to be considered the new industry benchmark for premium smartphones but in the end, what really matters is how consumers feel about our latest flagship device because it was their feedback that helped us create G3."
Additional details of availability, including price, will be announced locally at launch time.
# # #