February 13, 2014
LG'S NEWEST G SERIES DEVICE LG G PRO 2 UNVEILED IN KOREAN MARKET
Successor to "Best Smartphone of MWC 2013" to Make Global Debut at MWC 2014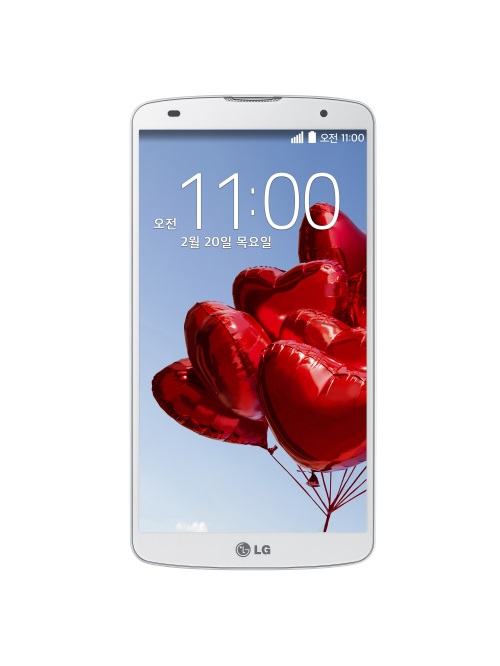 SEOUL, Feb. 13, 2014 — Today LG Electronics (LG) introduced the LG G Pro 2, its follow-up to the award-winning G Pro, to the Korean public. Much like last year's G Pro, which was recognized as the Best Smartphone of MWC 2013, the G Pro 2 comes equipped with a state-of-the-art display and new UX features to take user convenience to the next level.
With a stunning 5.9-inch Full HD IPS display and extra slim bezel of 3.3mm, the G Pro 2 offers an industry-leading screen-to-frame ratio of 77.2 percent. A thicker, high-power 1W Hi-Fi sound that's 30 percent louder than in the G Pro delivers clearer sound with more powerful bass. And to simplify the powering on and unlocking process, LG engineers developed a completely unique feature called Knock Code™ which makes unlocking and using the G Pro 2 easier and more convenient than ever before.
"Knock Code is an example of LG bringing simpler, more convenient solutions to consumers' mobile lives," said Dr. Jong-seok Park, president and CEO of LG Electronics Mobile Communications Company. "Whereas in the early years of smartphones it was a contest to see how many features could be stuffed into the phones, our researchers took a long, hard look at how consumers were really using their devices in their daily lives and included just the most useful UX features. We think customers will agree."
An evolution of the popular KnockON feature that was first unveiled last year in the LG G2, Knock Code allows owners to power on and unlock their G Pro 2 smartphones in one easy step by tapping their screens using one of 86,367 "knock" combinations. Thanks to LG's intelligent algorithm and advanced hardware, the knock pattern can be entered on any area of the screen — whether the display is turned on or off — using anywhere from two to eight taps.
The G Pro 2 is the first LG smartphone to benefit from an enhanced 13MP camera with OIS+ (Optical Image Stabilizer Plus) and advanced functions ideal for creating sharing content. LG's proprietary OIS+ technology adds software anti-shake functionality to the acclaimed hardware-based feature already built into the slim camera module for the best photos and videos possible when in motion or in low light situations. What's more, the sensors and lens of the rear and front camera on the G Pro 2 have increased in both size and sensitivity, for images that rival many standalone point-and-shoot cameras. Some of the other advanced image capturing features built into the G Pro 2 are:
● 120FPS HD Video Recording and Slow-Motion Editing: Records in 120fps HD and allows editing of video in three different speeds — one-half slow motion, one-fourth slow motion and original
● 4K ULTRA HD Recording: Records video footage in ultra-high definition mode for playback on 4K TV sets
● Magic Focus: After the shot is taken, the user has the option to select the preferred depth of focus before saving. Users could also press the 'All in Focus' icon to set focus on all spots of the picture.
● Natural Flash: Offers a much more balanced color temperature and exposure compared to the normal flash, which results in a most natural image just as it is in real life.
● Flash for Selfie: Reduces the size of the preview screen and adds a bright white background for more "soft" lighting in self-portrait mode
● Burst Shot: Takes up to 20 continuous shots and automatically edits them to create a video of the captured images
● Gallery Collage: Allows users to select photos from their gallery to create a collage for easy uploading to favorite social network sites
In addition to the latest components, the G Pro 2 also boasts a collection of upgraded features that complements today's mobile lifestyle where much of the information we need is in the palm of our hands or in our back pockets. Some of these new UX features include:
● Content Lock: Provides users more security with the ability to lock files, photos, videos and memos with a unique password
● Mini View: Enables users to comfortably use the G Pro 2 with one hand by shrinking the display to a size ranging from 3.4 inches to 4.7 inches, depending on the user's preference
● Dual Browser: Divides the expansive screen into two separate browser windows for more convenient surfing
Availability of G Pro 2 in markets outside of Korea has not yet been determined but attendees to the 2014 Mobile World Congress can experience the G Pro 2 and its features firsthand at LG's Booth in Hall 3 of Fira Gran Via.
Key Specifications:
–    Chipset: Qualcomm Snapdragon™ 800 (2.26 GHz Quad-Core)
–    GPU: Qualcomm Technologies' Adreno™ 330
–    Display: 5.9-inch Full HD IPS (1920 x 1080), Slim Bezel
–    Memory: 3GB DDR3 RAM / 16GB/32GB eMMC ROM / microSD slot
–    Camera: Rear 13.0MP OIS+ / Front 2.1MP
–    Battery: 3,200mAh (removable)
–    Operating System: Android 4.4 KitKat
–    Size: 157.9 x 81.9 x 8.3mm
–    Weight: 172g
–    Network: LTE / HSPA+
–    Connectivity: Bluetooth Smart Ready (BT 4.0) / USB / Wi-Fi (802.11 a/b/g/n/ac) / NFC / SlimPort
–    Colors: Titan Black, White, Silver
–    Other: Knock Code™, 1W Hi-Fi Sound, Content Lock
# # #