February 13, 2014
LG TAKES ITS NEWEST, MOST INNOVATIVE PRODUCTS ON THE ROAD WITH INNOFEST 2014
Regional Roadshows to Showcase Range of Innovative Solutions for Global Consumers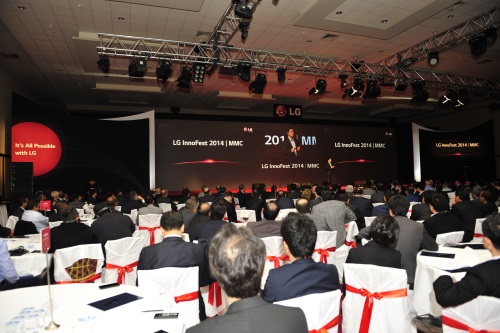 SEOUL, Feb. 13, 2014 — LG Electronics (LG) this week kicked off its annual Innovation Festival (InnoFest) Roadshow, a product showcase aimed at bringing LG's diverse collection of consumer electronics and home appliance products to LG's business partners, distributors and retailers in regions around the world. Kicking off in Middle East and Africa (MEA) on February 12, the travelling roadshow will also take in dates across Europe in March and Asia in April.
LG InnoFest, an annual event now in its second year, represents a crucial platform for reinforcing LG's position in the global consumer electronics and appliance industries, as well as responding to local market needs under LG's brand identity theme, "It's All Possible." At this year's inaugural InnoFest event, hundreds of channel partners gathered in Istanbul, Turkey — a city situated at the crossroads of eastern and western cultures — to see firsthand LG's 2014 lineup of TVs, refrigerators, washing machines, air conditioners and smartphones.
Flagship products which took the spotlight at InnoFest were LG's77-inch ULTRA HD CURVED OLED TV, 105-inch CURVED ULTRA HD TV, G Flex curved smartphone and appliances for 2014 including refrigerators, washing machines as well as advanced cooking and cleaning products. Appliances designed for local audiences will include LG's innovative Evercool refrigerators, which keep food fresh even during power outages, and LG's advanced 6 Motion Direct Drive washing machines, which use a combination of six different motions to deliver superior washing results for a wide variety of fabrics. LG's 6 Motion Direct Drive washing machines are ideal for delicate, traditional Middle Eastern attire, such as chadors and hijabs.
"LG InnoFest is an opportunity for us to focus on the many relationships we cultivate around the world with the retailers and distributers who believe in the LG brand and have made us a household name in every region," said Kevin Cha, Regional Head of Middle East and Africa for LG Electronics. "LG's success was built on the company's ability to deliver localized solutions to a diverse global audience and events such as InnoFest are critical to our continued success."
# # #