January 2, 2014
LG TO SHOWCASE INDUSTRY LEADING OLED TV LINEUP AT CES 2014
Leader in OLED TV Brings Its Full Range of Cutting-edge
Products to Las Vegas's Annual Electronics Extravaganza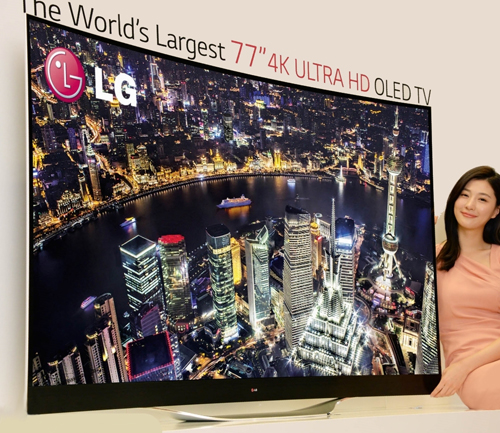 SEOUL, Jan. 2, 2014 — LG Electronics (LG) is proud to present the most comprehensive OLED TV lineup on the planet at the International Consumer Electronics Show (CES) in Las Vegas from January 7-10, 2014. Visitors to the company's booth at CES will have the opportunity to see the world's largest ULTRA HD CURVED OLED (model 77EC9800) TV along with the company's various 55- and 65-inch OLED TV models. Also on display will be the elegant GALLERY OLED TV (model 55EA8800) and the CURVED OLED TV (model 55EB9600) with its friendly environmental footprint.
"All of the exceptional OLED models we're showcasing at CES 2014 offer the ultimate in picture quality and refined, modern aesthetics," said In-kyu Lee, Senior Vice President and head of the TV Division at LG Electronics' Home Entertainment Company. "Driving the evolution of television into the next generation, LG will continue to employ its technological and design expertise to bring impressive OLED TVs to market."
Unmatched Picture Quality
The 55-, 65- and 77-inch ULTRA HD CURVED OLED TVs combine LG's proprietary WRGB OLED technology and 4K Ultra HD screen resolution (3840 x 2160 pixels) for a whole new level of picture quality and viewer immersion. Filling the viewer's field of vision with gorgeous, high-contrast images, the 77EC9800's sensually curved screen is supported by a beautiful leaf-shaped stand. A standout product, the company's mammoth 77-inch model is the recipient of the highly-prized Best of Innovations at the 2014 CES Innovations Awards.
The color temperature of each pixel on the enormous 77-inch display is automatically controlled by the LG Color Refiner, resulting in superior consistency and balance. The TV's infinite contrast ratio is adeptly managed by the company's High Dynamic Range (HDR) algorithm. The striking ULTRA HD CURVED OLED TV also boasts the eye-popping visuals of ULTRA CINEMA 3D. Thanks to film-type patterned retarder (FPR) technology and Ultra HD resolution, the user can marvel at the most convincing 3D effects ever seen on a TV without having to endure distracting flickering or cross-talk.
For more high resolution viewing options, the 77EC9800 has been equipped with LG's own Tru-ULTRA HD Engine Pro, which can upscale SD, HD or Full HD content into breathtaking near-4K picture quality. The results are rendered even more seamless due to the error-correction capabilities of the enhanced super resolution algorithm to prevent blurred image from the upscaling process. The TV also incorporates Motion Estimation Motion Compensation (MEMC) to make the onscreen action appear smoother, clearer and more realistic.
Consumers will appreciate that LG's ULTRA HD CURVED OLED TVs are future-proof, able to decode broadcast signals in both H.264 and HEVC H.265 formats, at 30p or 60p. A convenient built-in decoder makes it possible to display Ultra HD content from external devices connected via the TV's HDMI, USB or LAN ports. Model 77EC9800 also incorporates LG's newest smart TV platform, enabling consumers to enjoy a refreshingly simple and intuitive user experience.
Creative Concepts, Award Winning Products
Beautiful to behold, hidden behind the elegant frame of the GALLERY OLED TV is the Canvas Speaker, a powerful 2.2 channel, 100W forward-facing setup that guarantees a superb auditory experience unavailable on any other OLED TV. Honored with a CES 2014 Innovations Award, the artistically inspired EA8800 is the only unit that can make an average living room feel like an actual art gallery. The unit's unique eGallery feature provides a variety of display modes that can be activated to create a specific mood. For instance, Gallery Mode turns the TV into a picture frame displaying some of the world's most famous works of art while Healing & Remembering Mode helps to create a warm and inviting atmosphere through mood-lifting sounds and images.
LG's latest CURVED OLED TV, the 55EB9600, is a highly efficient, environmentally-friendly product. Demonstrating the company's commitment to responsible manufacturing, the model is made with more recyclable materials and considerably fewer parts than its predecessor. Lightweight and energy conscious, the 55EB9600 has received a CES 2014 Innovations Award for its eco-friendliness and superior build quality.
Investing in the Future of OLED
To prepare for the imminent growth in demand for OLED TVs around the world, LG is establishing production bases in a number of countries outside of Korea. The company has already completed the construction of new TV plants in Brazil, Poland, China and Thailand with an advanced facility in Mexico commencing operation this year producing OLED TVs for the North American market. Through the creation of this large-scale global OLED TV production network, LG is building an early lead in the next generation TV technology. With strategic bases serving local and surrounding markets, LG aims to reduce export costs and increase price competitiveness.
# # #