January 8, 2014
LG ELECTRONICS HOME ENTERTAINMENT COMPANY AIMS TO LEAD OLED AND ULTRA HD TV SEGMENTS
LG Changes the Dynamics of TV Market with
OLED TV, ULTRA HD TV and webOS Smart TV Products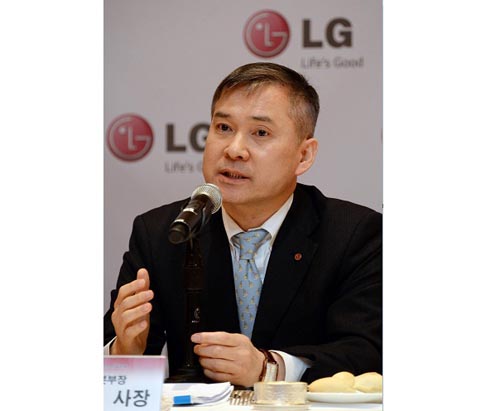 LAS VEGAS, Jan. 8, 2014 — The newly installed president of LG Electronics' (LG) Home Entertainment Company plans to change the dynamics of the current TV market, capitalizing on LG's early leadership in OLED TV technology and manufacturing. At the same time, HE Company president and CEO H.H. (Hyun-hwoi) Ha plans to expand the company's ULTRA HD TV and Smart TV offerings with a wider range of products that push the boundaries of innovation.
"It has been widely predicted that 2014 will be the year that the OLED TV market will finally take off. With a solid foundation of R&D and the establishment of advanced manufacturing facilities in strategic countries around the globe, we are confident that LG can and will drive the market for OLED TVs going forward," said Mr. Ha. "This year will also see the launch of outstanding new ULTRA HD TVs and Smart TVs from LG, highlighted by our new webOS platform which will demonstrate how truly smart a smart TV can be."
OLED TV
With the introduction of its Flexible OLED TV, LG has now achieved a major grand slam, having introduced its share of world firsts in the OLED TV space— flat, curved and now flexible. Using the accompanying remote, the curvature of the Flexible OLED TV display can be alteredto suit the viewing situation and environment, such as number of viewers and viewing distance. Since the curvature is adjustable, audiences can enjoy the best TV viewing experience possible.
Complementing the company's existing 55-inch CURVED OLED TV are two new products measuring 65 inches and 77 inches, measured diagonally with Ultra HD high resolution. The expanded range of superbly crafted OLED TVs emphasizes LG's leadership in the next generation TV market.
What's more, LG has established a global OLED TV manufacturing network with facilities located in key regions around the world. Production is already underway at LG's newly constructed plants in Brazil, China, Poland and Thailand with the facility in Mexico to begin supplying OLED TVs to the North American market this year.
ULTRA HD TV
LG is looking to drive the Ultra HD TV market with a full lineup of models ranging in size from a 49 inches to a groundbreaking 105 inches. The company's comprehensive selection of premium ULTRA HD units offers unmatched picture quality, differentiated features and stunning designs. LG is also introducing more affordable TV products, enabling a wider audience to enjoy the incredible immersive qualities of 4K entertainment.
On the content side, LG has formed strategic alliances with domestic and international broadcast TV and cable companies to co-develop 4K content. Globally, LG is focused on supplying Ultra HD content by cooperating with a number of established content providers such as Netflix and YouTube.
webOS, Differentiated User Experience
Launching this year, LG's webOS platform will introduce consumers to the smoothest, most convenient smart TV user experience yet. Making TV simple again, the exciting new platform represents the development and design expertise of LG's innovative Smart TV division.
webOS-based LG Smart TVs deliver a greater degree of freedom than previous TVs. For example, users can easily search and enjoy YouTube content or conduct an internet search while watching broadcast TV —all with just one or two clicks of the Magic Remote. In addition, the initial setup process is fun and easy to follow, without the normally cumbersome and complicated task of activating the TV.
The global rollout of webOS enabled LG Smart TVs will commence in the first half of 2014 starting in Korea and then expands to other regions.
# # #