December 5, 2013
TEAM VIETNAM WINS HOME CHEF CHAMPIONSHIP 2013 GLOBAL MASTERS
Chef Duo from Vietnam Receives Grand Master Home Chef Prize
for Baked Quail Filled With Clausena Indica Leaves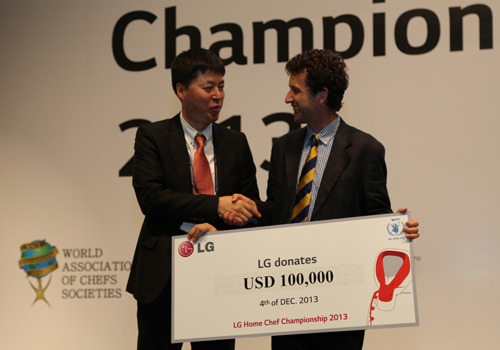 CAPE TOWN, Dec. 4, 2013 — LG Electronics (LG) announced that its sixth annual LG Home Chef Championship (LG-HCC) Global Masters Competition was won by Thi Dieu Thuy and Giap Dieu from Vietnam. Under the theme of Cook the Dream, Share the Hope, this year's international amateur cooking tournament was held in Cape Town, South Africa and attracted 18 teams from 14 different nations. The Vietnamese team took the coveted Grand Master Home Chef Prize and USD 10,000 in gifts and prizes for their delicious "Baked Quail Filled with Clausena Indica Leaves" recipe. The LG Master Home Chef Prize went to Muhammad Iskandar Bin Ishak from Malaysia for his "Green Stuffed Chicken" dish and the LG Home Chef Prize went to Linda Beldjerd and Fadila Beaufilz from France for their "Medallion of Monkfish" recipe.
"The 2013 LG-HCC Global Masters Competition was another resounding success," said Seong-jin Jo, President and CEO of the LG Electronics Home Appliance Company. "This annual competition once again demonstrated the kinds of smart, healthy and tasty international dishes that can be created using LG's Lightwave Oven. With the aid of the patented Charcoal Lighting Heater™, the contestants served up some incredible meals, which were as healthy as they were delicious."
As a key component of this year's event, LG donated USD 100,000 to support women's empowerment programs in the Democratic Republic of Congo through the United Nations World Food Programme (WFP), the world's largest humanitarian agency fighting hunger worldwide. LG has been a partner in WFP's global work to eradicate hunger since 2009. Meanwhile, the competition contestants provided free cooking lessons for local non-profit cooking school, Infinity Culinary Training, teaching students how to prepare healthy and tasty dishes using LG's Lightwave Convection Oven.
The 14 nations represented in this year's competition included Colombia, France, India, Iran, Malaysia, Morocco, Panama, Russia, Kazakhstan, Ukraine, Uzbekistan, Vietnam, the United Arab Emirates and the host, South Africa. The judging panel, which included members of the prestigious World Association of Chef Societies and Le Cordon Bleu, was thoroughly impressed with the contestants' creativity and well-presented dishes.
# # #