December 17, 2013
LG TO INTRODUCE NEWEST PREMIUM MONITORS AT CES
Impressive 34-inch Monitor to Headline Company's
New IPS 21:9 UltraWide Lineup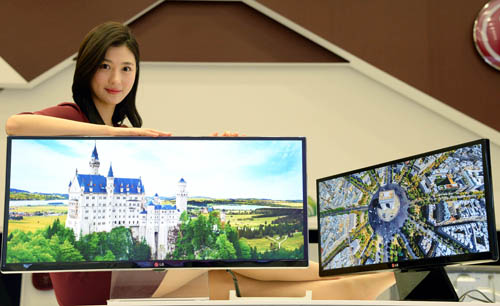 SEOUL, Dec. 17, 2013 — At the 2014 International Consumer Electronics Show (CES), LG Electronics (LG) will break new ground with the launch of its 34-inch IPS 21:9 UltraWide (Model UM95) monitor. Also available in a 29-inch version, the UM95 will offer stunning image clarity thanks to an UltraWide QHD resolution (3440 x 1440) display.
In addition to the UM95, LG will be showcasing a number of other exciting IPS 21:9 UltraWide series monitors at CES in Las Vegas from January 7-10, 2014. Model UM65 (available in 25-, 29- and 34-inch display sizes) and model UB65 feature ergonomic designs ideal for the workplace environment. CES visitors will also be able to experience the Real 4K (Model 31MU95) and the latest Color Prime (Model 27MB85) monitors from LG. The company's newest monitors boast a long list of impressive features that make entertainment more immersive, multitasking easier than ever and work more productive. LG's exceptional IPS monitors have earned a reputation for providing superior picture quality with excellent color accuracy, motion clarity and off-axis viewing.
"LG IPS 21:9 UltraWide series was originally developed as user-centric PC monitors toenhance the computing experience, for both work and play," said Hyoung-sei Park, head of the IT Business Division at LG Electronics. "Our 21:9 aspect ratio monitors has proven to be a critical and commercial success and we forecast this market will continue to grow."
Designed for Speed
Designed to deliver an unparalleled home entertainment experience, the UM95 supports a variety of advanced connectivity options, including Thunderbolt™ 2. Thunderbolt 2 is a revolutionary connectivity technology that simultaneously supports high-resolution displays and high-performance data devices through a single, compact port. With Thunderbolt 2 technology, users can take advantage of transfer speeds up to 20Gbps, enabling viewing and editing of original 4K video, while backing up the same file simultaneously. Higher-resolution and multi-monitor viewing is also possible with DisplayPort 1.2 support. Thunderbolt 2 uses the same cables and connectors and works with existing Thunderbolt PCs and devices. Multiple UM95 monitors can also be daisy-chained together and linked with servers and other hardware.
Designed for Work and Play
The UM95 offers a superior screen that is sure to please gaming enthusiasts, film buffs and graphics professionals alike. In addition to Thunderbolt 2 support, the monitor also comes with True Color Finder calibration software to ensure optimal color expression. The UM95 is also capable of reproducing 99 percent of the sRGB color palette. In terms of design, LG's UM95 incorporates a sleek metallic finish and the transparent Crystal Float stand, which makes the screen appear to float in darkened rooms.
Slightly leaner and more economical, the UM65 series delivers useful multitasking functions with the same great LG picture quality. With three different screen sizes, consumers can choose the right monitor for their particular needs. The stylish 34-inch version embraces the Crystal Float concept of its premium UM95 cousin. LG's 29-inch UB65 is geared towards workplace productivity with easy screen-height adjustment that allows the user to enjoy optimal viewing comfort and a display that pivots 90 degrees, a useful feature for editors and graphics designers.
Well suited to the needs of the modern professional, LG's IPS 21:9 UltraWide monitors offer effective multitasking functions such as the 4-Screen Split and Dual Link-up. Gamers and movie enthusiasts will benefit from the wide aspect ratio as it delivers a more immersive viewing experience. The entire IPS 21:9 UltraWide series is Mac compatible and supports HDMI and DisplayPort, enabling users to mirror and transmit content from a wide range of devices.
Real 4K
LG's31-inch Real 4K monitor features an IPS display that can render incredible details thanks to its 4096 x 2160 screen resolution. Hardware calibration-ready with superb picture quality, the 31MU95 is an excellent choice for those working in design, film and other creative industries.
Thunderbolt-enabled ColorPrime
The new ColorPrime monitor boasts Thunderbolt 2 support and LG's True Color Pro calibration software, giving it the ability to express 99 percent of the Adobe RGB color space, making it ideal for photographers, video editors and industries that require high transfer speeds and professional-level color accuracy.
Accolades and Certifications
LG's IPS monitors have garnered international acclaim since their introduction thanks to their outstanding picture quality and bold designs. Industry honors include Germany's Plus X Award, Red Dot Design Award and Japan's G Mark. LG's 29EA73 UltraWide monitor was the recipient of the Quality and Performance Mark (QPM) from Intertek for its exceptional quality across all seven of Intertek's test categories including color accuracy, color reproduction and viewing angle.
# # #