October 30, 2013
LG KICKS OFF NEW SOCIAL MEDIA CAMPAIGN, 'HIDDEN WORLDS'
Consumers Challenged to Enter LG's World of Ultimate Picture Quality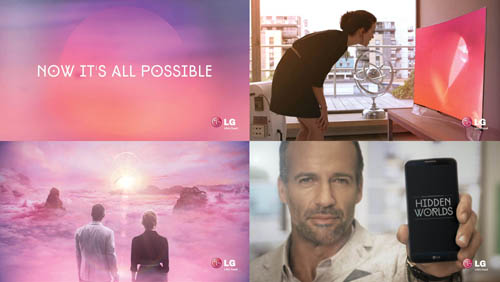 SEOUL, Oct. 30, 2013 — LG Electronics (LG) this month kicks off a new social media campaign, Hidden Worlds, which will allow participants to become immersed in an unfolding virtual story based on the dynamic and colorful inner workings behind LG's ultimate picture quality. The campaign will invite participants to take control in developing a film-like storyline involving a cast of real-life actors and a host of visual effects. The fortunes of the key characters will be determined by completing various challenges hosted on social networks including Facebook.
The premise of Hidden Worlds is an adventurous journey where users take on the role of an explorer trying to rescue a female author who is trapped in the beautiful but mysterious world of six colors within the TV screen. The interactive social movie element adds to the enjoyment, allowing participants to earn credits and become eligible for prizes by overcome challenges and obstacles. Throughout the journey, participants will also get the chance to effectively experience LG's innovative picture quality through cameo roles played by next generation displays such as Curved OLED TV and Ultra HD TV. Addtionally, key features of the company's latest flagship smartphone, LG G2, will make an appearance in the story.
"We are excited at the prospect of this new social media campaign helping consumers to get more involved in LG by taking a leading role in developing the story of our ultimate picture quality" said Ki-wan Kim, executive vice president and global marketing officer of LG Electronics. "Hidden Worlds embodies our new brand identity theme, It's All Possible, which highlights LG's dedication to bringing excitement to consumers' daily lives."
The new campaign will eventually be rolled out in more than 20 countries in Europe, Asia, Central/South America, Middle East and Africa, after the opening of its global site www.LGHiddenWorlds.com. As part of the campaign, LG will be sponsoring a broad range of activities to engage participants in each region.
# # #