September 5, 2013
ULTIMATE PICTURE QUALITY WITH FULL LINEUP OF NEXT GENERATION LG TVS AT IFA 2013
LG Expands its Industry Leading Collection of OLED TVs and ULTRA HD TVs
Offering Differentiated Home Entertainment Solutions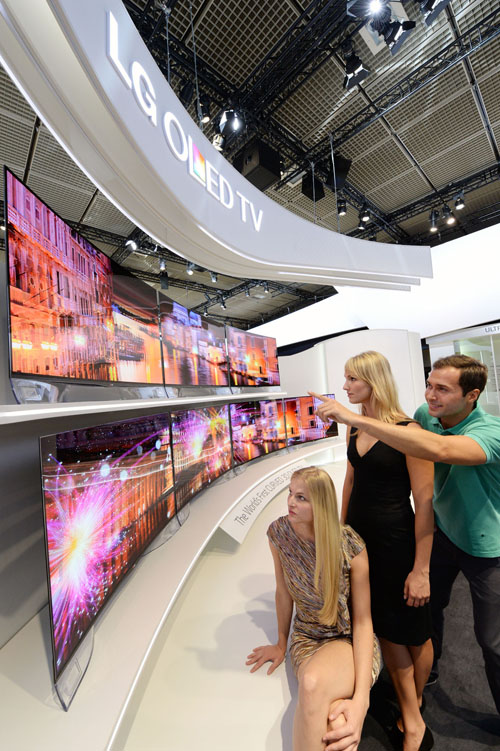 BERLIN, Sep. 5, 2013 — LG Electronics (LG) is driving the evolution of technology and design in the exciting next generation TV market. At IFA 2013 in Berlin, LG is showcasing its comprehensive range of advanced TVs equipped with incredible picture quality, stunning design and innovative technologies. The lineup includes the CURVED OLED TV (Model 55EA9800), the artistically inspired GALLERY OLED TV (Model 55EA8800), an upgraded version of the 84-inch ULTRA HD TV (Model 84LA9800) and more affordable 55- and 65-inch ULTRA HD TVs (LA9650 Series).
"We feel that IFA 2013 is the perfect opportunity to show Europe and the world just how committed we are to leading the next generation TV market," said Havis Kwon, president and CEO of LG Home Entertainment Company. "It is a point of pride that we were able to bring a CURVED OLED TV and an ULTRA HD TV to market before the competition and we will continue to expand and improve our industry leading television technology."
World's First: LG CURVED OLED TV
First showcased at CES 2013 and already available in South Korea, US and Germany, LG's groundbreaking CURVED OLED TV marks the beginning of a whole new era in home entertainment. Its panoramic curvature guarantees an amazingly immersive and comfortable viewing experience and thanks to LG's WRGB OLED technology, the 55EA9800 features infinite contrast ratio with deeper blacks and brighter whites than a conventional RGB display. Furthermore, the screen delivers incredible color accuracy regardless of ambient light or viewing angle.
Only 4.3mm (0.17 inches) thin and weighing just 17kg (37.48 pounds), the CURVED OLED TV is simply stunning to behold. The breathtaking, modern design of the 55EA9800 features the flowing, almost transparent Crystal Stand. LG's forward-facing Clear Speakers are unobtrusively incorporated into the Crystal Stand to deliver flawless audio with remarkable fidelity in the mid- to high-frequency ranges.
True Masterpiece: GALLERY OLED TV
Also on display at this year's IFA is the latest addition to LG's acclaimed OLED TV series —the art inspired 55-inch GALLERY OLED TV. This first ever wall mountable OLED TV illustrates the company's ability to create differentiated, well designed home entertainment solutions.
The elegant art frame cleverly and seamlessly conceals a powerful 2.2 channel speakers. Gallery Mode enables owners to enjoy high resolution digital images of iconic paintings and personal photos when the TV is not in use. As with all of LG's innovative OLED TVs, the 55EA8800 employs proprietary WRGB OLED picture technology for vivid, lifelike colors with a wide viewing angle.
Sharpest Picture Quality: ULTRA HD TV
LG ULTRA HD TVs deliver a strong combination of astonishing picture quality — four times the resolution of Full HD TV — and stunning sound. Following the introduction of the world's first 84-inch and premium 55- and 65-inch ULTRA HD TVs (LA9700 Series), LG is now unveiling at IFA 2013 more affordable 55- and 65-inch units (LA9650 Series) and an upgraded version of its 84-inch ULTRA HD TV (84LA9800) .
Both the LA9650 and LA9700 series feature a built-in HEVC (High Efficiency Video Coding) decoder, which can play Ultra HD content directly from a USB flash drive, an industry first. Thanks to LG's Tru-ULTRA HD Engine, these TVs can upscale any type of content to near UHD quality to deliver incredible Ultra HD picture quality with a 178-degree viewing angle and sharp, blur-free images. The LA9700 series goes a step further with NANO FULL LED backlighting for improved contrast, brightness and color consistency.
What's more, the LA9700 units are equipped with a 4.1 channel, 50W audio system with forward-facing Sliding Speaker while the LA9650 TVs come with speakers mounted on either side of the screen. The 84LA9800 boasts a 2.2 channel, 310W audio system with speakers on both sides of the immense screen for a true cinema quality experience.
Visitors to LG's booth at IFA 2013 will be able to enjoy works of art by artists such as Romero Britto and Yang-min Ha displayed on LG's ULTRA HD TVs. The marriage of art and technology is perfectly illustrated on LG's lineup of next generation TV products at this year's IFA.
Awards and Certifications
LG's next generation OLED TV has received a number of awards and certifications from prestigious organizations over the past year. LG's CURVED OLED TV has been honored with the European Design TV 2013-2014 award from EISA and the Red Dot: Best of the Best award. It has also received picture quality certifications from respected organizations such as TÜV Rheinland, Intertek, VDE, Intertek and Underwrites Laboratories (UL) and became the first OLED TV to acquire THX certification.
All of LG's next generation TV products will be on display at IFA 2013 in Hall 11.2 of Messe Berlin.
# # #