September 7, 2013
LG BRINGS POPULAR 'SKYLANDERS BATTLEGROUNDS' TO SMART TV PLATFORM FOR FIRST TIME AT IFA
LG Debuts Exciting New Family Games to LG Smart TV Game World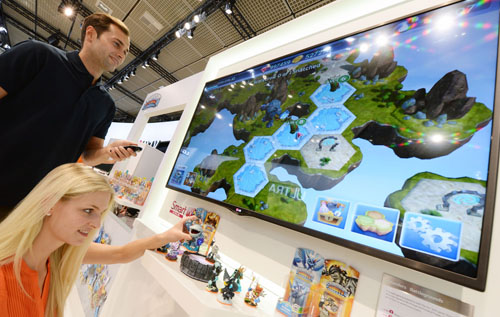 BERLIN, Sep. 7, 2013 — LG Electronics (LG) is bringing popular family-friendly video games Skylanders Battlegrounds® and Where's My Mickey? to its CINEMA 3D Smart TV platform. Demonstrated for the first time at IFA 2013, the fun, family-friendly titles can be played using the intuitive LG Magic Remote. These games will be made available this holiday season in the LG Smart TV Game World app store.
"At LG, we're committed to providing LG CINEMA 3D Smart TV users with a truly diverse range of entertainment options, suitable for the entire family," said Richard Choi, senior vice president of the Smart Business Center at LG Electronics."These entertaining titles deliver an incredible gaming experience thanks to the fantastic picture quality and large screens of our Smart TV lineup. And the games we'll be bringing to our platform will take advantage of LG's easy-to-use Magic Remote, which makes the gaming experience much more like a dedicated game console."
Skylanders Battlegroundsis an action role-playing game experience featuring inventive team-up gameplay in which players must pit the fighting skills and magical abilities of their favorite characters against powerful enemies. Specially adapted and optimized for LG CINEMA 3D Smart TVs, Skylanders Battlegrounds will enable fans of the franchise to play with any character from the entire collection of Skylanders figures. The motion control capabilities of LG's Magic Remote will help to transport the player into the beautifully rendered battlegrounds of the unique world of Skylands.
In under two years, the franchise has reached more than USD 1.5 billion in worldwide retail sales, with more than 125 million Skylanders Spyro's Adventure, Skylanders Giants™, and Skylanders Battlegrounds toys sold to date.1
Where's My Mickey? is a spin-off of Disney's popular physics-based game, Where's My Water?, and features one of the world's most iconic animated characters, Mickey Mouse. Players guide Mickey through a variety of entertaining story-based episodes, complete with appearances by other loveable Disney favorites, including Goofy. The interactive LG Magic Remote adds to the enjoyment, allowing players to control Mickey via pointing, clicking and dragging.
The third installment in the series, Where's My Perry?, will also debut on LG CINEMA 3D Smart TV along with Where's My Mickey?.
1   Inclusive of toys and accessory packs, according to The NPD Group, GfK Media Control® and Activision internal estimates.
# # #