July 4, 2013
LG CURVED OLED TV EARNS GLOBALLY RECOGNIZED GREEN CERTIFICATIONS
Intertek Green Leaf Mark, European Commission EU Ecolabel,
EPEAT Registration Recognize LG Green Leadership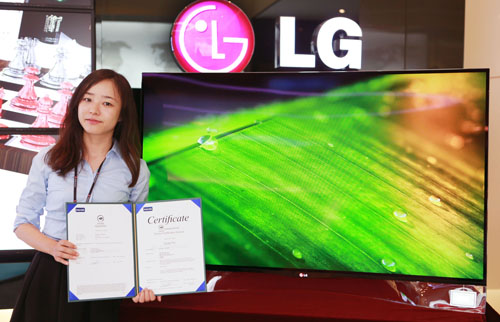 SEOUL, July 4, 2013 — LG Electronics (LG) today announced that its CURVED OLED TV has been certified energy efficient and designed with the environment in mind by three separate certification bodies: Intertek, the European Commission and the Electronic Product Environmental Assessment Tool (EPEAT).
"Today's definition of innovation is as much about how small a footprint a product leaves on nature as it is about technological advancement," said Il-geun Kwon, Head of the LG Electronics Home Entertainment Company R&D Center. "Our latest OLED TV is proof of our unwavering commitment to designing and manufacturing the most energy efficient products without sacrificing any of the benefits that they bring to our customers' lives."
To earn the Green Leaf Mark from Intertek, a product must be able to meet the most stringent set of performance and manufacturing standards. In addition to employing a comprehensive battery of standardized tests to evaluate a product's environmental impact, Intertek also investigates the technologies and methods used throughout the manufacturing process. A stamp of approval from Intertek, one of the most respected testing and certification organizations in the world, is viewed as a guarantee of quality and performance.
LG's CURVED OLED TV has also been awarded the European Commission's EU Ecolabel. This prestigious label certifies that a product has been manufactured without negatively impacting the environment. The European Commission (EC) is the widely respected and influential executive body of the European Union (EU) and is a leading voice in pushing for greater environmental sustainability in the region.
Further highlighting its green credentials, LG's next generation TV has been placed on EPEAT's registry for responsibly designed and built electronic devices. EPEAT is a non-profit organization that publishes a global registry of green electronic products for the benefit of both consumers and manufacturers. To be included in EPEAT's registry requires a product to meet no less than 24 environmental criteria related to energy efficiency, recyclability, packaging, longevity and reduction in the use of harmful materials.
Much thought went into the development of LG's CURVED OLED TV as product designed with the environment in mind, which played a large role in the certification process. The TV's body is constructed of Carbon Fiber Reinforced Plastic (CFRP), a sustainable material that contributes to the extreme thinness (4.3mm) and light weight (17kg) of this stunning, next-generation LG display. And thanks to the company's patented Smart Energy Saving technology, LG's CURVED OLED TV reduces energy usage as much as 67 percent compared to conventional flat panel TVs.
# # #