June 7, 2013
LG NAMED "GLOBAL TECHNOLOGY INNOVATOR 2013"
Jury Honors 17 LG Products with Plus X Award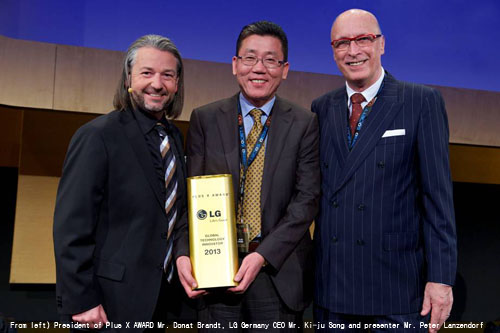 RATINGEN, GERMANY, June 7, 2013 — LG Electronics (LG) received a special award as Global Technology Innovator 2013 yesterday at the Plus X Award Night in Cologne, Germany. The Plus X Award is one of the most significant European innovation prizes for technology, sport and lifestyle and serves as a seal of approval for high-quality brands. It was the first time in the Plus X Award's ten-year history that awards went to 17 products from a single manufacturer. The LG products, including the flagship smartphone Optimus G and the first ULTRA HD TV, were consistent winners in the categories of Innovation, High Quality, Design, Ecology and Ease of Use.
"We are delighted to have received so many awards. We strive to develop products which will set new standards with regard to efficiency, design and environmental compatibility and the Global Technology Innovator Award and the Plus X Awards are a testament of our success," said Kiju Song, CEO of LG Electronics Germany, who accepted the awards at a ceremony in Cologne. "Our new products demonstrate an 'everything is possible' attitude while succeeding in making people's lives a little better every day. This is what LG is about."
Highlights of LG's key products recognized at the Plus X Award include:
ULTRA HD TV for Top Picture Quality
The ULTRA HD TV 84LM960V received several awards in the categories Innovation, High Quality, Design and Ease of Use. With an 84-inch (213.4 cm) screen, it is the first ULTRA HD TV worldwide, offering a stunning visual experience and numerous features which enhance convenience and ease of use. With four times the resolution of conventional full HD TV panels, the LG ULTRA HD TV creates an unbelievable picture quality.
LG Optimus G, Smartphone with Elegant Design
The LG Smartphone Optimus G has been winning over users worldwide since the end of 2012, and now it has won over the Plus X Award jury as well. The premium smartphone was awarded top honors in the categories of High Quality, Design and Ease of Use. It is the first LG smartphone to feature the new brilliant True HD IPS Plus 4.7-inch display for an exceptionally sharp picture. The Optimus G also features eye-catching Gorilla® Glass 2 on the front and reverse side, giving the smartphone optimal protection against scratches. And the 13-megapixel camera allows for a perfect snapshot every time.
Eco-Friendly Side-By-Side GS 9366 NECZ
In the Home Appliances category, the side-by-side refrigerator GS 9366 NECZ received honors for features such as its environmental compatibility and high energy efficiency. Thanks to LG's Linear Compressor technology, the refrigeratorhas an A++ energy efficiency rating and uses up to 40 percent less energy than comparable appliances with an A rating. The Smart Eco Door and the storage compartment behind it make it possible to easily access frequently used foods without having to fully open the refrigerator. Less cooled air escapes, foods stay fresh longer, and energy consumption is significantly reduced.
EA93 Monitor in Ultra-Wide Format
The EA93 UltraWide Monitor is the first monitor in the world with a picture format of 21:9. The 29-inch (73.6 cm) screen not only offers ample space to display documents, pictures and films, but also has a four-screen split function and fully covers the sRGB color space as well. Along with high-quality and true-to-life color rendering, the monitor offers a number of innovative features that fulfill multimedia dreams, whether in the office or the living room. It comes as no surprise that the monitor won several awards in various categories, including Innovation and Ease of Use.
Plus X Award: Seal of Approval for High-Quality Brands
For the tenth year in a row, the Plus X Award Jury, made up of renowned and independent trade journalists and personalities from 25 industries, decided the recipients of the Plus X Award. Particular emphasis is placed on products which are innovative and viable for the future and feature excellent technology, exceptional design and simple operating concepts. The jury also considers ergonomics, ecology and functionality.
The following LG products received a Plus X Award:
Home Entertainment
LG Smart TV 55LA8609 in the categories High Quality, Design and Ease of Use
LG Smart TV 55LA7909 in the categories High Quality, Design and Ease of Use
LG ULTRA HD TV 84LM960 in the categories Innovation, High Quality, Design and Ease of Use
LG Soundbar NB4530A in the categories Design and Ease of Use
LG Audio System CM3430W in the categories Design and Ease of Use
LG Portable Speaker ND8630 in the categories Design and Ease of Use
LG Blu-ray Player BP730 in the categories Innovation, High Quality, Design and Ease of Use
Monitors
LG Monitor 29EA93 in the categories Innovation, High Quality, Design and Ease of Use
LG Monitor 23ET83 in the categories High Quality, Design and Ease of Use
LG Monitor HECTO in the categories Innovation, High Quality and Design
Home Appliances
LG Washer-Dryer F1695RD in the categories High Quality, Ease of Use and Ecology
LG HomBot Square 3.0 Robotic Vacuum Cleaner (VR6270LVMB) in the categories High Quality, Design, Ease of Use and Functionality
LG Side-by-Side Refrigerator GS9366NECZ in the categories High Quality, Design, Ease of Use and Ecology
Mobile
LG Smartphone OPTIMUS G (E975) in the categories High Quality, Design and Ease of Use
Solar
Mono X NeoN (300NC1) solar panel in the categories High Quality and Ecology
Lighting
LG SlimART in the categories Design and Ecology
LG LED Bulb (12.8W) in the category Ecology
# # #