March 13, 2013
LG RECOGNIZED WITH RED DOT AND iF DESIGN AWARDS
Prestigious Global Design Experts Recognize
Design Excellence in LG's 2013 Products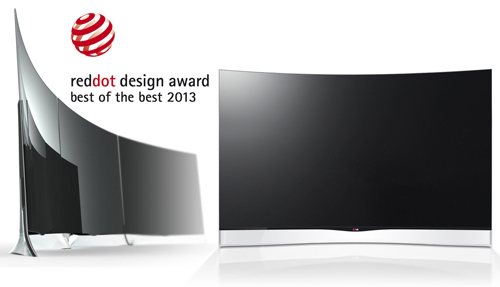 SEOUL, Mar. 13, 2013 ㅡ Twenty-seven of LG Electronics' (LG) 2013 products were recognized by the red dot design awards for their excellence in the field of design. A panel of 37 independent judges considered over 4,662 products from 1,865 manufacturers, designers and architectsfrom 54 countries. LG took top honors by receiving the coveted red dot: best of the bestaward for its new curved OLED TV. LG also received 24 other red dot design awards in addition to two honorable mentions.
"Design has always been an important part of our DNA and in recent years it's become even more important that we differentiate our products in an industry that has become synonymous with great looking products," said Dr. Scott Ahn, head of Corporate Design at LG Electronics. "Our ultimate philosophy is to incorporate designs that work but also evoke an emotional response. The design awards are a testament to the company's success in this regard."
Highlights of LG's key products recognized at the 2013 red dot design awards include:
Best of the Best: Curved OLED TV
First unveiled at the 2013 Consumer Electronics Show, LG's curved OLED TV (model EA9800)introduces aunique design that capitalizes on the thinness of the display and the aesthetic beauty of the technology itself. The unique EA9800 features the industry's very first ergonomically curved screen design with vivid picture quality. It has a gentle inward flex, making the entire screen surface equidistant from the viewer's eyes. This eliminates screen-edge visual distortion and loss of detail.
The revolutionary TV provides a more comfortable and immersive viewing experience as well as a remarkably clear image. The innovative design boldly pushes past conventional perceptions of what a display should be. LG's design team integrated the innovative Crystal Stand to cleverly conceal elements of the product not directly relevant to the screen. This has the effect of further enhancing the already immersive environment created by LG's CINEMA SCREEN Design which is defined by a bezel so thin that it is practically invisible to the naked eye, eliminating any distraction to the action on the screen.
Smartphones That Turn Heads
LG's first Full HD smartphone, the Optimus G Pro, comes with a 5.5-inch Full HD IPS display and new UX features. This unique device was specifically developed to meet the growing demand for smartphones with extra large screens. The thin bezel highlights its "simple yet detailed" personality, punctuated only by decorative metal on the edges that exudes an elegant, graceful look and feel.
The Optimus L3II is part of the newly introduced Optimus L SeriesII which embodies the beauty of the original L Series but with a more refined touch. The Optimus L3II continues LG's design heritage with four new elements that make the device eye catching and fun to use—Seamless Layout, Laser Cut Contour, Radiant Rear Design, and Smart LED Lighting around the home button with various colors for notifications.
Appliance To Enhance Any Kitchen
LG's latest side-by-side refrigerator with Door-in-Door system provides more usable storage space and a number of new convenience-oriented features. This model is equipped with LG's propriety Door-in-Door feature which provides easier access to foods and drinks that family members consume most frequently while minimizing cold air from escaping when the refrigerator door is opened. The exterior design takes a minimalistic approach with a bold yet restrained metal finish that enables the refrigerator to fit the décor of any kitchen.
Other LG products receiving recognition by red dot award judges include the Touch Monitor (ET63), 100-Inch Laser TV (HECTO), Soundbar (NB6530), Mouse Scanner (LSM-300), among others.
iF Design Awards Success
LG's accolades from the 2013 red dot design awards follows in the footsteps of the company's success at the iF (International Forum) design awards earlier this year. LG took home 23 iF product design awards, besting more than 3,000 competitive entries. LG's OLED TV (model EM9700), French 4-Door refrigerator with Door-in-DoorTM, HOM-BOT SQUARE robotic vacuum cleaner and Optimus G, L9 and L7 smartphones were all recognized for their design excellence. Four communication design awards were also bestowed on LG among 1,086 competing entries. LG's OLED TV microsite – www.LGOLED.tv – was recognized for the visual way in which it told the story of "the ultimate next generation display."
# # #