January 4, 2013
LG TO SHOWCASE CONNECTED, EASY-TO-CONTROL SMART HOME APPLIANCES AT CES 2013
LG Appliances Feature Convenient One Touch Connection
and Smart Control for Smarter, More Connected Lif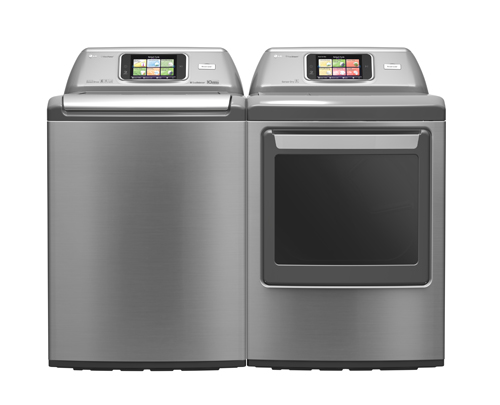 SEOUL, Jan. 4, 2013 ㅡ At the 2013 Consumer Electronics Show 2013 in Las Vegas, LG Electronics (LG) will showcase its smart appliance lineup, offering enhanced connectivity and greater user convenience. By simply touching their smartphone to the NFC Tag-on symbol on one of LG's smart appliances, customers can easily register and control their refrigerator, washing machine, robotic vacuum cleaner or range oven. Smart Control also allows the user to effectively manage their appliances with simple voice commands given via smartphone and remotely monitor LG's super-efficient Smart Home system away from home.
"This year at CES, LG will demonstrate their most advanced, convenience-enhancing smart home appliances," said Seong-jin Jo, President and CEO of the LG Electronics Home Appliance Company. "LG's upgraded smart technology gives users the ability to control their appliances, no matter where they are. They can start a load of washing while driving home from work, tell their robotic cleaner to vacuum the floor to receive unplanned guests or bring up a list of food items in the fridge. And LG's enhanced device-to-device connectivity offers incredible convenience, as the user can control and monitor household appliances through their TV while still watching their favorite show. It's a smart home for those who want the ultimate smart lifestyle."
LG differentiates its smart appliances with two separate but highly complementary sets of technologies. LG's four Core Technologies – the Linear Compressor, Inverter Direct Drive, KOMPRESSOR™ and Lightwave – enable superior performance and savings, while LG's innovative smart technologies – Smart Manager, Smart Diagnosis™, Smart Access, Smart Adapt and Smart Grid Ready – create greater user convenience.
A Smart Refrigerator to Revolutionize Food Management
Built around the company's signature Linear Compressor, LG's smart refrigerator is equipped with a full range of smart technologies. First among them is Smart Manager, which transforms the refrigerator into a complete food management system. Customers can use the LCD panel or their smartphones to check what's inside without opening the door. With the Smart Manager's Freshness Tracker, users can input various foods and check their expiration dates. Additionally, the Smart Manager recommends dishes to cook based on which ingredients are available in the refrigerator. The recommended recipe can then be sent to LG's smart oven.
The Smart Access feature lets users check the status of their LG appliances via smartphone, regardless of their location. So rather than keeping track of a cumbersome shopping list, LG smart refrigerator owners can simply call up a list of what's in their kitchen fridge directly from the supermarket on their iOS or Android phones.
Smart Shopping[1] is another new feature of Smart Manager that enables online grocery shopping directly from the refrigerator's LCD panel. Items can be automatically purchased when current supplies are running low or they can be selected and ordered manually. Smart Shopping eliminates the need to ever visit a supermarket again, saving time and increasing convenience.
LG's unique Health Manager1 feature recommends individual recipes, as well as daily and weekly meal plans, based on the user's personal profile. The customer's age, sex, weight and height information are used to determine a BMI Index and this information is then used to create an appropriate, personalized meal plan.
LG's Smart Diagnosis™ has undergone an impressive upgrade, allowing LG's smart products to better self-assess problems and inform the user. Through Wi-Fi connection, NFC tagging and audible diagnosis alerts, the customer is quickly made aware of any minor issues, such as when the ice maker is switched off, which helps to limit costly, inconvenient service calls and in-home visits.
LG's smart refrigerator is also Smart Grid Ready, meaning it can automatically adjust its temperature and settings, creating a practical smart energy-saving solution. LG's smart refrigerator also offers Delay Defrost Capability, which can reduce power consumption during specific hours of the day. And in addition to being able to catch one's favorite TV programs on the refrigerator's crisp display screen, Smart Share allows users to upload and enjoy photos, music, movies, calendars and even check the weather report from the fridge or another LG smart appliance. Finally, instead of just displaying step-by-step recipes, instructional videos show how to prepare recommended dishes right on the refrigerator door.
A Smart Washing Machine with Wi-Fi/NFC Tag Smart Diagnosis™
LG's smart washing machine incorporates Smart Diagnosis™, Smart Access, Smart Adapt and Smart Grid Ready features. Using Wi-Fi, NFC tagging and audible diagnosis, LG's Smart Diagnosis™ alerts the user to technical issues, while the Smart Adapt feature makes it possible to download new washing cycle programs — such as Super Rinse or Baby Sanitize — via smartphone or directly from the washing machine's LCD panel. Using their smartphone, customers can monitor the status of LG's smart washing machine and remotely control it with voice commands. Wash cycles can also be adjusted, started or paused directly through the owner's TV.
Smart Access keeps owners in control of their washer regardless of their location. Customers no longer need to worry when leaving the house with the washer running as Smart Access makes it possible to monitor the overall status of the washer and dryer. Functions and settings can be remotely administered and adjusted and pop-up messages appear on the user's smartphone when a wash or dry cycle has been completed.
Smart HOM-BOT : So Much More Than a Vacuum
With a smartphone and Wi-Fi connection, users can remotely schedule the HOM-BOT to clean their home at any time of the day or night. Advanced features mean the HOM-BOT can be controlled with a smartphone using either on-screen controls or voice. HOM-BOT's camera eye allows for remote home surveillance via a smartphone and even allows owners to speak to family members at home via the HOM-BOT. Like its smart appliance counterparts, the HOM-BOT can also be operated from an LG Smart TV.
A Smarter Oven for Smarter Cooking
LG's Smart Oven comes equipped with Smart Access, Smart Adapt and Smart Diagnosis™, which opens up a whole new range of smarter cooking possibilities. With a Wi-Fi connection, home chefs can monitor the status of their ovens, search for recipes, set cooking modes and diagnose problems. Even without Wi-Fi, NFC gives users the ability to program the oven for a particular recipe as well as diagnose a problem using their mobile device. What's more, LG's smart oven can be voice controlled via a smartphone or LG Smart TV.
[1] Currently available only in Korea.
# # #