January 10, 2013
LG TO LEAD OLED AND ULTRA HD TV MARKETS
LG Plans to Lead Industry with OLED TV,
Broader Ultra HD TV Lineup, Unique Smart TV Features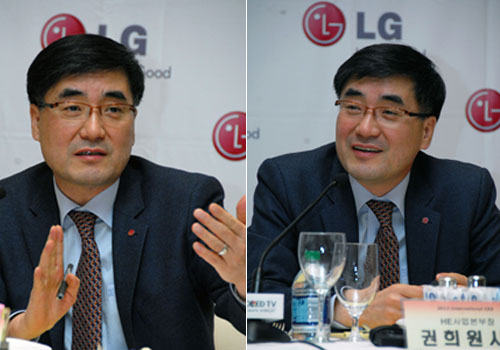 LAS VEGAS, Jan. 9, 2013 –– Speaking at the International Consumer Electronics Show in Las Vegas, Havis Kwon, President and CEO of the LG Electronics' Home Entertainment Company, outlined the company's vision for the upcoming year and expressed confidence in LG's ability to lead the next generation TV market.
"2013 is an important year because for LG, it marks the beginning of a new TV era," said Mr. Kwon. "With game-changing products such as the OLED TV and Ultra HD TV, we are in a strong position strategically to lead the industry. Delivery of our Ultra HD TV well before the competition and the imminent release of our OLED TV in the first quarter of 2013 will give us a head start in a market where speed is a critical component of success."
Seizing the Advantage with Global Rollout of OLED TV
In order to gain an early foothold in the OLED TV market, Mr. Kwon said LG will launch its 55-inch OLED TV in North America, Central and South America, Europe and Asia in the first quarter of 2013. The company will increase R&D and investment in OLED TV technology and marketing to ensure that consumers see a strong link between OLED and LG. The company will also continue to develop and improve production techniques in cooperation with LG Display in order to strengthen its position in what is expected to be a fast-growing segment in the next two or three years..
Dominating in Ultra HD TVs with Diverse Lineup
LG will solidify its market position with the addition of different Ultra HD TV sizes to complement its 84-inch Ultra HD TV (Model 84LM9600) which was first unveiled at CES one year ago. Earlier this week at the 2013 Consumer Electronics Show, LG unveiled new 55 and 65-inch versions slated for launch in some 100 countries.
With its 84-inch Ultra HD TV already being delivered to living rooms in more than 40 countries, LG has begun playing a key role in promoting new Ultra HD content. At CES, LG demonstrated the progress it has made with Korea's number one broadcaster, KBS, to develop Ultra HD content and expressed its interest in forming partnerships with overseas broadcasters as well.
Smart TV Leadership with Differentiated Content and Services
With more intuitive controls, enhanced user interface (UI) and advanced SmartShare feature which enables one-touch media sharing across multiple devices, LG is firmly committed to raising its Smart TV profile. A redesigned Magic Remote allows users to more easily control their Smart TV with everyday voice commands or simply point to the TV screen and direct an on-screen cursor, almost like using an "air mouse". LG's newest Smart TVs also deliver a smoother user experience and superior picture quality thanks to an upgraded CPU and graphics processor.
LG will continue to develop strategic partnerships with broadcasters, content providers and IT companies to offer better quality Smart TV content and differentiated services. What's more, the company plans to expand its joint efforts to offer more region-specific entertainment and live broadcasts in order to deliver the best possible Smart TV user experience to LG customers worldwide.
# # #