December 25, 2012
LG INTRODUCES POWERFUL AUDIO AND VIDEO PRODUCTS WITH ENHANCED SMART TV FUNCTIONS AND INTUITIVE UX
LG's 2013 Lineup Features Powerful Sound, Innovative Smart Features,
Myriad of Connectivity Options and Superior 3D Technology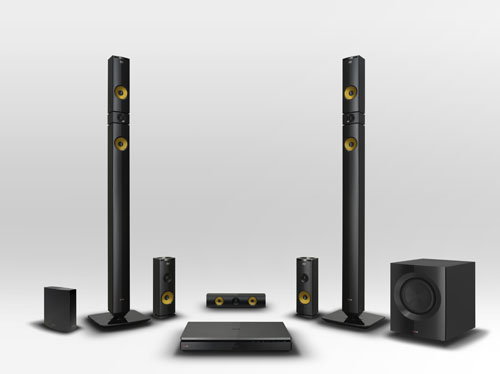 SEOUL, Dec. 25, 2012 – LG Electronics (LG) today announced its 2013 audio and video lineup, which will be on display at CES in Las Vegas. The outstanding new selection features the BH9430PW 9.1-channel speaker system, NB4530A Soundbar, BP730 Blu-ray player with Smart TV features, the ND8630 Dual Docking Speaker and the NP6630 Portable Speaker. These advanced products clearly illustrate LG's commitment to delivering users captivating audio, superior Smart TV functionality, a highly intuitive user experience and cutting-edge 3D technology.
"A home theater system is much more than just a TV and speakers; it's a comprehensive package," said Havis Kwon, President and CEO of LG's Home Entertainment Company. "LG offers superb audio and video products to help consumers realize a truly immersive home cinema experience. By implementing advanced technologies, CINEMA 3D features, smart connectivity and control, LG will continue to lead the audio visual segment in 2013."
True Cinema Sound: Industry-Leading Audio System That Rivals Theaters
The BH9430PW is a high-quality surround sound speaker system designed to take the movie viewing experience to the next level. The industry-leading 9.1-channel system, it adds four additional channels to the typical 5.1 setup, delivering an enhanced audio performance. A chorus of stunning sound is produced by the four multi-directional tallboy speakers, helping to fill the entire room with a soundscape that rivals that of an actual cinema. The system's 3D Surround Processor analyzes content to distribute sound in multiple directions while maintaining the appropriate balance level. LG also opted to employ high-tensile Aramid fibers in the construction of the sound cones, which results in a wider range of sound, including defined, deep bass with near-zero sound distortion.
Also serving as a smart hub, the BH9430PW is compatible with NFC technology for wireless content mirroring. In addition, it has other excellent Smart TV capabilities such as web browsing. The BH9430PW also includes an iPod dock to charge devices and provide access to stored content.
The BH9430PW also offers a new feature for late night viewing; the Private Sound Mode. This feature lets customers feed the system's sound directly to their smartphone via Wi-Fi to ensure that the rest of the family stays fast asleep.
Sound Advanced: Perfect Premium TV Companion
The NB4530A Soundbar has a slim design with a black and silver finish, making it the ideal complement to today's slim-profile premium TVs. The Soundbar produces compellingly rich audio with 2.1 channels, 310W speakers and LG's advanced 3D Surround Processor. All these features are packed into a single compact, manageable speaker unit, maximizing space savings. The stylish yet powerful 35mm tall Soundbar is the perfect premium TV companion.
Supporting HDMI with an Audio Return Channel (HDMI ARC), the Soundbar plays audio from the TV without requiring additional cables. It is also Bluetooth-enabled to facilitate wireless audio streaming from smartphones, tablets and laptops. The Soundbar's installation options – wall-mounted, standalone or in and close proximity to the TV – provide a level of flexibility for a tidy fit in any room. It is also possible to connect the NB4530A wirelessly with LG's latest TVs. The Soundbar uses the 3D Surround Processor to enrich the audio experience of watching the TV.
The Hub: LG's 3D Blu-ray Player with Industry-leading Smart TV Features
The BP730 offers a range of comprehensive Smart TV features including Video-On-Demand (VOD) and wireless connectivity options. The availability of premium VOD services such as Hulu Plus, Pandora, Netflix and YouTube is on the rise. Expanding its partnerships with content providers, LG is able to ensure users access to the latest entertainment with or without Blu-ray discs. The BP730 also supports Near Field Communication (NFC) for wireless and seamless content mirroring from smartphones and other external devices. This outstanding package was honored with a 2013 International CES® Innovations Award for its breadth of sophisticated features.*
The BP730 is easily operated with the acclaimed LG Magic Remote, enabling customers to navigate the system's control options with point—and-wheel based actions. The Blu-ray player also employs a dual core processor to handle the All-in-One search function. This advanced feature simultaneously collects search results for VOD and apps and displays them in the same browser for quick access to sought-after content. Regardless of whether content is viewed in 2D or 3D, the BP730 provides vivid colors and crisp picture quality.
Connectivity in Style: Wireless Dual Docking Speaker with Streaming Music
The ND8630 Dual Docking Speaker supports dock-and-play for both iOS and Android mobile devices. The 80W speaker conveniently charges the batteries of all docked devices. It can also recognize and wirelessly play music files saved on smartphones, tablets, laptops and desktop PCs that support Bluetooth and Apple's AirPlay. The speaker's cylindrical design also offers a visually appealing direct docking option. In addition, the Mood Lamp creates a soft, environment-enhancing lighting effect, while the Smart Sensor analyzes the amount of illumination being provided by ambient light sources.
Great Sound on the Go: LG's Wireless Portable Speaker
The NP6630 is LG's newest portable speaker. The versatile 20W unit supports Near Field Communication (NFC), AirPlay and Bluetooth to wirelessly stream music from a diverse range of mobile devices. The highly capable speaker is the perfect combination of portability and functionality, keeping tunes playing for extended periods of time, even in the most remote locations. No matter what NP6630 users are doing – camping, barbequing or relaxing at the beach – they can enjoy an audio experience that is far superior to that provided by a smartphone.
# # #