December 14, 2012
LG HONORED WITH BEST PROJECT AWARD FOR SUPERIOR ENERGY SOLUTIONS
LG Electronics Gulf FZE Building Recognized by USGBC and
Climate Control Middle East for Energy Savings and Sustainability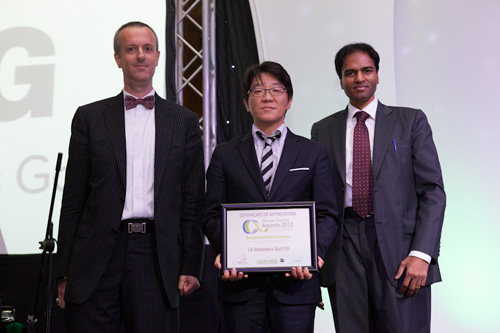 From left: CPI Industry Managing Director Frederic Paille, LGEGF General Manager Joon-seok Shin, CPI Industry Editorial Director B.Surendar
SEOUL, Dec. 14, 2012 -– LG Electronics (LG) was the recipient of the "Best Project Award" from Climate Control Middle East for its LG Electronics Gulf FZE project, a building equipped with LG's DX system, an innovative combination of Variable Refrigerant Flow (VRF) air conditioning, solar panels and LED lighting. Climate Control Middle East is the most recognized magazine in the Middle East covering issues related to the heating, ventilation, air conditioning and refrigeration (HVACR) industry.
The DX system minimizes the resource consumption of each major component, which enables LGE Gulf FZE to achieve its impressive energy savings figures. The stand alone Multi V III VRF air conditioning units reduce the building's energy consumption by 30 to 35 percent compared to conventional units. In addition, LG's photo voltaic solar panels generate electricity in the daytime to offset the building's total consumption by almost 4 percent. Furthermore, the LEDs decrease the lighting heat load and operating power consumption.
Earlier, LGE Gulf FZE had also garnered praise from the US Green Building Council (USGBC) for its sustainability efforts. USGBC, a non-profit organization based in Washington, D.C., gave the building top marks for its implementation of sustainable initiatives. After testing, the USGBC bestowed the building with the coveted Leadership in Energy and Environmental Design (LEED) Gold Certification. In particular, it noted that the building reduced energy consumption by 21.5 percent via the DX system. LEED certification relies on a points system in which weighted credits are granted depending on the environmental impact and the human benefits of the product. The LGE Gulf FZE building earned an impressive 39 credits, becoming the first structure in the Middle East region to receive a Gold Certification.
"LG has long striven to use its technological know-how to provide groundbreaking total energy solutions," said Kam-gyu Lee, President of LG's System Air Conditioning Business Unit. "So we are understandably very proud that LGE Gulf FZE has been recognized once again for its energy efficiency and sustainability efforts. The challenge now is to build on this success and continue to provide even more efficient HVAC products and energy solutions in the future."
Next year, LG plans to launch its ultra-high efficiency HVAC solutions including the Multi V IV , LG's latest VRF system, globally.
# # #