December 21, 2012
LG EMBRACES NEXT GENERATION PC CATEGORIES WITH INNOVATIVE 2013 LINEUP
LG's Tab-Book with Hybrid Technology Heads Up Diverse 2013 Lineup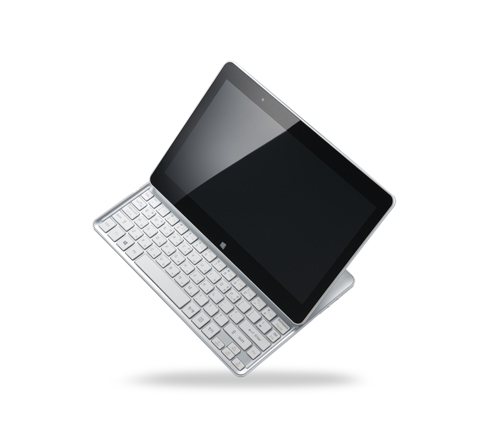 SEOUL, Dec. 21, 2012 –- LG Electronics (LG) will display its brand new 2013 PC lineup at the International Consumer Electronics Show (CES) in Las Vegas. The cutting-edge selection features LG's Tab-Book, Ultrabook and All-In-One PC. At CES, LG will again highlight its ability to create advanced computing concepts which push existing technological boundaries to meet a wider range of consumer needs. All exhibited models incorporate LG's IPS display technology, ensuring outstanding picture quality with rich, natural colors.
"This year, we are introducing several innovative PCs designed with one goal in mind — to meet the needs and desires of consumers in an environment which is quickly transitioning to touchscreens," said Il-geun Kwon, Senior Vice President and Head of the IT Business Unit at the LG Home Entertainment Company. "At CES, LG will be displaying a diverse PC lineup, truly deserving of the next generation moniker."
Tab-Book: Hybrid Notebook and Tablet Without Sacrificing Performance
The LG Tab-Book (H160) is a powerful combination of tablet and notebook. Running Microsoft's Windows 8 operating system, the compact 11.6-inch device offers everything a conventional tablet does, including convenient mobile computing and access to apps. Even though the H160 model has a slim 15.9mm body, it effectively conceals a QWERTY keyboard, which slides out from underneath the screen. The device has an impressive 12.5 hours of battery life and weighs only 1.05kg. This compact hybrid leaves nothing out in achieving its slim profile, with built-in Wi-Fi, Bluetooth 4.0, HDMI output, a USB port and a microSD slot.
The Tab-Book Ultra (Z160) will also be on display at CES. This high-spec version of Tab-Book employs an Intel® Core™ i5 processor for an enhanced level of performance while maintaining the slim design and light weight of the H160.
Ultrabook: High Caliber Performance in Fashionably Slim Design
The LG Z360 Ultrabook's slim, sleek body belies the powerful set of advanced features contained within. It also adopts LG's stunning slim design, resulting in an overall thickness of just 13.6mm while tipping the scales at a scant 1.15kg. With Intel's third generation Core™ i5 processor, the Ultrabook is capable of booting up in just eight seconds. The Ultrabook's Full HD screen incorporates an IPS display which expresses an impressively vibrant 300 nit premium picture quality. Users can also effortlessly stream Full HD (1080p) video content via WiDi wireless display technology. Large files and documents open quickly and smoothly thanks to a SATA3 Solid State Drive (SSD). LG's Ultrabook also includes Windows 8 hotkeys for easy access and convenience.
AIO V325: All-In-One PC with 10-Point Touch, Optimized for Windows 8
LG's All-In-One (AIO) V325 is a PC optimized for use with Windows 8. Featuring 10-point touch capability, this PC takes full advantage of Microsoft's new touch-based operating system. Measuring 23 inches diagonally, the screen offers enough real estate to make using any app or program a refreshingly easy experience. The V325 also packs an integrated TV tuner and a picture-in-picture (PiP) function to display a web browser or any other program while simultaneously displaying a live TV stream. The V325 also features a speedy Intel® Core™ i5 processor and a GeForce GT640M GPU for stellar multimedia and gaming performance.
# # #