August 2, 2012
SOUTHEAST ASIA KEY GROWTH MARKET FOR LG'S HVAC BUSINESS
With Energy Efficient Solutions Such as Multi V III, LG Brings to
Singapore Valuable Insights on Sustainable Building Practices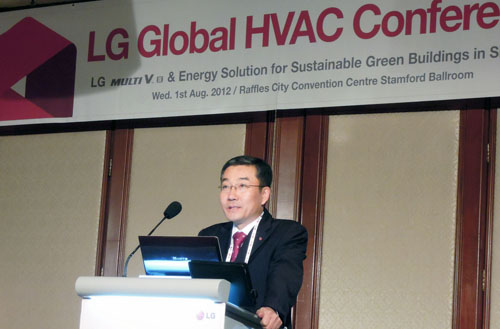 SINGAPORE, Aug. 1, 2012 -– At the LG Global HVAC Conference held at the Raffles City Convention Centre today, LG Electronics (LG) demonstrated its ongoing commitment to sustainability through a showcase of its cutting-edge energy solutions for the green building sector in Singapore and the Southeast Asia region.
"We're pleased to introduce this comprehensive suite of energy-efficient HVAC products and solutions to our clients and industry partners in the Southeast Asia region," said Kam-gyu Lee, President of LG System Air Conditioning Business Unit. "The advanced technologies we have incorporated provide some of the best energy efficiency returns in the market."
The LG Global HVAC Conference offered insightful discussions about developing structures that place a minimal burden on the environment. LG executives outlined how strong research and development, leading-edge energy efficient technologies and LEED certification helped propel LG to become a thought leader in promoting sustainable building practices in infrastructure-hungry Southeast Asia.
Highlighting the event was LG's latest HVAC and Energy Solution portfolio, led by the eco-friendly LG Multi V III air conditioning unit. Boasting three key benefits — higher energy efficiency, larger capacity and longer piping design — the Multi V III is the company's most advanced and energy efficient solution to address all the major HVAC requirements in Southeast Asia. LG ARTCOOL Platinum air-conditioner, another highlight in the exhibition, featured the world's first mirror-finish design and the lowest noise level in the industry while delivering up to 60 percent energy savings.
The LG Global HVAC Conference was a valuable opportunity for guests to interact with prominent officials from the Singaporean government and high ranking members of the American Society of Heating, Refrigerating and Air Conditioning Engineers (ASHRAE). Keynote speakers for the conference included Mr. Tan Tian Chong, Executive Director of Singapore Green Building Council, and Professor Chou Siaw Kiang of the National University of Singapore, who shared their insights with over 300 delegates.
"Singapore is highly energy-conscious when it comes to architecture and design as well as building and construction," said Scott Jung, Managing Director of LG Electronics Singapore. "Our comprehensive lineup of HVAC and energy solution products enable   us to address the demands of this rapidly growing market and provide customers with the best-of-breed eco-friendly solutions that will grow with them as they grow."
# # #