August 24, 2012
LG TO SHOWCASE VARIETY OF LEADING AUDIO AND VIDEO PRODUCTS WITH ENHANCED CONNECTIVITY AT IFA
LG Challenges the Global Audio Visual Market with a Wide Range of
Smart TV Technologies, Enhanced 3D, and Innovative Designs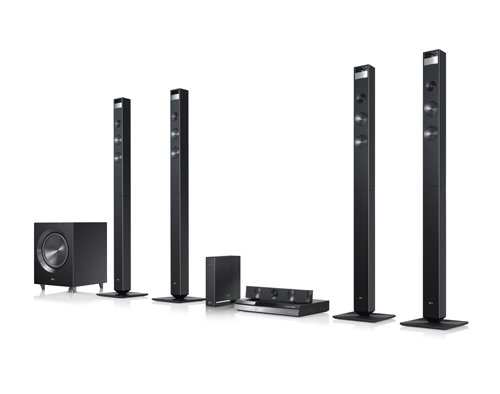 BERLIN, Aug. 24, 2012 -– LG Electronics (LG) is set to show off a variety of audio and video products at this year's IFA tradeshow in Berlin. Following the strategy that gave LG leadership in the 3D TV market, LG is aiming to lead the global audio visual market with its strength not only in 3D and Smart TVs, but also in enhanced smart device compatibility and innovative design.
"LG's expertise in 3D technologies is being applied to our wide range of audio and video products, which will only help strengthen LG's leadership in all things 3D," said Havis Kwon, President and CEO of LG Home Entertainment Company. "LG is in a position to lead rather than follow, recognizing the latest industry trends and responding to what consumers are looking for by offering a whole new breed of peripheral devices."
The Most Comprehensive 3D Sound Home Theater System
The BH9520TW is a 3D home theater system with four towering 9.1 3D speakers pumping out an immersive and multidirectional 3D sound designed to deliver powerful acoustics reminiscent of a high fidelity cinema or a grand opera house. The system is equipped with a 360 degree Reflector and an array of imbedded 3D sound technologies. LG's 3D Sound Zooming technology synchronizes sound output with the location and movement of on-screen objects displayed on a 3D TV. The BH9520TW comes equipped with built-in Smart TV functions, giving viewers instant access to LG's expansive Smart TV ecosystem comprised of a wealth of content apps. Content access is further enhanced through a number of connectivity features, such as Bluetooth, USB and Wi-Fi. The addition of SIMPLINK elevates user convenience allowing viewers to control the home theater system through a single TV remote control or remote control app that is available for both Android and iOS smartphones.
A Versatile Soundbar Audio System
The NB3520A is a compact soundbar audio system with wireless subwoofer offering rich and deep bass and adding a sense of realism to the home theatre experience. Thanks to LG's 3D surround processor technology, it also offers realistic 3D surround sound. Its attractive simple and slim design integrates well into the modern home and its wall bracket makes mounting a simple task. The audio system includes an active subwoofer connected wirelessly over Wi-Fi, removing the hassle of cables. With Bluetooth connectivity, streaming music from smart devices such as smartphones or tablets to the soundbar is a straight-forward process. A USB port is also available for connecting portable music players.
Taking Ordinary TV to the Next Level
The SP820 is a Smart TV Upgrader that turns any ordinary TV into a Smart TV. It enables instant access to an extensive collection of content and apps, significantly upgrading the home entertainment experience. The SP820 also comes with LG's Magic Remote making it easier to navigate through the numerous smart features, contents and apps. The SP820 is equipped with a wide array of connectivity features, including Wi-Fi Direct™, which wirelessly connect the SP820 to external devices. These advanced multimedia and technical features are housed in an equally impressive casing with a sleek, ultra-premium design. The SP820's shell was developed with high quality resin, molded for a sophisticated and distinctive look that will fit seamlessly into any interior.
Blu-rayTM Players with Hybrid Functionality
The HR929S and HR929D Blu-rayTM players offer HD Broadcasting reception and recording as well as Smart TV functionality. Equipped with HD tuners, these two BlurayTM players can display high quality digital broadcast as well as record on internal or external storage devices. Wi-Fi Direct™ and DLNA give users access to multimedia content stored on other devices such as notebooks, personal computers, and smartphones. These players offer convenient access to premium VoD and applications from the LG App Store.
A Multimedia Entertainment Hub
The BP620 Smart Blu-ray™ Disc Player has received rave reviews from industry publications for a reason. The BP620 takes the multimedia experience to a whole new level with imbedded Smart TV functions and wireless connectivity to external devices. The BP620 offers convenient access to premium VoD and applications from the LG App Store.
Docking Speaker with AirPlay and Intuitive Interface
Optimized for Apple's mobile products, the ND8520 features AirPlay technology, enabling users to share their iTunes music collection throughout the home on compatible devices via Wi-Fi. The simple touch interface not only lets users control all of the speaker functions, but also music libraries stored on external devices. For additional connectivity, the ND8520 includes a USB port that supports MP3 and WMA playback. All these elements can be controlled using the speaker's own remote control or with LG's Bluetooth application for smartphones. The eye-catching ND8520 delivers impressive sound from its compact 2.1 channel 80W speaker, generating strong bass with its built-in woofer.
In addition to the ND8520, LG is also introducing the ND5520, which can wirelessly stream audio from both Apple and Android devices. Rounding out LG's docking speaker range are the ND4520 and ND3520, offering the smart device generation a greater variety of technically superb connective speaker systems with innovative features.
# # #