May 9, 2012
LG SHOWCASES IMPRESSIVE LINEUP OF LTE SUPERPHONES AT CTIA 2012
Cutting-Edge LG Mobile Devices Deliver the Ultimate Speed and Technology;
Global LG Devices Make U.S. Debut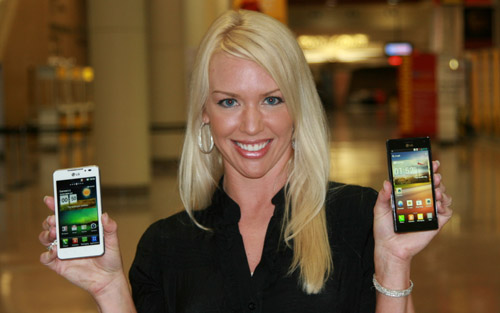 NEW ORLEANS, May 8, 2012 — LG Mobile will demonstrate leadership in LTE technology at CTIA 2012 by showcasing a wide range of cutting-edge mobile devices. Beginning today, visitors to the LG Booth (#3133) will have the opportunity to experience firsthand LG's extensive lineup of devices featuring 4G LTE speed, advanced 3-D technology, and an enhanced user experience unlike any other.
As an industry leader in LTE smartphones, LG Mobile has pushed the boundaries of innovation to create an unparalleled mobile experience. Whether it is the affordable LG Viper™ 4G LTE and its eco-friendly features , the breathtaking, super-sharp true HD Spectrum™ by LG, the high-speed, multitasking LG Lucid™, the ultra-fast LG Nitro™ HD, ™ or the compact yet easy-to-view LG Connect™ 4G, LG Mobile has an LTE smartphone to fit any lifestyle. In addition, to help busy users share and store files on-the-run, all LG U.S. Android devices offer 50GB of free cloud storage from Box for life, an estimated value of $240 per year, from now through July 22.
"LG Mobile has solidified its presence as a true innovator in LTE technology," said Tim O'Brien, vice president of marketing for LG Mobile Phones. "Our next-generation mobile devices allow users to take full advantage of available 4G LTE networks by delivering the ultimate speed, power, and task efficiency to provide a totally streamlined user experience. We will continue to push the boundaries of LTE and future technologies for years to come."
In addition to demonstrating a wide breadth of LTE handsets, the LG Booth also will feature global devices never before seen in the United States, including LG Optimus 4X HD, LG Optimus V:, and LG Optimus 3D Max. These next-generation global smartphones were revealed earlier this year at the Mobile World Congress in Barcelona.
Featured LG 4G LTE U.S. Handsets at CTIA Wireless 2012 Include:
LG Viper™ 4G LTE
LG Viper™ 4G LTE is the first device to run on Sprint's 4G LTE network1. The smartphone features dual cameras that allow usage of video chat applications as well as a 1.2GHz dual core processor, allowing users to quickly switch between apps and enjoy HD gaming on a super-fast web browser. It also supports NFC and Google Wallet, allowing for swift and easy transactions while on-the-go. Between May 18 and July 17, LG Viper users who set up their Google Prepaid Card on Google Wallet within 1 week of activating their device will receive a $25 credit to be used at participating retailers. The affordable LG Viper 4G LTE boasts eco-friendly attributes such as a protective casing made from 50 percent recycled plastics, packaging made up of 87 percent post-consumer papers which is 100 percent recyclable, and has received the coveted ULEnvironment (ULE) Platinum Certification, the highest level of environmental performance for a device that is recognized by Sprint and ULE.
Spectrum™ by LG
Spectrum™ by LG sharpens the vision of what is truly superior in mobile technology. Beneath its exceptionally large, extra-sharp 4.5" True HD IPS display is a mighty combination of power and speed. A Qualcomm® 1.5 GHz dual-core processor complements Verizon 4G LTE connectivity, allowing you to surf the Web, watch videos, and play games. The Android 2.3 platform (Gingerbread, upgradeable to ICS) is Google integrated and comes with a full range of preloaded apps for a totally seamless user experience.
LG Lucid™
Lucid™ by LG is an avid multitasker packed with high-end features and designed to easily integrate with busy lives. Thanks to the super-fast Verizon 4G LTE network and a dual-core processor, Lucid manages multiple tasks at once. With a 4" Corning® Gorilla® Glass touchscreen, high-quality outdoor visibility, and an auto-adjust feature, Lucid looks good in any light. And, with complete customization through game and app downloads in the Google Play store, it is the perfect device to keep you entertained on the go.
LG Nitro™ HD
LG Nitro™ HD is a state-of-the-art 4G LTE Android™-powered smartphone delivering a revolutionary visual experience with crystal-clear, high-definition viewing of on-board, user-generated, and web content. Powered by a 1.5 GHz dual-core processor, Nitro HD delivers a seamless, ultra-fast user experience on the AT&T 4G network. The 4.5" True HD IPS display with 329 pixels per inch gives you higher image resolution and text readability, and you'll enjoy undistorted, full-screen viewing with the 16:9 HD aspect ratio. Plus, Nitro HD's 1280p x 720p display lets you see lots of content on a single screen.
LG Connect™ 4G
LG Connect™ 4G is powered by Android 2.3 (Gingerbread) and is MetroPCS' first handset to feature a 1.2 GHz dual-core processor, giving consumers a powerful multi-tasking tool for their daily needs and entertainment. Its brilliant 4-inch NOVA display with patented technology from LG, together with a Corning® Gorilla® Glass Screen Protector, provide consumers with unparalleled viewing pleasure and durability. And with a 1.2 GHz dual-core processor and 720p HD video recording, the LG Connect 4G delivers a tremendously responsive user experience when browsing the web and capturing or viewing video. LG Connect 4G is also equipped with a 5MP rear camera with flash and a front-facing camera.
Global LG Devices on Display at CTIA Wireless 2012 Include2:
LG Optimus 4X HD
LG's first quad-core smartphone, LG Optimus 4X HD combines NVIDIA's latest 1.5GHz Tegra 3 with 4.7-inch True HD IPS display to deliver a PC-like performance in the palm of your hand. LG Optimus 4X HD is designed to guarantee the finest viewing experience with high resolution, clarity, and no color or shape distortion. LG Optimus 4X HD includes 16 GB internal memory and runs on the latest version of Android OS, Android 4.0 Ice Cream Sandwich. In addition, LG Optimus 4X HD boasts an 8-megapixel BSI (Backside Illumination) Sensor camera with LED flash and advanced multimedia features to enrich the overall multimedia experience.
LG Optimus Vu:
Equipped with LG's advanced LTE and IPS display technology, LG Optimus Vu offers a unique combination of tablet-like viewing with smartphone portability. Running on a powerful 1.5GHz dual-core processor, 32GM internal memory, and a large 2,080 mAh battery, the Optimus Vu is a multimedia lover's dream device. The large 5-inch display with bright 4:3 aspect ratio makes viewing documents, books, internet, and multimedia contents easier and more comfortable. The 4:3 aspect ratio is optimized for viewing to grasp more at a glance and note taking to increase productivity in everyday life. Moreover, IPS display realizes every color in its natural state for the best viewing experience, even under bright sunlight.
LG Optimus 3D Max
With powerful 3D technology and sleeker design, LG Optimus 3D Max provides a complete 3D entertainment platform and marks a big leap forward in the ever-expanding 3D ecosystem. LG Optimus 3D Max features a bright display for easy viewing even in direct sunlight and is NFC capable for on-the-go users. The device's premium design comes from LG's commitment to fine details. Measuring only 9.6 mm thin and weighing 148 grams, the lean body with metallic and rounded edges offers a stylish yet functional design for all users.
# # #
1 Sprint's 4G LTE network is not yet available.  Please consult with the service provider on timing of availability.
2 Global devices are not available for sale in the United States.