April 26, 2012
WORLD CLASS IPS DISPLAY TECHNOLOGY FROM LG USED BY TOP PRO-GAMERS
LG Provides Elite Professional Gaming Team with Stunning IPS-Driven Picture
Quality and Introduces State-of-the-Art Technology to the Gaming Community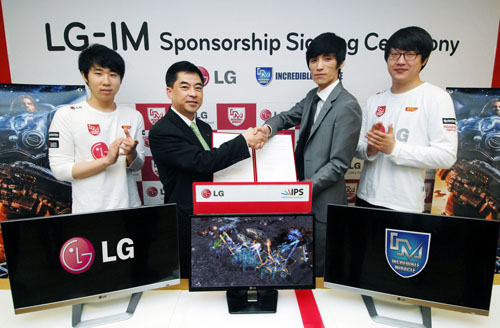 SEOUL, Apr. 26, 2012 –- LG Electronics (LG) announced a sponsorship deal with the top-ranked Incredible Miracle (IM) Team of the Global Starcraft II League (GSL).
The IM Team boasts some of the world's best GSL gamers, including Jong-hyun Jung (Starcraft II ID: IMMvp) and Jae-duk Im (Starcraft II ID: IMNes Tea). Jung held one of the best records of any GSL gamer last year, picking up big wins at events such as the BlizzCon Invitational, Sony Ericsson GSL (January), MLG Anaheim and the Pepsi GSL, among others. GSL matches are regularly watched by more than two hundred thousand people and on average, more than 1.7 million viewers per day tune in to watch big tournaments from nearly every country around the world.
As one of LG's on-going support initiatives for the gaming community, LG will offer pro-gamers IPS monitors to use in training, providing a more comfortable viewing experience. Reducing eye fatigue is a key factor for gamers who play Role-Playing Games (RPGs) for extended periods of time. The initiative will also offer a range of interactive events to give game fans the opportunity to meet and play special matches with IM Team members at well-known gaming conventions.
"When training, pro-gamers are looking at their monitor for many hours every day," said Jong-hyun Jung, IM Team's all-star member. "IPS monitors have color rendering that is extremely good, and the image processing capabilities are perfect for RPGs. LG's IPS has also eliminated the blur generated from rapid motion in video games. This puts less strain on my eyes, even when I put in a lot of hours."
LG has already garnered a strong reputation for demonstrating impressive advances in displays and monitors. It has earned praise for its 3D technology and the benefits of IPS monitors were also recognized at a number of game conventions and festivals such as last year's LG CINEMA 3D Global Game Festival, held in over 20 countries.
"We're very excited about having the opportunity to work with IM Team. It's a great chance for us to interact with members of the gaming community," said J.J. Lee, Executive Vice President and Head of IT Business Unit of LG Home Entertainment Company. "IPS monitors are simply perfect for gaming as they don't have the color and viewing angle limitations that some with Twisted Nematic (TN) monitors."
LG plans to invest heavily in the monitor market in 2012 by offering a comprehensive lineup of IPS monitors, providing consumers with the most immersive home entertainment experience possible. LG's IPS4 series will be available in May in select markets with 3D IPS monitors and Personal TVs being announced soon after.
# # #