February 1, 2012
LG ANNOUNCES FOURTH-QUARTER AND FULL-YEAR 2011 FINANCIAL RESULTS
Quarterly Results Reflect Record-High Flat Panel TV Shipments,
Strong Appliances Revenues and Profitable Mobile Business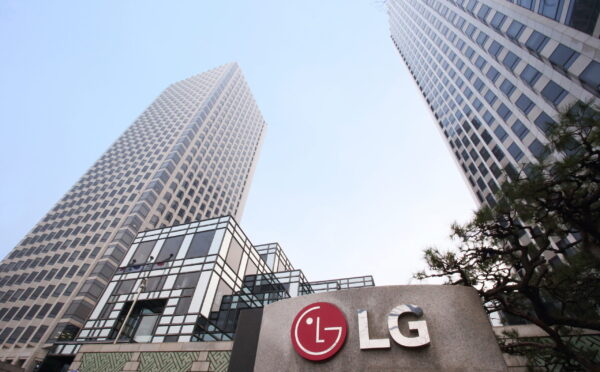 SEOUL, Feb. 1, 2012 -– LG Electronics Inc. (LG) today announced fourth quarter 2011 consolidated revenues of KRW 13.81 trillion (USD 12.05 billion) with an operating profit of KRW 23 billion (USD 20 million). Quarter-on-quarter revenue growth reflected strong performance in home entertainment and home appliances with improved operating profit in the mobile and TV businesses.
Unaudited consolidated financial results, based on IFRS (International Financial Reporting Standards) for the period ending Dec. 31, 2011, showed a net loss of KRW 112 billion (USD 97.73 million) in the quarter, primarily due to a loss on investments in affiliated companies and net financial expense.
Full-year 2011 consolidated revenues reached KRW 54.26 trillion (USD 48.97 billion). Despite a 2011 net loss of KRW 433 billion (USD 391 million), operating profits improved significantly to KRW 280 billion (USD 253 million) from KRW 176 billion (USD 153 million) for full-year 2010.
The LG Home Entertainment Company shipped a record high 8.8 million flat panel TVs from October to December, increasing revenues 17.6 percent from the previous quarter to KRW 6.31 trillion (USD 5.5 billion). While quarterly sales declined modestly from the 2010 period, a strong 2011 holiday season and more premium product mix led by CINEMA 3D TV resulted in an operating profit of KRW 150 billion (USD 130.9 million) in the fourth quarter of 2011. Full-year 2011 home entertainment sales were KRW 22.38 trillion (USD 20.2 billion) with operating profit of KRW 423 billion (USD 382 million). For 2012, LG will continue strengthening its position in 3D and Smart TVs with a broadened line of TVs with Cinema Screen design and quality content.
The LG Mobile Communications Company improved its position in the fourth quarter with operating profits of KRW 12 billion (USD 10 million) and sales of KRW 2.78 trillion (USD 2.42 billion) on the strength of premium smartphones such as Optimus LTE (Long Term Evolution). For full-year 2011, the company posted sales of KRW
11.69 trillion (USD 10.55 billion), a decline of 9.9 percent from 2010. For 2012, the company will continue to strengthen its position by focusing on strategic markets with expanded smartphone lineup led by LTE smartphones.
The LG Home Appliance Company posted record-high quarterly sales of KRW 2.99 trillion (USD 2.6 billion) in the fourth quarter of 2011 with strong growth in Korea, the U.S. and developing countries with more energy-efficient products. Modestly lower operating profit of KRW 65 billion (USD 57 million) in the fourth quarter reflected increased raw material costs and unfavorable foreign exchange rates. Total 2011 home appliance sales were KRW 11.11 trillion (USD 10.03 billion) with operating profit of KRW 295 billion (USD 266 million). New energy efficient appliances being introduced around the world this year are expected to contribute to 2012 revenue growth.
The LG Air Conditioning & Energy Solutions Company reported sales of KRW 680 billion (USD 593 million) in the fourth quarter, essentially flat with the 2010 fourth quarter. An operating loss of KRW 38 billion (USD 33 million) was attributed to negative macroeconomic issues and product mix weakness in developing markets. For full-year 2011, the company recorded air conditioning and energy solutions revenues of KRW 4.56 trillion (USD 4.11 billion) and operating profit of KRW 58 billion (USD 52 million). The company is increasing its focus on high-efficiency air conditioning systems to help drive sales in 2012.
2012 Business Direction
For 2012, LG Electronics is targeting a revenue goal of KRW 57.6 trillion (USD 53.8 billion) with plans to spend KRW 1.6 trillion (USD 1.5 billion) in capital expenditures and to invest KRW 2.6 trillion (USD 2.4 billion) in research and development.
2011 4Q Exchange Rates Explained
LG Electronics unaudited earnings results are based on IFRS. Amounts in Korean won (KRW) are converted into U.S. dollars (USD) at the average rate of the three month period in each corresponding quarter: KRW 1,146 per USD (2011 4Q) and KRW 1,133 per USD (2010 4Q). Average rate of the twelve-month period in 2011 was KRW 1,108 per USD and KRW 1,157 per USD in 2010. LG expects the exchange rate in 2012 to be KRW 1,070 per USD.
Earnings Conference and Conference Call
LG Electronics will hold a Korean language earnings news conference on Feb. 1, 2012 at 16:00 Korea Standard Time at the LG Twin Tower Auditorium (B1 East Tower, 20 Yeouido-dong, Yeongdeungpo-gu, Seoul, Korea). An English language conference call will follow on Feb. 2, 2012 at 10:00 Korea Standard Time (01:00 GMT/UTC). Participants are instructed to call +82 31 810 3069 and enter the passcode 9084#.
The corresponding presentation file will be available for download at the LG Electronics website (www.lg.com/global/ir/reports/earning-release.jsp) at 13:00 on Feb. 1, 2012.
Please visit http://pin.teletogether.com/eng/ and pre-register with the passcode provided. For those unable to participate, an audio recording of the news conference will be available for a period of 30 days after the conclusion of the call. To access the recording, dial +82 31 931 3100 and enter the passcode 142640# when prompted.
# # #