December 28, 2011
PRADA PHONE BY LG 3.0 BEGINS WORLDWIDE ROLLOUT
Much Awaited Designer Smartphone Arrives in
South Korea Today, Europe and Asia in January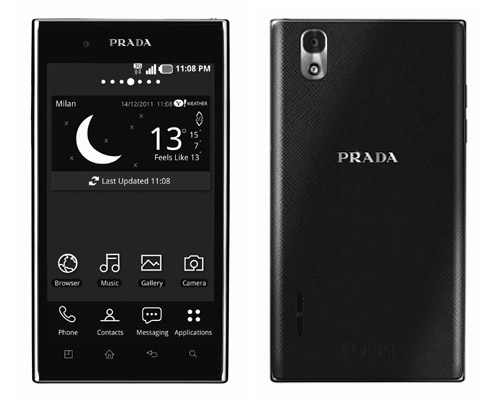 SEOUL, 28 Dec. 2011 — LG Electronics (LG) made its highly anticipated PRADA phone by LG 3.0 available to the public today in South Korea. The phone is now available to Korean customers and scheduled for the release in most European countries and other parts of Asia in January.
The phone, its existence announced only last month in Seoul during the joint signing ceremony, was unveiled for the first time at a showcase event in London two weeks ago. The stylish new device has been attracting significant attention for being the only smartphone with premium branding on the market currently.
The PRADA phone by LG 3.0 is the third handset from the PRADA and LG collaboration following the highly
successful PRADA phone by LG 1.0 and 2.0 phones. The latest offering continues in the same tradition combining PRADA's trademark chic simplicity with LG's leading technology, including one of the brightest 800-nit NOVA display and a PRADA themed UI for truly unique mobile experience.
Following PRADA's renowned design philosophy, the handset features a full glossy touchscreen on the front and PRADA's signature Saffiano pattern on the back. Impressively thin at only 8.5mm, minimal hardkeys and a classic black finish complete the phone's sleek look.
With 1.0GHz Dual-Core/Dual Channel architecture, the PRADA phone by LG 3.0 is as effective as it is stylish. The phone runs on Android Gingerbread OS with an update to Android Ice Cream Sandwich scheduled for the second quarter of 2012.
For more details on this unique collaboration, please visit the official site of PRADA Phone by LG 3.0 at
www.pradaphonebylg3.com.
Key Specs:
o Operating System: Android 2.3 Gingerbread
o Memory: User 8GB maximum (varies depending on carrier requirements)
o Display Size: 4.3 inches
o Resolution: WVGA (800 x 480)
o Display Brightness: 800 nit
o Camera: 8MP
o Processor: 1.0GHz Dual-Core / Dual Channel
o Battery: 1540mAh
HISTORY OF PRADA-LG COLLABORATION
The collaboration between PRADA and LG, which began in 2006 and resulted in two premium phones being introduced in 2007 and 2008, focuses on key elements within the smartphone, including software and user interface down to its design and packaging.
The PRADA phone by LG 1.0, a pioneer in the fashion-house mobile phone space, was an unqualified success, selling over one million units. This premium handset combined high-end technology with a design embodying superior style. As evidence of its place in design history, the PRADA phone by LG 1.0 is part of the permanent collection in New York City's Museum of Modern Art (MoMA) and the Museum of Contemporary Art (MOCA) in Shanghai.
The PRADA phones by LG were revolutionary in the technology they offered to users. The PRADA phone by LG 1.0 was the world's first touchscreen mobile phone, and the 2.0 provided an innovative mobile experience through its unique watch with Link technology, which allowed for easy access to caller ID, SMS text messages, call history, call block and two-way alarm notification.
# # #