December 22, 2011
NEW LINEUP OF MONITORS FROM LG TAKES FULL ADVANTAGE OF IPS
With Industry-Leading 3D Technology and IPS Display Panel,
LG Introduces State-of-the-Art IPS Monitors at CES 2012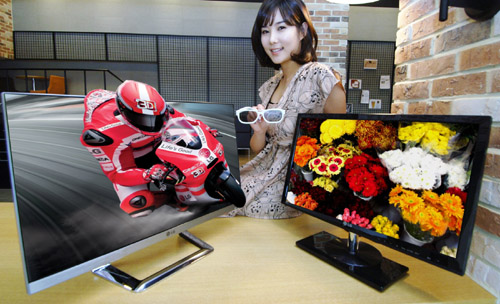 SEOUL, Dec. 22, 2011 –- LG Electronics (LG) will unveil its 2012 IPS monitor lineup at the Consumer Electronics Show (CES) in Las Vegas next month. LG's new IPS monitors will provide consumers with the most optimal 3D viewing solution, offering immersive 3D viewing with higher resolutions from wider viewing angles. The new IPS monitors are divided into the DM92, DM82 and DM52 series, in addition to the D43 3D monitor.
"The quality and technological superiority of LG's 3D display products are second to none, according to the findings of internationally renowned research organizations and respected media outlets," said Havis Kwon, President and CEO of LG Home Entertainment Company. "The 2011 IPS monitor lineup shows LG's commitment to further build upon on this reputation and technological prowess in order to provide consumers with the most immersive home entertainment experience possible."
The DM92 series showcases a premium design by employing the slim bezel of LG's technology- and design-driven CINEMA SCREEN whose aesthetic superiority is accompanied by the lustrous chrome stand. Through the monitor TV's attractive 27-inch display, users can access files on their PC, play games or simply kick back and watch their favorite TV shows. The DM92 series is also optimized for enjoying exciting 3D content. By incorporating an IPS panel, the DM92 series enables greater depth, consistent color and brightness at wider viewing angles compared with conventional 3D displays.
The 23-inch DM82 series exhibits a chic and futuristic design, employing a metallic neck supported by a square, slim base. The 3D display quality is among the industry's best, with superior color tone from any viewing angle. The beautiful images are accompanied by 7-watt built-in speakers, enabling the DM82 to function as a comprehensive entertainment centerpiece.
The 27- and 23-inch DM52 series offers versatility and efficiency in a flexible package. Combining immersive 3D with IPS, the DM52 series comes equipped with a range of connectivity features, such as HDMI and USB, for content-sharing with external devices.
Optimized for 3D, LG's D43 monitor offers a host of new technologies and features. The monitor ensures bright 3D images as well as SUPER Resolution and vivid colors through the 3D effect mode. The D43 easily converts 2D content into 3D without any additional software. A 3D hot key enables users to easily adjust and control the depth of 3D images.
LG's new 2012 IPS monitor lineup will be available globally starting February 2012.
# # #