December 27, 2011
LG UNVEILS NEW SMART TV FEATURES FOR 2012 FOCUSING ON RICH CONTENT AND EASE OF USE
Now With Over 1,200 Apps and New Magic Remote, LG's Smart TV
Significantly Upgrades User Experience and Convenience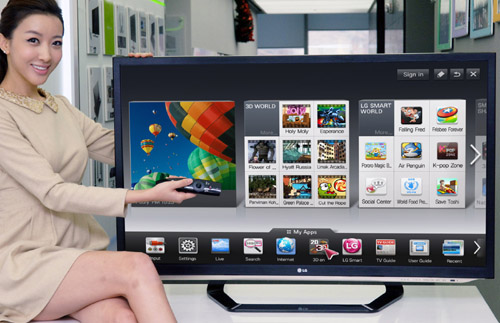 SEOUL, Dec. 27, 2011 –- LG Electronics (LG) will unveil its newest Smart TV features at the Consumer Electronics Show (CES) in Las Vegas next month. Imbedded in the new CINEMA 3D Smart TV lineup for 2012, LG is aiming to provide CINEMA 3D Smart TV owners with the most comprehensive yet easy-to-use home entertainment experience possible, as evidenced by the over 1,200 apps, growing quantity of premium content services and the new Magic Remote.
"Even thought the Smart TV market is in its infancy, LG is constantly introducing new features and upgrading existing ones in order to deliver the richest, most convenient Smart TV experience in the market today," said Havis Kwon, President and CEO of LG Home Entertainment Company. "The features and functionality we'll be introducing in 2012 are, I believe, second to none when it comes to showing consumers how a Smart TV can improve their TV viewing experience."
LG's Smart TV ecosystem has experienced enormous growth over the past year, having launched over 1,200 Smart TV apps. In addition to access to more movies and TV programs, user can access social networking services (SNS) on their LG Smart TVs, make donations to charities and even browse famous art collections.
LG's 3D Zone offers a growing collection of 3D movies and TV shows, while existing 2D movies can be converted to 3D via LG's enhanced 3D conversion engine. Due to the use of Film Patterned Retarder (FPR) technology, LG's 3D glasses are battery-free, lightweight and inexpensive, making them ideal for watching 3D content in large groups and comfortably for longer periods of time.
And even though LG's Smart TV ecosystem is growing in features and choices, using the TV is simpler than ever, thanks to the new Magic Remote. The new Voice Recognition mode lets users enter text — such as search terms — by making voice commands. Wheel enables users to swiftly scroll up and down various menus and apps, allowing for quicker selections. Magic Gesture makes it possible to communicate physical movements as commands. And lastly, Pointing lets users make on-screen selections quickly and easily without having to scroll or push direction keys repeatedly.
The new CINEMA 3D Smart TVs offer a variety of connectivity features. The newest among them is Intel's Wireless Display (WiDi) technology, which enables easy and quick connection between TVs and PCs without the need for cables or Internet access. Through Smart Share Plus, users can access content stored on external devices such as PCs, tablets and smartphones. Smart Share Plus also offers the Screen Share function which streams TV content to external viewing devices using a Wi-Fi connection.
The quantity of content is further expanded through premium content services available through the Smart TV function. While content availability constantly grows, they remain easy to access, thanks to the upgraded Home Dashboard, which allows for quick browsing. And the shortcuts displayed on the Home Dashboard can be customized, giving users the option to handpick their favorite content and apps for instant access.
# # #