December 13, 2011
LG AIR CONDITIONER FIRST TO RECEIVE CARBON FREE CERTIFICATION
With a Reputation for Modest Energy Consumption, LG's Multi V III is
Recognized by Carbonfund.org for its Eco-Friendly Credentials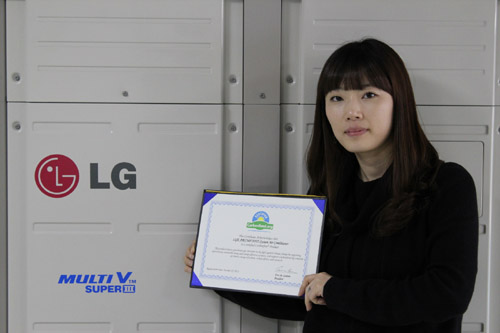 SEOUL, Dec. 13, 2011 -– LG Electronics (LG) announced today that its Multi V III (ARUN072DT3) is the world's first air conditioner to receive the Carbon Free Certification from Carbonfund.org, a North American authority on evaluating the impact individuals and businesses have on the environment.
Carbonfund.org grants the Carbon Free label based on emissions generated by a product throughout its entire lifecycle, spanning from manufacturing and shipment to usage and final disposal. The Multi V III's Carbon Free recognition results largely from LG's own lifecycle analysis (LCA) program which pursues reductions in the company's overall carbon footprint.
The Multi V III was designed to be as eco-friendly as it is powerful. Underpinned by LG's unique Inverter Technology, the Multi V III delivers a coefficient of performance (COP) level of 4.6, one of the highest COPs in the industry. In other words, the Multi V III emits less CO2 compared to any other air conditioner, helping to slow global warming.
"Consumers in North America have shown a very strong interest in eco-friendly products," said Hwan-yong Noh, head of LG Electronics' Air Conditioning & Energy Solution Company. "We are delighted to be able to offer a product that meets Carbonfund.org's incredibly high standards. As a total HVAC and energy solution company, LG is committed to developing products that are both technologically superior and environmentally responsible."
The Multi V III will be available in North America from the end of this year. LG has already shown an upward growth in North America's variable refrigerant flow (VRF) market from 4 percent in 2010 to 8.9 percent in 2011, an increase of 201 percent.
# # #