November 17, 2011
LG SHOWCASES RESIDENTIAL SMART GRID AT WORLD SMART GRID EXPO 2011
LG Offers Sneak Peak into its First-Ever Residential Smart Grid, Smart Place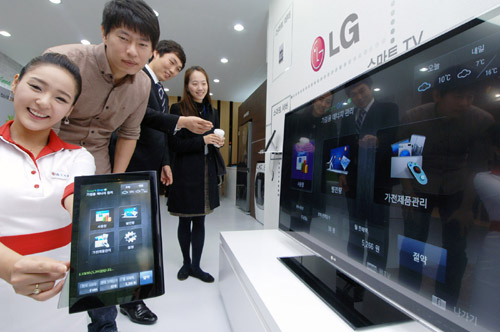 SEOUL, Nov. 17, 2011 -– LG Electronics (LG) is showcasing Smart Place at the World Smart Grid Expo 2011 in Seoul, Korea. Smart Place is a comprehensive Smart Grid network connected to homes on Jeju Island's 185km2 Jeju Smart Grid Test-Bed, where approximately 6,000 homes are located.
Smart Grid implements information technology (IT) and telecommunications technology into existing power grids, enabling electricity providers and consumers to share real time information pertaining to energy usage, in order to maximize energy efficiency. In the case of Smart Place, Smart Grid technology is applied to homes, where many traditionally energy-intensive electronics products are used, such as home appliances and home entertainment products. Smart Place increases energy efficiency at home by reducing electricity consumption and managing the use of alternative energy.
Smart Place centers on the LG Smart Server, which functions as a gateway between the power company and the various electronics products scattered throughout a home, such as CINEMA 3D Smart TVs, Smart Refrigerators and Smart Washing Machines, as well as solar panels. Smart Server gathers real time updates on a family's overall energy consumption and the resulting electricity bill. Using this information, the Smart Server centrally controls and manages the energy consumption of all connected devices. Equally important, depending on the availability of recycled energy or energy generated from residential solar panels, the Smart Server automatically chooses the more economic energy supply for usage.
Each device connected to the residential Smart Grid uses its own respective LG Smart Technology to further maximize energy efficiency. When the Smart Server detects the electricity bill is becoming unusually high, LG's CINEMA 3D Smart TVs automatically go into energy-saving mode. On a regular basis, LG Smart Refrigerators and LG Smart Air Conditioners maximize power use and cool more intensely during off-peak hours, when electricity is cheaper, and minimize energy use during peak hours. LG Smart Washing Machines perform a similar function, as they identify off-peak hours and recommend those hours for doing laundry.
While LG Electronics is the lead contractor for Smart Place, the technological achievements evidenced in Smart Place result from a synergistic effort with other LG companies, such as LG Chem, LG U+ and LG CNS.
Smart Place completed its first phase in June of this year, when LG finished construction of the required infrastructure. The second phase is currently underway and is scheduled to be finished by May 2013, when LG will have completed various tests and trials and begun expanding Smart Place to homes outside of the Jeju Smart Grid Test-Bed.
In addition to Smart Place, LG plans to expand its Smart Grid projects overseas, as evidenced in Smart Watts, a German government-funded Smart Grid project in the German city of Achen, where LG has been contracted to supply its Smart Servers and Smart Appliances.
# # #