November 11, 2011
LG ELECTRONICS CONTINUES AS TITLE SPONSOR OF LG SNOWBOARD FIS WORLD CUP
Partnership With Snowboarding Proves Highly Effective In Reaching Young Market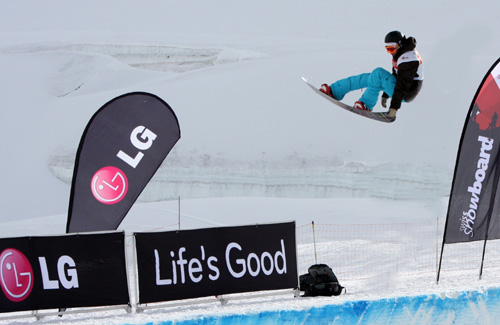 SEOUL, Nov. 11, 2011 — After three years as title sponsor of the LG Snowboard FIS World Cup, LG Electronics remains onboard also for the 2011/2012 season. The LG Snowboard FIS World Cup is a multi-race tournament over a season for snowboarding  hosted by the Federation Internationale de Ski (FIS).
As one of the biggest winter sports competitions in the world, the LG FIS Snowboard World Cup 2011/2012 competitions will take place across some 20 cities in more than 15 countries between August 2011 and March 2012, beginning in Cardrona, New Zealand, on 27-28 August 2011 and continuing until the season finals that are set to conclude on 18 March 2012.
"There are few sports that can attract the kind of young, intelligent audience that snowboarding can," said Simon Kang, President and the Global Marketing Officer of LG Electronics, "Our partnership with FIS offers an exciting and youthful way to appeal to consumers and has contributed to increasing LG's overall brand exposure in key global markets."
Gian Franco Kasper, FIS President added, "We are extremely happy to continue to build our partnership with LG, one of the world's premier brands, for yet another season and look forward to finding new and creative ways of appealing to the young generations around the world."
The annual FIS Snowboard World Cup was first held in the 1994/95 season and has evolved to cover all aspects of this spectacular sport. The winners of the FIS World Cup rankings are awarded the coveted FIS World Cup large crystal globes in the overall freestyle and speed World Cup rankings, as well as the small globes in snowboard cross, halfpipe, big air-slopestyle and the parallel events.
# # #