July 10, 2011
LG CINEMA 3D TV RECEIVES FULL HD CERTIFICATION
LG CINEMA 3D Continues to Gain Market Share as More and More
Consumers Realize Benefits of Polarized Glasses Over Shutter Glasses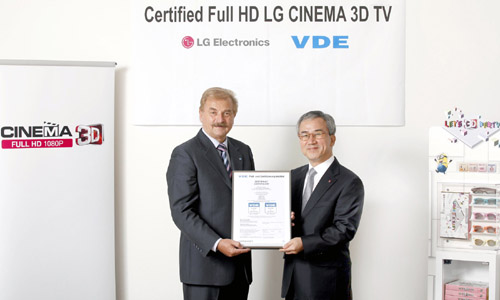 SEOUL, July 10, 2011 — LG Electronics (LG) announced that its CINEMA 3D TV (47LW570S-ZD) has been certified FULL HD in 3D-Mode by VDE, one of the largest technical and scientific international associations in Europe.
"This latest certification proves beyond all doubt that LG's CINEMA 3D TVs, which already provide the most comfortable 3D viewing experience, deliver 3D in FULL HD," said Havis Kwon, President and CEO of LG Electronics Home Entertainment Company. "We're pleased to say we can now put this debate to rest."
The dispute over LG's TV had centered on whether the company's CINEMA 3D TVs truly qualified as FULL HD, defined as a horizontal image containing 1,080 lines of definition. LG's Film Patterned Retarder (FPR) technology, used on the CINEMA 3D TVs, creates the perception of 3D depth by delivering two 540 line images, one for each eye, that are then combined via the glasses to create a unified 1080p image. The ruling from the VDE delivers the clearest affirmation to date of the validity of LG's FPR technology.
CINEMA 3D TV has already received a string of endorsements from other institutions and agencies. The China Electronic Chamber of Commerce ruled that both the vertical and horizontal resolution of LG CINEMA 3D TVs meet the 1080p TV standard, a position that allows LG to use the FULL HD logo in China. TÜV and Intertek, two top European quality assurance and safety certification agencies, awarded LG's CINEMA 3D TVs "Flicker-Free" certification, providing official backing for LG's sharp 3D images.
Furthermore, a top US consumer magazine recently named an LG CINEMA 3D TV the best 3D TV in the US market. The review noted clear advantages for the TV's viewing angle, 3D glasses and bright images.
# # #