May 6, 2011
LG SUPER LED IPS MONITORS TAKE TOP TIPA AWARDS
With Strikingly Realistic Color and Picture Quality, LG Monitors Named
"Best Entry Level Photo Monitor" at Prestigious Imaging Awards
SEOUL, May 6, 2011 –– LG Electronics (LG) announced today that two SUPER LEDTM IPS (In-plane Switching) Monitors have been named "Best Entry Level Photo Monitor" at the 2011 Technical Image Press Association (TIPA) Awards in Istanbul last month.
According to TIPA, LG's IPS231 and IPS236 monitors were recognized for their precise color rending capability and wide viewing angle thanks to a combination of fast LED backlighting and state-of-the-art IPS panel technology in addition to their affordability. These features are highly appreciated by amateurs and enthusiasts alike, allowing them to enjoy the full quality of the video and photo image displayed on the screen.
"LG has been a pioneer in the development of IPS panels so it's especially gratifying to be rewarded for work we always knew was industry-leading," said Si-hwan Park, Vice President of Monitor Division, LG Home Entertainment Company. "We're confident that LED LCD monitor technology is the next big thing in monitors and we're grateful for this recognition of our efforts."
TIPA (www.tipa.com) consists of 29 member magazines from 13 countries around the world, making it one of the largest and most influential photographic and imaging press associations globally. Every year, the TIPA editors vote and awards for the 40 best products introduced to the market during the previous 12 months, taking into account innovation, cutting-edge technology, design, ease-of-use and the price to performance ratio of the products.
The IPS231 and IPS236 monitors deliver advanced picture quality without any color shift along with a wide viewing angle. The IPS236 has a sophisticated design for general home users and the IPS231 adopted an ergonomic design with a pivot and height adjustable stand convenient for photographers and graphic designers.
LG SUPER LEDTM IPS, part of LG's SUPER LEDTM monitor lineup, is built on the company's exceptional technology that offers the four advanced features of SUPER Slim, SUPER Picture Quality, SUPER Angle and SUPER Energy Saving.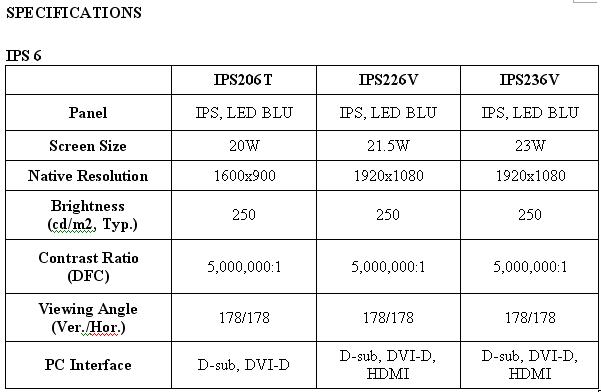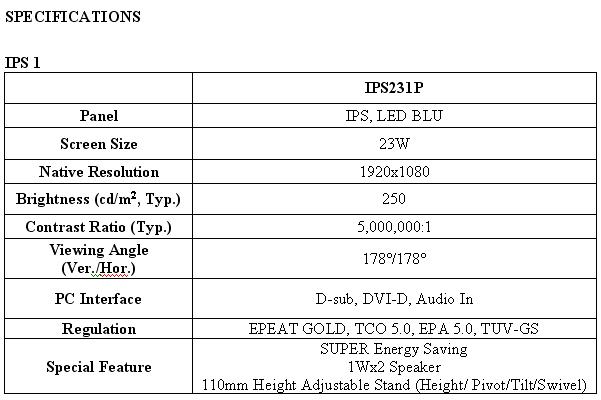 # # #