February 1, 2011
LG TO UNVEIL ADVANCED SIGNAGE SOLUTION AT ISE 2011
LG EzSign TV Offers Simple, High-Tech and Customizable Solution Without
Media Player Connection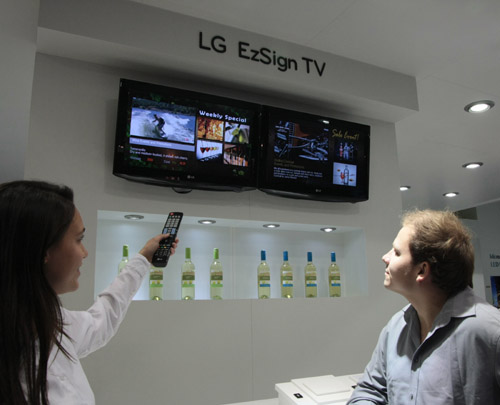 Amsterdam, Feb. 1, 2011 -– LG Electronics (LG) will unveil LG EzSign TV, its most advanced TV signage solution, at the Integrated Systems Europe (ISE) 2011 from February 1 to 3. With its superior technology, LG EzSign TV provides a cost-effective, easy-to-use solution that answers all the needs of small- and mid-sized business owners.
"We expect TV signage to create a new market when SMB shop owners are given more convenient and cost efficient options," said Jin-yong Kim, Senior Vice President of LG Commercial Display & Security Division. "With our advanced, completely integrated LG EzSign TV technology, we're aiming to lead in Europe and become the first stop for businesses looking for the very best in signage solutions."
LG EzSign TV is the world's first TV product that comes with signage functions. With its numerous free templates customized to fit the needs of different industries, customers can easily edit and develop whatever content they need using LG EzSign Editor, LG's intuitive editing software. The free templates and the software's simple four-step drag and drop control function make it easy for users to set up the sign themselves, meaning big savings in outsourcing costs.
USB playback offers a simple, comprehensive way to install and operate content on LG EzSign TV without the need for additional media players or a connection to an external devices such as a DVD player and PC.
With LG EzSign TV, businesses can deliver the right message at the right time.