January 5, 2011
NEW LG PREMIUM NOTEBOOKS DELIVER CUTTING-EDGE TECHNOLOGY AND DESIGN AT CES 2011
LG Sets New Standard for Notebooks with LG P210, LG P420 and LG A520
LAS VEGAS, Jan. 5, 2011 –- LG Electronics (LG) today unveiled three new premium notebooks at the 2011 Consumer Electronics Show (CES) in Las Vegas. Featuring sleek outer casings and streamlined style for a modern look, LG P210, LG P420 and LG A520 deliver a new dimension in notebook design and technology.
Offering compact, elegant design for style-conscious users, the P210 and P420 provide high-speed connectivity while on-the-go. LG A520 delivers advanced cinematic 3D technology (FPR: Film Patterned Retarder technology) for a one-of-a-kind, portable 3D entertainment experience. All three models combine the mobility and connectivity of notebooks with the unbeatable performance mobile computers require day in, day out.
"LG is proud to introduce this exciting new lineup of award winning and innovative notebooks," said J.J Lee, EVP and Head of LG Electronics PC Business Unit. "LG P210 recently won an iF (International Forum Design Award) and the P420 displays LG's unique DNA design. Together with the A520, the 2011 lineup of notebooks provide durable technology with next generation performance capabilities."
In addition to sleek design, LG premium notebooks offer an easy-to-use multimedia experience with Media Funtasia, which makes it easy to share media content with other DLNA-friendly devices.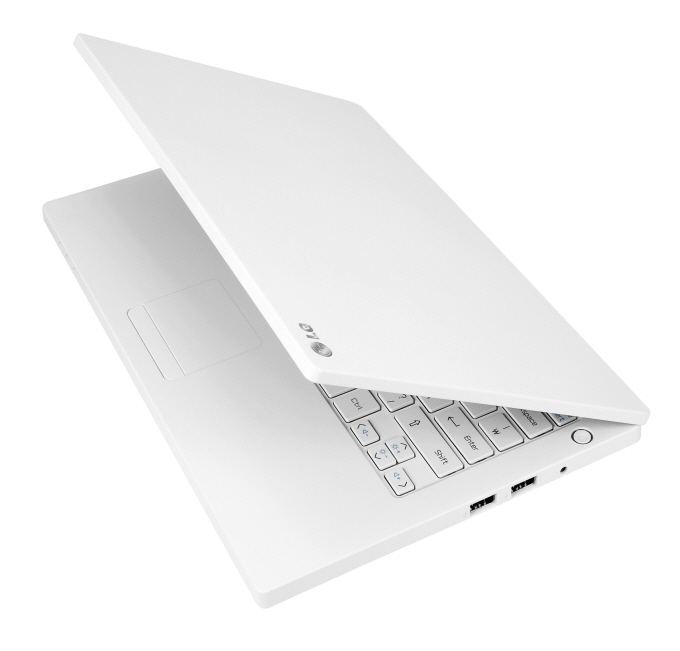 LG P210 and LG P420: A new standard for notebooks, style with slim-edge bezel 
The P210 and P420's sleek, compact, and lightweight frame offers a refreshing alternative to typical compact notebooks. Offering a streamlined interior design with a bezel that is up to 40 percent slimmer than regular models, the P210 and P420 create a minimalist feel and set a new standard in notebook design.
By bringing the screen right to the edges of the notebook, the wafer-thin bezel provides users with a wider-screen on a compact body. With its slim-edge bezel, the P210 fits a 12.5-inch screen into a unit measuring just 11.6-inch across, while the P420 packs a deceptively large, 14-inch screen on 13.3-inch-wide device. A crystal clear HD LED LCD display adds to the enjoyment by bringing TV-standard graphics onto a notebook screen.
Weighing only 1.30kg and with a depth of just 20.9mm, the P210 is extremely portable. Its slick, white exterior packs an Intel® Core™ i3 or i5 Ultra Low Voltage processor with up to 4GB memory. Coming with a clean, matt covering, this notebook blends in with almost any setting, while retaining an edgy feel that will make it a hit with the fashion forward everywhere.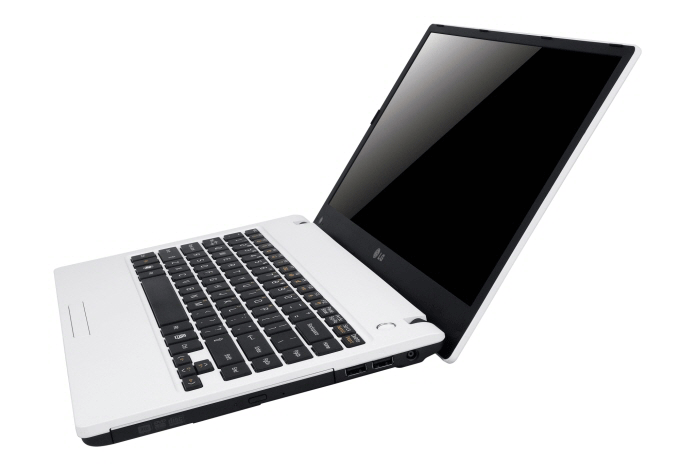 The P420, a 14-inch version of the P210, will be powered by 8GB of memory and the forthcoming, 2nd generation Intel® Core™ i5 processor. It also boasts a crisp, high-quality HD display thanks to an NVIDIA® GeForce GT520M graphics card.
LG A520: New powerhouse notebook with 3D entertainment
Following the release of the world's first notebook with Full HD FPR technology, the A520 LG the second notebook to embrace this revolutionary 3D technology. The Film Patterned Retarder (FPR) optimizes the separation of images for the left and right eye, which are then filtered through the glasses to give viewers truly outstanding, blur-free 3D images. The A520's cutting-edge technology in display and sound set new standards in 3D entertainment with a 15.6-inch Full HD 3D LED LCD display, SRS Wide 3D sound system and a range of superb hardware features.

LG A520 packs a serious 3D punch for 3D games, movies or graphics and delivers a completely cinematic near Full HD 3D experience, a 2nd generation Intel® Core™ i7 processor and an NVIDIA® GeForce GT540M graphics card. The notebook further boosts the 3D entertainment with its Blu-ray playback, Bluetooth 3.0+HS, and HDMI. The A520 comes in a luxurious, brushed-aluminum finish, and is available in attractive purple-black and wine-red coloring.
LG plans to roll out this premium notebook lineup worldwide in the first quarter of 2011. The notebooks are on show at CES 2011 in Las Vegas from January 6 through 9.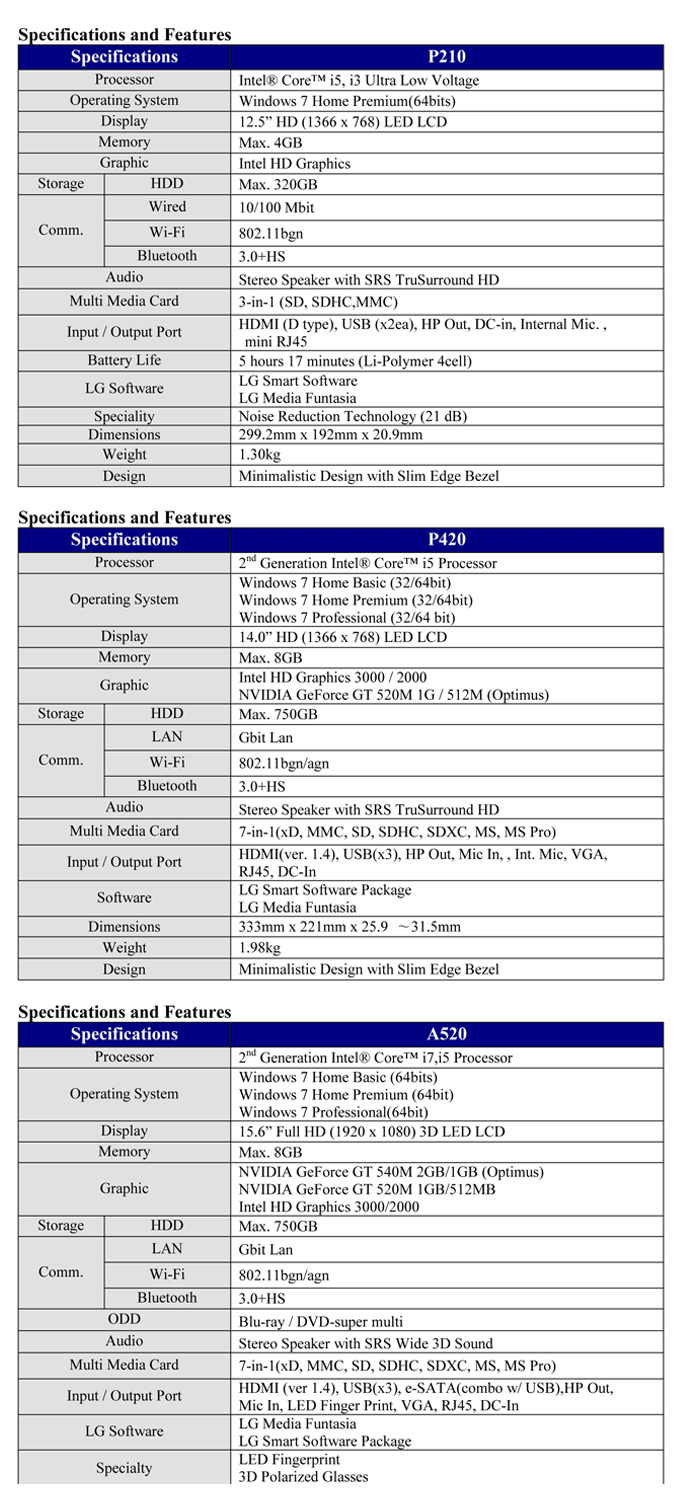 For more information and product images, please visit LG's online press kit at www.lgnewsroom.com/CES2011.