October 1, 2010
LG AND MICROSOFT ENTER INTO STRATEGIC PARTNERSHIP: LG NETWORK MONITOR TO ADDRESS NEW COMPUTING SCENARIOS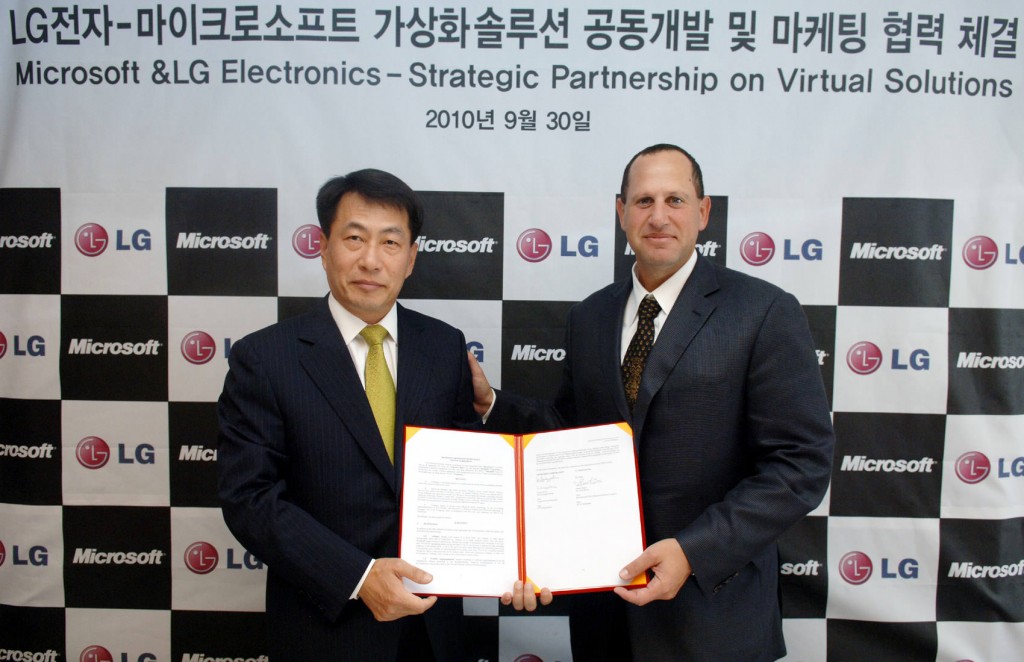 With Microsoft Windows MultiPoint Server and RemoteFX , LG targets B2B Markets
SEOUL, Sep. 30, 2010 –- LG Electronics (LG) and Microsoft today signed a license agreement to collaborate on the development and marketing of the LG Network Monitor1, a multi computing solution with Windows MultiPoint Server (WMS) and RemoteFX. This signifies an important milestone for the two companies and their joint efforts to advance integrated network monitor solutions in centralized desktop computing environment.
Under the agreement, LG will introduce a new line of Network Monitor with RemoteFX in mid-2011, placing LG at the center of the fast-growing B2B cloud computing market. The strategy will also allow LG to significantly expand its presence into enterprise and mid-markets in order to address customer needs for session virtualization and VDI (Virtual Desktop Infrastructure).
Soon Kwon, President and CEO of LG Electronics Business Solutions Company, said: "With Microsoft's unrivaled background in OS development and LG's proven multi computing technology, this collaboration will help LG expand its monitor solutions and position LG as a leader in the business cloud computing market."
"LG's support of the Windows platform and continued advancements in their integrated network monitors will drive new computing experiences into enterprises looking at virtualization," said Steve Guggenheimer, Corporate Vice President of the OEM Division at Microsoft. "We look forward to continued collaboration with LG and the evolution of monitors into centralized computing environments."
LG's Network Monitor will use Microsoft's WMS 2010 which will allow schools to provide more students with individualized Windows experiences at lower total cost of ownership. In addition, LG Network Monitor working with Microsoft WMS 2010 is designed to be simple enough for a teacher without technical skills to set-up and manage student stations. For multilingual needs, each student can also work independently on a Network Monitor connected to a WMS host in a different language.
One of the major sectors for LG's Network Monitor is education, a market that is expected to grow to 20M units (per seat) by 2015. LG will aggressively pursue opportunities for its Network Monitor using WMS 2010 in the global education solutions market, with a goal of capturing 25 percent of the market by 2012 to become the industry leader.
LG and Microsoft are also teaming up to develop an integrated Network Monitor with RemoteFX functionality. As the RemoteFX platform gains significantly enhanced security and management functions, its use in conjunction with LG's advanced Network Monitor technology will enable LG to expand its monitor solutions to cloud computing in the enterprise market. Cloud computing is virtual-based computing which allows users to access the exact infrastructure, platform and software services they need via the internet in a market expected to grow 1.2M units by 2012.
# # #
About LG Electronics, Inc.
LG Electronics, Inc. (KSE: 066570.KS) is a global leader and technology innovator in consumer electronics, mobile communications and home appliances, employing more than 80,000 people working in over 115 operations around the world. With 2009 global sales of 55.5 trillion Korean Won (43.4 billion US Dollars), LG comprises of five business units – Home Entertainment, Mobile Communications, Home Appliance, Air Conditioning and Business Solutions. LG is one of the world's leading producers of flat panel TVs, audio and video products, mobile handsets, air conditioners and washing machines. LG has signed a long-term agreement to become both a Global Partner of Formula 1™ and a Technology Partner of Formula 1™. As part of this top-level association, LG acquires exclusive designations and marketing rights as the official consumer electronics, mobile phone and data processor of this global sporting event. For more information, please visit www.lg.com.
About LG Electronics Business Solutions Company
LG Electronics Business Solutions Company is the leading providers of business solutions, creating optimal products for companies and individuals. LG offers innovative products, LED LCD monitors, commercial displays, security solutions and car infotainment systems, as well as integrated solutions that take advantage of LG's expertise in hardware, software, content and systems, and are tailored to the particular needs of different business environments.
Contact Details
Seye Im
LG Electronics, Inc.
Corporate Communications
+822 3777 3631
seye.im@lge.com
www.lg.com/press