September 6, 2010
TWO MORE LG OPTIMUS SERIES SMARTPHONES LAUNCHED … VIRTUALLY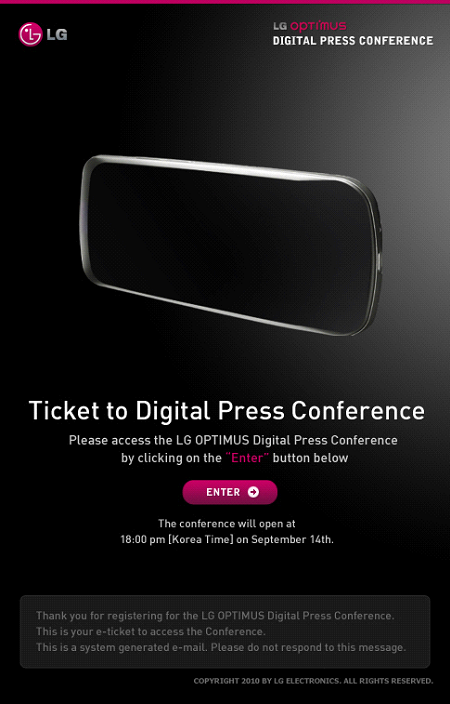 Latest Smartphones from LG to be Introduced via Interactive Internet News Conference
SEOUL, Sep. 10, 2010 -– LG Electronics (LG) announced today that it will hold a live and interactive virtual digital news conference on September 14th at 18:00 Korea Standard Time (09:00 GMT) to launch two highly anticipated smartphones from its Optimus series — LG Optimus One with Google and LG Optimus Chic. The half-hour news conference targeted only for media and bloggers will include an exclusive detailed look at the two new devices, as well as a real-time question and answer session with LG executives.
LG will broadcast the event utilizing video streaming technology as well as Twitter. Media and bloggers wishing to participate are required to register in advance at the LG Optimus Virtual Digital Launch website. Participants are also encouraged to sign-up to follow the conference's Twitter updates as product updates and announcements will be made regularly leading up to the news conference.
During the virtual digital news conference, Skott Ahn, CEO and President of LG Mobile Communication, will showcase the LG Optimus One with Google and LG Optimus Chic and discuss LG's smartphone business strategy moving forward. Questions and answers with LG executives will be held directly after the presentation.
For this announcement, LG asked Garson Yu, Founder and Creative Director of yU+Co, to produce the opening graphic for the event as well as the videos demonstrating the features of the LG smartphones. Mr. Yu is responsible for numerous eye-catching title sequences for major Hollywood blockbusters including 300, Shrek and Watchmen.
"This virtual announcement of our two newest Optimus Series devices allows us to speak directly to the audience to demonstrate our commitment to the smartphone sector," said Dr. Skott Ahn, CEO and President of LG Mobile Communications Company. "LG Optimus One with Google and LG Optimus Chic are intuitive machines designed with information gathering and accessibility in mind. They were developed as part of LG's strategy to popularize smartphones with consumers around the world by making the transition from feature phones as simple as possible."
# # #
About LG Electronics, Inc.
LG Electronics, Inc. (KSE: 066570.KS) is a global leader and technology innovator in consumer electronics, mobile communications and home appliances, employing more than 80,000 people working in over 115 operations around the world. With 2009 global sales of 55.5 trillion Korean Won (43.4 billion US Dollars), LG comprises of five business units – Home Entertainment, Mobile Communications, Home Appliance, Air Conditioning and Business Solutions. LG is one of the world's leading producers of flat panel TVs, audio and video products, mobile handsets, air conditioners and washing machines. LG has signed a long-term agreement to become both a Global Partner of Formula 1™ and a Technology Partner of Formula 1™. As part of this top-level association, LG acquires exclusive designations and marketing rights as the official consumer electronics, mobile phone and data processor of this global sporting event. For more information, please visit www.lg.com.
About LG Electronics Mobile Communications Company
The LG Electronics Mobile Communications Company is a leading global mobile communications and information company. With its cutting-edge technology and innovative design capabilities, LG creates handsets that provide an optimized mobile experience to customers around the world. LG is pursuing convergence technology and mobile computing products, while continuing its leadership role in mobile communication with stylish designs and smart technology. For more information, please visit www.lg.com.