September 7, 2010
LG DEVELOPS POWERFUL SMARTPHONES WITH NVIDIA TEGRA 2 PROCESSOR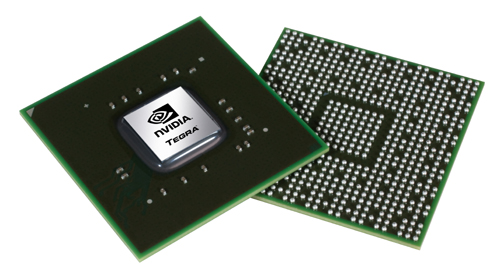 SEOUL, Sept. 7, 2010 — LG Electronics (LG) announced today that it will introduce a series of fast, powerful smartphones starting in the fourth quarter of 2010 utilizing the second generation NVIDIA? Tegra™ mobile processor, Tegra 2. Tegra 2 includes the world's first dual-core CPU, which powers through complex tasks to achieve significant leaps in performance.
LG will integrate Tegra 2 into its smartphones, providing them with unprecedented power, speed and graphics capability. These smartphones will be part of LG's Optimus Series, a new line of innovative mobile products.
LG selected NVIDIA Tegra because it enables a new mobile experience and content capabilities. Tegra 2 features a number of mobile "firsts": the first mobile dual-core CPU, the only ultra low-power NVIDIA GeForce? GPU and the first 1080p HD mobile video processor. Taking full advantage of the two speedy 1 GHz processors sharing the workload in Tegra 2, consumers can experience up to 2x faster web browsing and up to 5x faster gaming performance over single core processors running at 1 GHz. NVIDIA's leadership in graphics also delivers flawless 1080p HD video playback, console-quality gaming and amazing 3D capabilities.
"LG is committed to making its Optimus Series smart devices the de facto standard in speed and graphics performance," said Chang Ma, Vice President of Marketing Strategy Team, LG Mobile Communications Company. "We selected NVIDIA because it is the visual computing leader and has a long history of creating amazing consumer experiences."
"The ultimate smartphones will be powered by Tegra, the world's most advanced mobile processor," said Phil Carmack, senior vice president of NVIDIA's mobile business. "LG is one of the most popular consumer brands, and their Optimus Series of devices with Tegra is further validation of the processor's ability to deliver an unrivaled, turbocharged media experience."
LG's Optimus Series smartphones featuring the NVIDIA Tegra 2 mobile processor will debut starting in the fourth quarter of the year.
###
About LG Electronics, Inc.
LG Electronics, Inc.is a global leader and technology innovator in consumer electronics, mobile communications and home appliances, employing more than 82,000 people working in over 115 operations around the world. With 2009 global sales of 55.5 trillion Korean Won (43.4 billion US Dollars), LG comprises of five business units – Home Entertainment, Mobile Communications, Home Appliance, Air Conditioning and Business Solutions. LG is one of the world's leading producers of flat panel TVs, audio and video products, mobile handsets, air conditioners and washing machines. LG has signed a long-term agreement to become both a Global Partner of Formula 1™ and a Technology Partner of Formula 1™. As part of this top-level association, LG acquires exclusive designations and marketing rights as the official consumer electronics, mobile phone and data processor of this global sporting event. For more information, please visit www.lg.com.
About LG Electronics Mobile Communications Company
The LG Electronics Mobile Communications Company is a leading global mobile communications and information company. With its cutting-edge technology and innovative design capabilities, LG creates handsets that provide an optimized mobile experience to customers around the world. LG is pursuing convergence technology and mobile computing products, while continuing its leadership role in mobile communication with stylish designs and smart technology. For more information, please visit www.lg.com.