September 2, 2016
LG IOT ECOSYSTEM EXPANDS CAPABILITIES WITH AMAZON COLLABORATION
Partnerships at Core of Smart Home Strategy for LG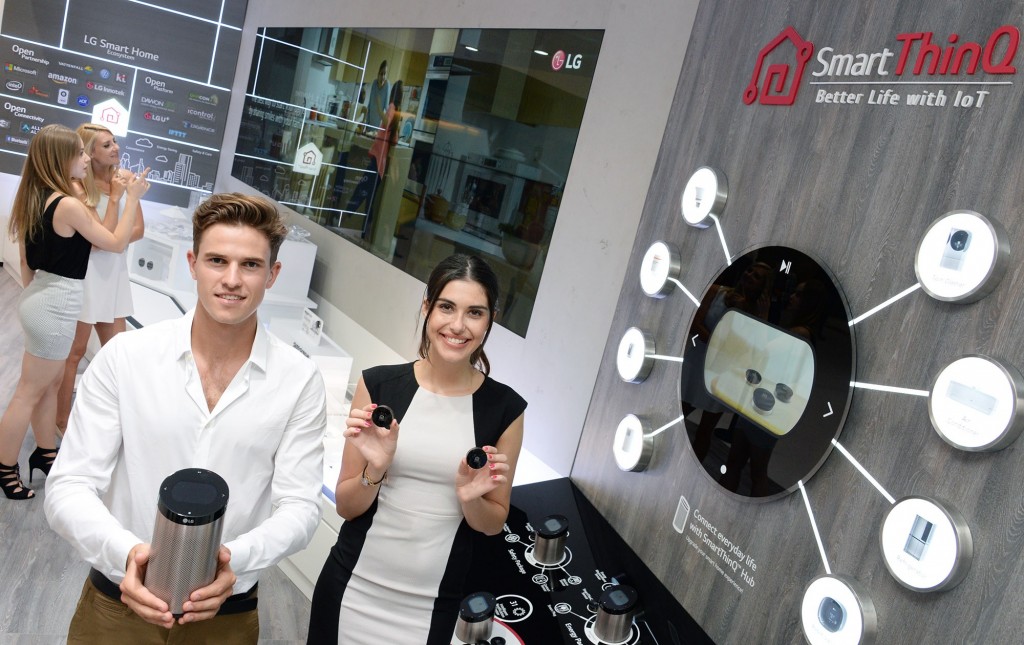 BERLIN, Sep. 2, 2016 ― At IFA 2016 in Berlin starting today, LG Electronics (LG) will be demonstrating its expanding smart home ecosystem with more partnerships and collaborations, highlighted by its cooperation with Amazon, the world's largest e-commerce retailer. With a strategy of Open Partnership, Open Platform, and Open Connectivity in the growing Internet of Things (IoT) field, LG is showcasing smart technology that actively understands consumer usage patterns and provides optimal solutions that cater to different user lifestyles.
As an example of its smart technology in the everyday world, LG will be demonstrating its Smart InstaView Door-in-Door™ refrigerator equipped with a 29-inch transparent Touch LCD screen at IFA. Powered by the Intel Compute Stick, a tiny computer with an Intel AtomTM processor, this refrigerator can be used as both a monitor and a window to peek inside the fridge without opening the door using Knock-On, which makes the screen transparent with only two raps. The refrigerator shown at IFA 2016 will be capable of running various useful apps to view recipes, listen to music, watch videos and even shop online.
In Berlin, LG is also showcasing its intelligent LG SIGNATURE refrigerator that evolves to suit customers' different lifestyles by picking up environmental and usage patterns through advanced sensor technology. This advanced appliance includes sensors for the door, humidity as well as external and internal temperature. The temperature sensor can tell when warm or hot food has been placed inside the refrigerator and adjusts the fan accordingly 30 percent faster cooling than conventional refrigerators.1 The LG SIGNATURE refrigerator features 2.0 megapixel panoramic super-wide-lens inter-nal camera to capture interior images from various angles that can be viewed on a smartphone by the user while grocery shopping.
At IFA 2016, LG will also be introducing a host of new IoT accessories including SmartThinQ Lightbulb, SmartThinQ Plug and SmartThinQ Motion Sensor that all work seamlessly with LG's SmartThinQ Hub and Sensors.
"Collaborating with innovative industry leaders is our core strategy to make LG smart home solutions even more accessible and convenient to consumers," said Jo Seong-jin, president of LG Electronics and Home Appliance & Air Solutions Company. "We believe that differentiating our IoT technology through openness and collaboration will benefit far more customers than a closed system."
Visitors to the LG's booth in Hall 18 of Messe Berlin during IFA 2016 will have a chance to experience LG's newest smart home solutions for themselves.
———————————-
1 Compared to LG's conventional French door refrigerator models.
# # #