September 4, 2014
LG DISHWASHER WITH A+++ ENERGY RATING DELIVERS POWERFUL CLEANING WITH TRUESTEAM™
LG's TrueSteam™ Dishwasher Features State-of-the-Art Technology
for Effective Washing Performance and User Convenience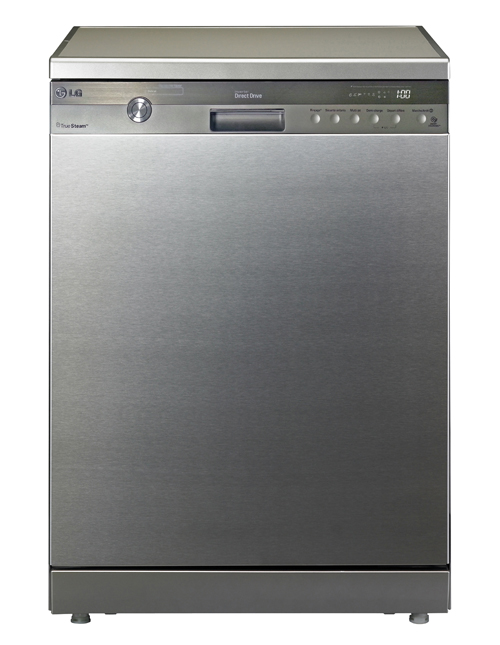 SEOUL, Sep. 4, 2014 — At IFA 2014, LG Electronics (LG) will introduce its latest TrueStream™ equipped dishwasher (model D1494CF) with powerful cleaning performance as well as A+++ rating for energy efficiency. The advanced dishwasher also features LG's SmartRack™ system with easily adjustable tines and UV lamp sanitization technology for greater user convenience and hygiene.
The dishwasher's energy efficiency is made possible by LG's Inverter Direct Drive technology which optimizes the power needed for each load by directly transferring energy from the motor to the water spray system through a more simplified structure. Together with TrueSteam™, which is activated when the dishwasher's Steam Power mode is engaged, high-temperature steam from pressurized nozzles is discharged to dislodge tough food particles from dishes and utensils. Temperature and pressure are managed by the built-in steam generator, which is powerful enough to virtually eliminate burnt or dried food residue. For dishware that require a softer touch, Steam Care mode offers a gentler cleaning solution. The dishwasher's Steam Dual Spray feature allows for different water pressure on the upper and lower racks, making it possible to wash both soft and hard food residues simultaneously, saving water and energy.
After the wash cycle is completed, the dishwasher employs a high-tech UV lamp sanitization process to eliminate up to 99.9 percent of any remaining bacteria. This feature, together with LG's TrueSteam™ technology, provides more hygienic results and allows tableware to be left inside the dishwasher for up to four hours without any renewed bacteria growth. The UV sterilization cycle is programmed to run a second time if the dishwasher door has not been opened after two hours.
LG's unique SmartRack™ system offers maximum flexibility and enables the dishwasher to accommodate a wide variety of odd-shaped bowls, pans, platters and other items. All three tiers are designed to hold different types of dishware: the lower rack is suitable for dishes, bowls, pots and pans while the middle rack is designed for cups and wineglasses. The upper rack is intended for smaller items such as espresso cups, utensils and kitchen tools. The height of the top rack is designed to be easily adjusted to make room for oversized utensils such as spatulas, whisks or salad tongs. All in all, the SmartRack™ system sets a new benchmark for loading convenience.
Convenience is further enhanced with LG's Silence On technology, which employs multiple layers of sound dampening insulation to reduce the dishwasher's noise level to only 38dB. And with LG's Smart Diagnosis™ feature, customer service representatives can quickly and efficiently troubleshoot mechanical issues, limiting costly and inconvenient service visits.
"Many consumers are frustrated with having to clean off every dish and glass before placing them inside the dishwasher," said Seong-jin Jo, president and CEO of the LG Electronics Home Appliance Company. "TrueSteam™ technology reduces the need for this step altogether. And our TrueSteam™ dishwashers are quieter than conventional LG models to ensure a quiet, peaceful kitchen environment."
Visitors to IFA 2014 can see LG's newest dishwasher with TrueStream™ technology for themselves in Hall 11.2 of Messe Berlin from September 5–10.
# # #